March 7, 2014
0

found this helpful
Try something like one of the diaper rash creams.

Ginnee
Bronze Feedback Medal for All Time! 135 Feedbacks
March 8, 2014
0

found this helpful
I have two suggestions, one that redhatterb has already mentioned. I have found that A&D ointment (for diaper rash) is good for many minor skin problems, from rashes to scratches. I am in my 60's but just discovered it a few years ago and now always have a tube on hand. It is great stuff.
The other is Gold Bond Medicated Powder. I use that a lot, mainly in the summer, but it is useful for rashes too. And plain ol' soap and water sometimes will help. Wash the area with a wet soapy cloth, rinse and dry a few times a day. I hope you find one of these ideas will help.

March 8, 2014
1

found this helpful
I have an answer to the problem and can even save you money. As a diabetic, I too get them. It's a simple yeast infection. My pharmacist told me to go to the local dollar store and get a tube of athletes foot cream.
It works so well I keep one in the home, the car and my purse. Keeping the area clean helps, also not ingesting any high fructose corn syrups, palm/rapeseed oils and making sure it gets some air once in a while have all helped me. I hope these tips help you too.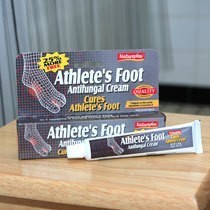 Lizzyanny
Bronze Feedback Medal for All Time! 226 Feedbacks
March 9, 2014
0

found this helpful
I use a product called Zeasorb. It is used for fungus and athletes foot. I especially like it because it is a powder. Nice for areas that get moist. It is available at WM.

March 9, 2014
0

found this helpful
The other suggestions are good. I also can tell you it is common for these rashes to occur. I would keep it drt as possible. You can roll up wash clothes and put under your breasts, there is also an ointment called "Bag Balm".
It comes in a square tin can. It will heal all rashes sometimes by morning. Good Luck. This is sometimes a symptom of sugar diabetes. So you may want to check with your Dr. Corn starch will also help keep it dry.