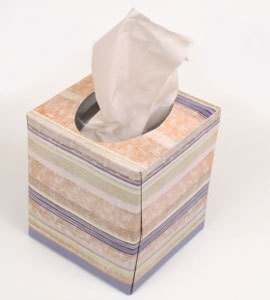 Here are some creative ways to reuse tissue boxes. Post your own ideas below:
Tissue Box For Yarn Scraps
I do a lot of crocheting and am constantly having scraps of yarn laying around. To combat this problem, I keep an empty boutique tissue box close to where I am crocheting. I use it until it is full, then just throw it away and start on a new one. Saves a lot of trips to the trash can.
By Barbi from Urbana, OH
Garbage Bag Dispenser
I just invented and tried this last night. I have a roll of garbage bags with about 200 garbage bags. It was in a plastic bag and every time I pulled out a garbage bag, it would get twisted, and I would have to untwist it. Not a major issue, but annoying nevertheless. So I took the roll out of the bag and put it in an empty Kleenex box. Now the bags come straight out and it's easier to find where to tear them.
Chuck R. from Grand Rapids, MI
Storing Plastic Bags
I've always hated to throw away beautifully decorated tissue boxes, so when I was looking for a handy place to store plastic grocery bags, and keep them easily "grab-able", I came up with the idea to fold the bags as flat as possible (doesn't really take that long--like folding laundry) and place them in the tissue box. I keep it out on the counter with plastic bags ready to reach whenever needed.
By Paula W
I have a friend who donates unneeded plastic grocery bags to shelters or thrift shops. At night or when I have some free time I fold bags while I watch television and place them in a tissue box. They are neat and in a pretty container. My friend says that missions and thrift shops can always use clean bags. Womens shelters and YWCA's can usually use these bags and are thrilled to get them in a pretty box that is organized and can be slipped on a shelf or under a counter.
By Julie
Don't throw away old Kleenex boxes. Use them to store all you bags you get at supermarkets, Wal-Mart etc. You don't even have to fold them if you don't want to. I just stuff them in the box. A box hold quite a few and then they are handy to line your plastic garbage bucket in the kitchen. I also use a Kleenex box to store empty bread wrappers. When I make home made bread, I use the ones I've saved and can then freeze the baked loaves without having to purchase anything to put the loaves in.
By Betty
Box For Drawings
You can also use them for drawings at parties or fund raisers. No need to find a box and cut a slit when you can use the old Kleenex boxes.
They are also handy if you want to set up a coupon swap in a retirement area, community area, laundromat, etc.
By Tawnda
Handy Storage Containers
I carefully cut out the tops, tape the sides down with wide clear tape and use them for for anything I want, anywhere I want. Sometimes it's videos, books, jars on the bathroom sideboard, whatever. They are so pretty sometimes I too can't stand to just flatten and recycle them.
I've even put clear contact plastic over the whole box when I was really happy with one. These were usually the Christmas designs. I've also cut the sides off, peeled off part of the backing board and "laminated" two with pretty sides out for lovely bookmarks.
I'm certifiable when it comes to boxes and contact plastic anyway, sometimes I've found some wedge shaped boxes at stores that I wanted to put on a shelf and the box had a trademark along the front edges so I glued a pretty tissue box side over the trademark. Like I said, certifiable, but smiling because I didn't BUY fancy storage boxes .
By Linne Dodds
Cut box top at 4 corners, tape down the flaps. Use for storing small items that you have on your desk. Use in drawers for dividers to store various items. They are stackable. Good for storing cassette tapes.
By Jo Ann
Reuse The Pretty Designs
Kleenex boxes can be really pretty paper so you could use them for making a paper collage
By coco
For Harry Potter Fans
Take a Kleenex box, put all Harry Potter Stuff (pictures, stickers, etc) and put a "lid" on it. Perfect for organizing a messy desk.
By Andre
Garbage Can For The Bathroom
A friend of mine uses them as garbage a receptacle on her bathroom counter. It's perfect for discarding cotton swabs and other non flushables. It looks so much prettier too.
By sufigirl
Play Slippers
When I was little me and my sister stuck our feet inside them and used them as play slippers!
By Kristi
Save Dryer Lint
I use them in the laundry area for dryer lint. Then I use the dryer lint for all kinds of things. Clay and fire starters are two of my favorites.
By Sonya Yoder
Sewing Trash Basket
I keep one on my sewing machine and put thread, scraps of fabric, etc. in it. When full, I just throw the whole thing away. No need for a waste basket by my machine.
By Anna
Pretty Bookmarks
I cut the sides out and cut 2 pieces the size of a normal book marker, I hole punch the top, glue the two pieces together and glue gun lace around the edges and tie a small piece yarn to match and you can give them to people who love to read or as stocking stuffers! good luck!
By Kay N.
Reusable For Tissue Dispensing
I carefully undo the flaps on one side of the box. Then I remove the paper core from a roll of toilet tissue and pull the paper out from the center of the roll. Slip the roll inside the box and pull the paper up through the open top. Tape the box side back together. Set these in handy places where you normally would have tissues, the bathroom, the bedroom, your office. When you need a tissue, just pull off a few squares of the toilet tissue. Lasts lots longer than the original box of Kleenex.
By Harlean
Save those cube Kleenex boxes. Open the bottom of the Kleenex box. Pull half of the Kleenex out of the rectangle box. Fold in half and push up into the bottom of the cube box. Pull the first Kleenex through.
By MCB
Kitchen Organizing
I have found two useful ways to recycle Kleenex boxes. I use it to stuff my plastic bags in. I keep it in my pantry. When I need a bag for something, I simply go in & pull one from the box. It makes a great "dispenser". I also use them in my silverware drawer, to put drinking straws in. The straws usually come in a plastic bag. When you or the kids reach to get just ONE, we usually touch the tops of several. This way you can pick up the straw out of the box, from the middle, instead of the end. Much more sanitary!
By Jeanette
Cut box top at 4 corners, tape down the flaps. Use for storing small items that you have on your desk. Use in drawers for dividers to store various items. They are stackable. Good for storing cassette tapes.
By Jo Ann
Homemade Cards
Some of the boxes have really neat designs on them so I use them to make my homemade cards with. When using a paper punch the design can be so weird you'd never know what it was before
By catherine
Use As Gift Boxes
I have used the small "cube" tissue boxes as gift boxes at Christmas. Undo one set of flaps, put the gift inside (with some tissue paper if you like -- ironic, huh?), then wrap as usual. If it's a pretty Christmas design box, you may want to just let the design show, and simply cover the places where the brand name shows. Use a big stick-on bow or wide ribbon to cover the slit on top.
By Becki in Indiana
Kids Mailboxes
Kids love mail. When I was in grade school eons ago, we made "mailboxes" for Valentine's day. The cards were put into our boxes through the slot at the top. Make a mailbox for your kids. If they get mail, drop it in. Otherwise a note from Mom and/or Dad is always appreciated!
By Kayla
Car Garbage Can
I use mine in the car to hold garbage. You can either pitch it when full or empty it and start again.
By Sara C
Organize Yarn Balls
Use to keep large balls of yarn separated. Open side of empty box, place yarn in side then tape side shut. Thread the yarn through the hole.
By David in Florida
Sick Bed Garbage
An empty Kleenex box is ideal near a sick bed. Just toss when full.
By Moondancer
Save Receipts and Other Small Items
I use them on desk to put store receipts in. Put grocery store receipts in one for a month to see what you spent. Put kids color pencils or markers in one. Great for keeping kids small toys in. Great in girls bath for holding hair stuff.
By Nelda Morelock
Save Box Tops
I use one to store the 'TOPS FOR EDUCATION' coupons, plus one to store Betty Crocker 'Points' from boxes.
By Darween
Recycle The Paper
You could always take them to the local paper-bank, and have them recycled into new tissue boxes with the latest logos/design of box re-printed on the side.
By George
Read More

Comments