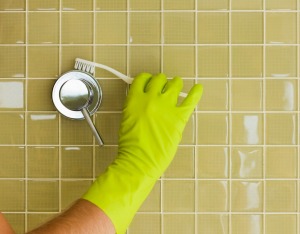 Below are some uses for old toothbrushes
Save Your Old Toothbrush
When replacing my old toothbrush with a new one I take the old toothbrush and place it in my dishwasher. When doing my next load it, too, gets nice and clean. If you do not have a dishwasher, place the toothbrush in the bottom of your sink the next time you do a load of dishes. Rinse well and air dry. Here is what I use it for:
I clean the bottom of my sliding door casement area and it gets into the nooks and crannies very well. I clean the dirt and buildup with the toothbrush dry. Then I take a wet sponge with liquid cleaner and then dry well with a paper towel. I also use the toothbrush to clean around any and all faucets. Use the brush dipped into jewelry cleaner or toothpaste (that's right, good old-fashioned toothpaste) and gently clean around the stones and all cracks and crevices. Air dry the jewelry on a paper towel and cloth. Clean the keyboard on your computer and if you still use a typewriter do that too. Disconnect your toaster and clean the hardened on crumbs on the wire areas and the sides of the toaster. I could go on and on but I think by now you get the picture. Happy brushing.
By joesgirl
Cleaning Combs
I use old toothbrushes for cleaning combs. Swish around shampoo in a sinkful of hot water, soak the combs for a few minutes and brush.
By Michele
Making a Bracelet
I don't know if you'd want to use an old one for this, but you could heat one up on a cooking tray and bend it round into an oval or round shape (bristles out). It makes a very unusual bracelet for a teenager or younger! You could use a glass jar to shape it round. I've never done this myself, but there's a London company that sells things like this at unbelievably expensive prices. (09/05/2004)
By Louise
Cleaning Shoe Soles
I use old toothbrushes to clean dog poop out of tennis shoes soles.
By Sonya Yoder
Cleaning Forks
An old toothbrush is perfect for cleaning between the tines of forks when washing dishes.
By Camilla
Cleaning Sinks and Faucets
I use mine to clean around my sinks and faucets. Gets all the slime out from under the faucet. I have a cheap one (not used) that I scrub my Foreman with, it fits perfectly into the grooves. I use them for cleaning aroung the hinges of the toilet seats! They are great for scrubbing the rocks in your aquarium, dusting the lint catch on your hair dryer (or any of your electronics FTM!) and for scrubbing the part of your coffee pot where the water comes out! (12/27/2004)
By Kayla
Cleaning Jar Threads
Since I do a lot of canning, there are always jars to wash. An old toothbrush gets right into the threads around the neck of the jars and cleans them up quickly. (12/28/2004)
By Coreen Hart
Cleaning the Garlic Press
1. I use one to clean my garlic press. The bristles are great for pushing the garlic out of the holes.
2. I keep one to scrub out my bird bath. It's labeled "BIRDS" so I won't use it for anything else, to keep prevent spread of disease. (12/28/2004)
By Lynne
In the Laundry Room
I use my old toothbrush in the laundry room and scrub like crazy when using Shout or other cleaning products to spot clean rather than rubbing the fabric. Works great! (12/30/2004)
By Mitzi
For an Eyebrow Brush
I use an old cleaned toothbrush as an eyebrow brush instead of using those flimsy ones that you can buy.
By Alpha
Spot Cleaning Fabric with Bleach
All the ideas above are great and I've done most of them. The one additional use I have for the toothbrush is for taking stains out of fabric that has designs in it. I dip the toothbrush into the bleach and, very carefully, remove a set-in stain without bleaching the surrounding colored areas. I've used this many times for my grandchildren's baby bibs, gowns, etc. (01/07/2005)
By Bonnie
Cleaning Fingernails
Save old toothbrushes to clean your fingernails after gardening. Recycling old toothbrushes become inexpensive cleaning tools!
By Anita
Detailing Car Interior
I also use old toothbrushes for most of the chores already listed, mostly the faucets. I also keep one in my glove compartment in the car. When I'm waiting in the car for some reason and have nothing to do, I always whip out the ol' toothbrush and start "detailing" the interior of my car. It gets all the dust and crumbs around the hard-to-reach areas: radio knobs, parking brake, gear shift, and best of all, it fits perfectly between the air vents for cleaning.
I also have a Roomba robot vacuum cleaner for my home (I HIGHLY recommend those!) and I ALWAYS use a toothbrush to clean the dust from its hard-to-reach areas.
Quick joke: How would you know the toothbrush was actually first invented in Tennessee?
Because if it was invented anywhere else, it would have been called a "teethbrush." :o) (07/22/2005)
By Jo in TN
Cleaning Window Screens
I use old toothbrushes to clean window screens. Most likely, the debris will fall off and you don't have to get out the water hose. I use them to clean and disinfect toys, clean sippy cups and the inserts, tile grout, corners on window sills and french doors, toilets, and more! (07/22/2005)
By Suzi Homemaker
Cleaning Combs and Brushes and Overspray
I also use a toothbrush for cleaning combs and brushes. I learned from years of cleaning my mom's beauty shop that the best cleaner to use is shampoo in hot water. If it cleans the hair, it has to clean the combs and brushes as well. It's also helpful cleaning over spray from hairspray and various hair products. (02/11/2006)
By karen zetzer
Cleaning Shoes
I use to toothbrush for cleaning my shoes.
By Quaney
Spot Cleaning Carpet
I use one to spot clean carpet.
By LaVern
Cleaning Jewelry
They are great for cleaning jewelry.
By LaVern
Cleaning Bottles
I use a cheap toothbrush to clean the inside of bottles.
By Trinda
Read More

Comments
What are some uses for old toothbrushes? I have saved all my used one for years and they have all been put through the dishwasher so they are clean. I hate to just throw them away. There must be something they can be used for besides cleaning the grout between my tiles.
Answers
September 21, 2020
0

found this helpful
Best Answer
I use one to clean the vents of my dehumidifier between washings (brush away from the machine).
I use one to clean the grooves in my wood chairs in the dining room.
When I was doing a lot of paper craft, I would use just the handle (sawed off brush part) as a smoother to spread out glue bubbles.
September 21, 2020
0

found this helpful
Best Answer
You can use old toothbrushes to clean hard-to-reach areas of small appliances, clean a fan and window AC filter. They are also great for scrubbing nails, especially after gardening without gloves., and cleaning jewelry. An old toothbrush can also be used to cremove pet hair from upholstery.
September 21, 2020
1

found this helpful
Best Answer
I've used old clean toothbrushes for brushing stuffed animals after washing them.....it makes the fur nice and fuzzy again. I also have several I use for doing splatter painting projects. I saved a very soft one to brush my cat's teeth. I have one with my makeup to brush eyebrows and to fluff eyelashes after applying mascara... works better than the mascara brush itself. I'm a coin collector, and an old toothbrush and dish soap cleans coins pretty well without scratching them. Old toothbrushes are great for cleaning in very small crevices. You can use them to fluff the ends of yarn, string or twine when doing crafts, like adding fringe to an afghan, or doing macrame. I've also used them when refinishing wood furniture - can get paint stripper into and then off of tight spots. My last idea is for a specific craft... toothbrush rug making - you cut off the bristle end and sharpen the rest to a sort of dull point, and use it to "knit" fabric strips into a rug (Google Toothbrush Rugs for How To's). I'm sure there are many ideas people have used an old toothbrush for. Good luck and have fun !!!
September 22, 2020
0

found this helpful
Best Answer
I believe toothbrushes were made for cleaning anything that has a 'groove or crevice' as when dirt gets trapped inside a groove nothing works better than old toothbrush and q-tips.
I use these when cleaning my coffeemakers, especially my Keurig as it has lots of hard to clean grooves/crevices that needs a small long handled brush and q-tips.
Dipped in a little soapy water it is idea for cleaning delicate figurines and always keep one handy outside to clean all those dirty spots around door handles and door window crevices.
I have several hummingbird feeders and a used toothbrush works wonders around those little flowers/holes before refilling the containers.
September 23, 2020
0

found this helpful
Best Answer
Lots of uses!
Some uses I use for old toothbrushes.
Scrubbing shoes, can be a fun arts and crafts project if you have kiddos or little ones (grandkids) to play with paint as a paint brush, tease your hair, hard to reach cleaning spots, clean your ring gently (if the bristles are soft), clean bike chain, applying grease to tools, and so much more!
Answer

this Question