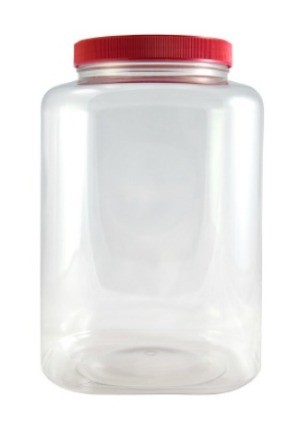 Never buy plastic containers again! I wash and reuse all the larger plastic jars (with plastic screw-on lids) that mayonnaise, peanut butter, and such come in. I use them for freezing soups, sauces, gravies, and any leftovers. They work great! You can also use them when taking food to friends and you don't have to worry about getting your container back. We usually throw them away, but, why not reuse and recycle. The great thing is, they are free!
By Patty from East Peoria, IL
Read More

Comments
Use clear plastic peanut butter or other food containers for small craft items like glue sticks, buttons, beads, etc. or use them in the garage for screws, nails and other small hardware!
Read More...
We all recycle jars, bottles, cans, and boxes every single week and I'm always trying to think of a way to re-use these items around the house. I have found several uses for clear plastic mayo jars.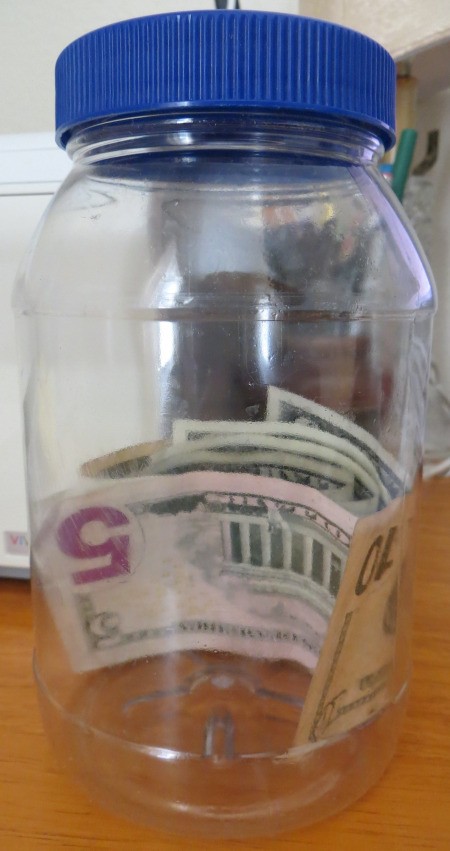 Read More...
I love the new oval shaped plastic mayonnaise jars. They have a flip top lid and I don't want to throw mine away. Any ideas on reusing it? (Besides holding craft items.)
Tara from RI
Answers
July 29, 2006
0

found this helpful
I am planning on using one or two for my sons' toys/craft items. Or you could decorate/cover the tops and use them for gift boxes (like to hold soaps and things) or piggy banks.
By Karaof4 (Guest Post)
July 31, 2006
0

found this helpful
I'm using mine by filling them up with bulk bought syrup, mollasses, sorgum, honey, etc. I think that they will work much better than what I'm currently using since the top is kind of a "large-squirter".
August 1, 2006
0

found this helpful
I buy the huge jars of mayo, and use my small squirt bottle for everyday use. You could do that if its cheaper for you like it is us. If not, clean it out real well and use for dry mixes, maybe instead of having a big box of cereal or oatmeal etc, to get out of the pantry you can grab these small jars, and just refill them when you need to. I do this with coffee cans and just about everything I empty. Just hate to waste by throwing it away. If you have quite a few, just relabel them with a perment marker with whatever you are filling them with.
August 1, 2006
0

found this helpful
Thanks for the great ideas. However i don't mean the squirt bottles, i mean the oval shaped plastic mayo container the Kraft mayo comes in now. I do like the dry cereal idea!
August 2, 2006
0

found this helpful
I put my flower seeds in them. I save a lot of flower seeds and these jars are just the thing to keep them dry.
August 31, 2006
0

found this helpful
We have a big family (5 kids still at home) so I buy the huge jar and refill the small one. I also really like the small oval shaped jar that you are talking about.
November 26, 2006
0

found this helpful
OK - here are a few of my ideas.
If you have kids clean up and peel the labels off the jars and use them to store small things, like hair clips, in them. The kids can see what is in there and the opening is big enough the kids can reach their hands in. Also I think they would be great for those little Matchbox type cars. My nephews always had tons of those things.
You could also use them to put pasta in. I buy small packages, since I live alone, at the grocery and you could probably put 2-3 of them in one of the containers and your wouldn't have to chase them down when looking for them AND you have a variety of different pastas on hand.
I think someone already mentioned cereal. You could also put loose crackers in them. I know sometimes I buy crackers that aren't in the individual sleeves. I would think the jars would be great for them.
Oh yeah - and pickles. I would think it would be much easier to get them out of the mayo jar with the larger opening.
You could also use them like if you do cross-stitching or something like that. You could put all of your thread, needles and scissors in one jar and take it with you, or at least have it all in one place, if you wanted to. Same goes for beading projects.
Maybe you could put some pretty shells or rocks in them and display them.
OK - I think that is all the ideas I have for right now. Hope this helps.
Tonya
April 8, 2009
0

found this helpful
I am looking for a source of empty mayonnaise jars, the type with the flip top lid that is slotted. We want to use them to collect coins like a piggy bank. Anyone know where I could find a source for bulk amounts?
Answer

this Question