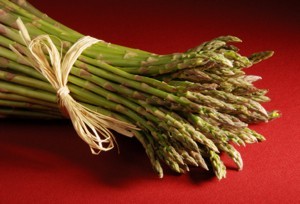 Description:
Asparagus is a vegetable native to Europe, North Africa and Western Asia. Asparagus was cultivated by ancient Egyptians, Romans, and Greeks. A recipe for asparagus was found in the oldest known recipe book. Asparagus is low in calories and full of nutrients such as folic acid, potassium and vitamins A and C.
Uses:
Only the young shoots are eaten. Asparagus can be bought fresh, frozen and pickled/marinated (concerning asparagus, these two terms mean the same thing). It can be prepared by steaming, boiling, grilling or baking. Asparagus is full of flavor and does not require much seasoning. Great served with butter, Parmesan, olive oil or mixed with chopped bacon. Also can be eaten raw, served with a dip.
Recipes:
Buying Fresh:
Spears should be green and straight and the head should be closed and compact.
Preparation:
Throughly wash the asparagus then snap the bottom off where it breaks naturally, this will remove any tough parts.
Storage:
Fresh asparagus can be kept for a week in the fridge. Frozen can be kept in the freezer for up to six months. Marinated/pickled asparagus can be kept for years before being opened.
Interesting Facts:
Sometimes used to treat urinary tract infections and kidney and bladder stones. Among vegetables, asparagus is the leading supplier of folic acid.