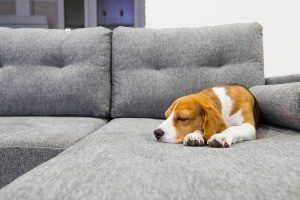 According to posts on ThriftyFun microfiber, being polyester (a plastic), should not be cleaned with acetone, which is known to destroy plastic. Someone also asked about the advisability of using Scotchgard on microfiber, but received no replies. I note on the Scotchgard ingredients list the word acetone. Question: Wouldn't using this product on microfiber cause damage?
Charles from Silver Spring, MD
Answers

September 27, 2007
0

found this helpful
Best Answer
From 3M question web page.
Q: What materials and fabrics can I use Scotchgard Protector for fabrics on?
A: This product works great on most fabrics! Whether natural fabrics like cotton & wool, synthetic fabrics like polyester & nylon, or delicate fabrics like silk; you can use Scotchgard fabric protector. (It is always good to test in an inconspicuous spot for color bleeding.) We do not recommend using on rugs, carpets, suede, plastics, or vinyl. On upholstery, check furniture manufacturer's care and warranty information. Examples of usage include: sofa, chairs, auto upholstery, camper & rv's, clothing, silk ties & blouses, delicate fabrics, wool, quilts, throw pillows, table linens, place mats, window treatments, crafts, canvas shoes, & more!
If you have questions I would contact 3M Co. direct either through their web page or call 1-888-364-3577 and you will put in contact with someone who can answer your question. It is better to contact the manufacturer than rely on speculation.
By Charles (Guest Post)
October 8, 2007
0

found this helpful
Best Answer
I contacted 3M and received a qualified answer to my question. All I was told was to "try it in an inconspicuous place" to see if there is a problem. It was explained that certain fibers may take on a "waxy" feel, which could happen with flocked fibers like microsuede (microfiber). That means you buy the product and if it's not good for the fabric you've wasted the product and the money. As to the use of acetone in the formulation, there was no reason given, other than to do so might be disclosing proprietary information! I was told to contact the furniture manufacturer. Not really helpful.

June 20, 2008
0

found this helpful
Best Answer
When I bought my couch, the salesman told me not to use Scotchgard on the microfiber but to try this product called Sunarmor water and stain repellent, which is what I used, it worked perfectly and even if you pour something right on it it just beads up and rolls off. I tried it on my pillows first though just to be sure! I think you can buy it at Linens & Things

August 16, 2015
0

found this helpful
Best Answer
I used Scotch guard on my microfiber couch and love it. Make sure if you wash the couch prior that you completely let it dry for a few days.
I didn't and sealed in a water spot. Luckily it's not too large.
Answer

this Question

Can I spray a Scotch Guard product on my linen fabric that covers my sofa? Fabric care instructions say to dry clean, but obviously there are areas (like the arms of the sofa) that can't be sent to dry cleaners.
Thank you for your feed back.

Answers

Judy
Gold Post Medal for All Time! 677 Posts
June 15, 2018
0

found this helpful
Best Answer
It will probably leave a water mark. Try it on a scrap of fabric if you have it or in an inconspicuous spot first.

Pghgirl40
Bronze Feedback Medal for All Time! 196 Feedbacks
June 16, 2018
0

found this helpful
Best Answer
Interestingly, their website says table linens, but not LINEN as a fabric...www.scotchgard.com/.../
They have a customer service line www.scotchgard.com/.../
Can't hurt to go right to them to ask.
Even if they give the OK, I would try it on a place no one would see if for some reason it caused an issue.
We just had a disappointing experience with Scotch Guard on our (light color) couch, where a slobbered on dog cookie sat before I noticed it and it stained the couch. I have been meaning to call them to see what their solution is for that one....just haven't had a chance.
Answer

this Question