Valentine's Day Heart Garlands
Solutions
Share on ThriftyFunThis guide contains the following solutions. Have something to add? Please share your solution!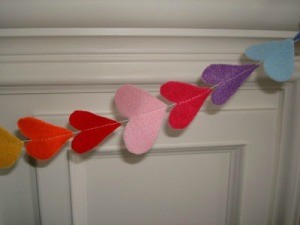 This is the very first project I ever tried using a sewing machine. Like many others, the thought of using a sewing machine was intimidating. After tackling this easy project, I realized that the sewing machine isn't that intimidating. You can go as slow as necessary when sewing the hearts together and you don't need to worry about keeping a perfectly straight line. So if you are like I was and read 'sewing required' and decided it was too hard to try, please keep reading.
Materials needed:
felt in any color you want, I used bright colors
scissors
a sewing machine (please don't let this scare you off)
Cost:
As little as $1. A sheet of felt costs .20 cents at most craft stores and you could get as many as 30-50 hearts from sheet, depending on the size you want.
Approximate time: 30 minutes to an hour depending on desired length and how much of a perfectionist you want to be.
Instructions:
Cut heart shapes out of your sheets of felt. You can cut any size that you want. Some of mine are about the size of a nickle for the small size and just under 2 inches for the big size. I cut about 85 hearts.
Once they are cut, organize them in the order you want them to be sewed. Organizing will help streamline the process.
Sew! Bring your organized hearts to the sewing machine. You'll want to a simple straight stitch (not zig zag). Grab your first heart (I found it easiest to start at the center of the top of the heart and work down to the point), put it under the foot and start sewing a few stitches. If you haven't sewed before, you'll want to press down on the pedal a few times to get a few stitches in your heart and then you'll want to reverse the stitch to lock the stitch in so it doesn't unravel (there is usually a button you press on the sewing machine that will let you reverse the stitch). After you lock in your stitch, continue through the first heart, be ready to grab the next color heart in line and start to feed it under the foot so it can be a few stitches behind the first heart. They do not need to be touching each other, even if there is no material under the foot, the machine will continue to stitch the tread together like a floss until it reaches the next heart. Continue feeding through your hearts until you come to your desired length. You will want to lock in your stitch on the last heart as well, again, this will make sure that the stitches don't unravel.
Find a place to hang your garland. Step back and admire.
In the close up picture, you can see I used white thread and had a few stitches between each heart. Mine are not perfect, but I think that's what gives it a homemade charm.
By mom2gracie from Wheaton, IL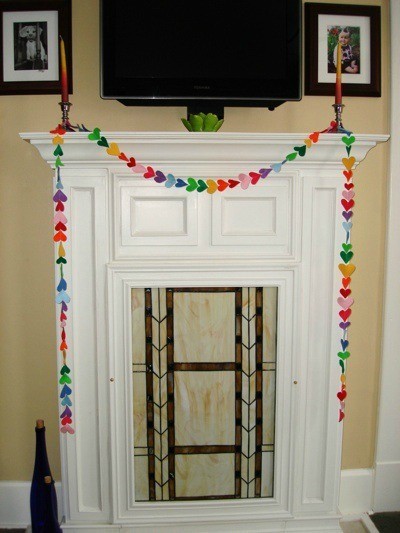 February 14, 2010
2

found this helpful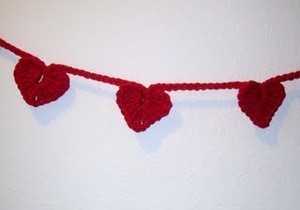 Valentine's Day Garland for decorating your home or classroom.
Approximate Time: 1 hour
Supplies:
a small amount of worsted weight yarn*
size I (5.5 mm) Crochet hook
yarn needle
*Amount will depend on how long you make your garland
Instructions:
Size:
Approximately 2.5 inches across each heart Chain 24 and make heart (pattern below) in the 4th ch from hook, repeat for the length you want. End by chaining 20 and fastening off.
Make all stitches in the designated chain. 3 tc, 3 dc, chain 1, 1 tc, chain 1, 3 dc, 3 tc, chain 2, slip stitch. Fasten off.
Notes:
Any size yarn and appropriate hook can be used. With size 10 thread it makes a delicate garland, worsted weight makes a more "county" look.
When you re crocheting the second half of the heart, you will be crocheting over the chain as well.
By Suzie from Bellingham, WA
March 1, 2017
0

found this helpful
Recycled craft projects are doubly satisfying, not only do you have a lovely or useful craft item, but your are recycling and repurposing materials that would have gone to the landfill. This is a guide explains how to make a heart garland from recycled milk jugs or other thin plastic containers.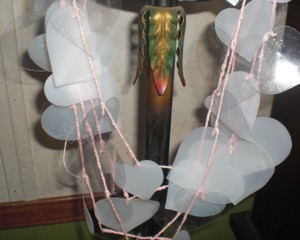 Related Content