September 16, 2022
0

found this helpful
Best Answer
The chifforobe was first introduced in the Sears Roebuck catalog at the start of the 20th century. Originating in the U.S., the chifforobe combined a chiffonier (a French furnishing featuring drawers) and a wardrobe (a large movable cupboard used to store hanging clothes). Sears described the chifforobe as an original invention since it was the first piece designed to hold both hanging and folded clothes.
A closet-like piece of furniture that combines a long space for hanging clothes (that is, a wardrobe or armoire) with a chest of drawers. Chifforobes were first advertised in the 1908 Sears, Roebuck Catalog.
Generally, the stamped information on the back is for warehouse/store use. May describe the item and numbers could mean where it was made as well as date (code).
Your piece could be from the early date but it may take a professional to actually date it. You can probably come close to the date as you know when your grandmother was born, when she married, and also where she lived.
As to value; you can find different styles listed for sale all over the country at low to very high prices. Some will be brand names that are sought after but, all in all, these are not popular items. Most people do not have room for large bulky pieces like this and do not wish to be bothered with moving such an item.
Yours is very stark and really has very little character that would attract very much attention; especially without a mirror.
However, you may be lucky and this type of furniture could be popular in your area.
Where you are located will usually determine the final value as well as how fast it sells. The price depends heavily on where you live - according to the market demand. Heavy items are usually sold as 'local pick up only' as shipping would be costly.
You could 'test' the market in your area by listing at a higher price and see if you receive any offers. If no offers after several weeks, then lower the price and wait again.
Good pictures and a good description are essential for items like this.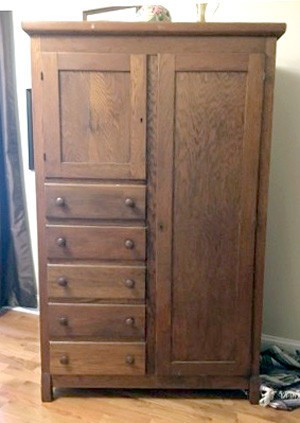 September 19, 2022
0

found this helpful
Best Answer
"'Chifferobe' is a southern term commonly used during the early 1900s to describe a particular kind of furniture especially suited to storing clothes. A typical chifferobe had one long compartment for hanging clothes alongside a smaller one for storing hats. It usually had several drawers. Sears Roebuck chifferobe was first introduced by the company in 1908." steverobert.wordpress.com/.../
I found a chifferobe with similar mark on the back:
"CHIFF - 10120 - M - 100 stenciled on the back"
www.worthpoint.com/.../vintage-wardrobe-chifferobe-1908957556
The seller wrote that the "Wardrobe made by Larkin Furniture Company, Buffalo NY."
Since the marks are identical, and the chifferobes are also identical (only wheels are added to the legs), then your chifferobe is also made by Larkin Furniture Company.
Here is another identical wardrobe configured with doors and drawers, Larkin Soap Company, New York, circa 1900s
www.prices4antiques.com/Furniture-Wardrobe-Armoire-Larkin...
The Larkin Company began as a small soap manufacturing business in 1875, then became one of the largest and most recognizable companies in the country.
"Larkin's first factory was located at 196-198 Chicago Street in Buffalo's Old First Ward area, and by 1877 the company had grown so rapidly that Larkin purchased property at 667 Seneca Street in the Hydraulics neighborhood in order to build a larger factory, adjacent to rail lines and the needed raw materials." buffaloah.com/.../larkin.html
"In 1885, Hubbard developed a plan, called 'The Larkin Idea,' that offered giveaways with the purchase of particular items from the company's mail-order catalogs. Beginning in 1905, the company established branches and warehouses first in Cleveland, and then in Boston, Chicago, New York City, Peoria and Philadelphia."
www.thehenryford.org/.../the-larkin-idea
Larkin Furniture Company was a byproduct of the Larkin Soap Company. The furniture was initially given to customers who purchased a certain amount of soap and other products, but then Larkin began selling its furniture directly to customers.
www.1stdibs.com/.../
Identical Larkin chifferobe was sold in 2010 for $201.5
www.antiquesnavigator.com/.../antique-oak-larkin-wardrobe-chifferobe...
But the price is highly dependent on the demand in your area, as such chifferobes are usually sold with local pickup.

Judy
Gold Post Medal for All Time! 677 Posts
September 15, 2022
0

found this helpful
This may have sentimental value, but I dont think there is much monetary value, especially with damage.

CDC
Bronze Tip Medal for All Time! 59 Tips
September 16, 2022
0

found this helpful
This Chifferobe is listed for $280:
www.ebay.com/.../265235723083
This will tell you what Chifferobes's have sold for in the past:
www.ebay.com/.../i.html?_nkw=antique+chifferobe&_in_kw...

September 18, 2022
0

found this helpful
I found very similar chifferobe 5" tall x 3.7" wide x 19.5" deep:
www.worthpoint.com/.../vintage-chifferobe-wardrobe-cabinet...
I can start free trial to find information about its worth.
This one was sold for $200

September 19, 2022
0

found this helpful
Antique Chifferobe in great condition sold for $125
picclick.com/Antique-Chifferobe-263123046509.html
Height 64" Width 34" Depth 16"
Another vintage Chifferobe/Armoire sold for $377
www.aptdeco.com/.../vintage-chifferobearmoire
Very similar chifferobe
www.worthpoint.com/.../antique-wardrobe-armoire-chifferobe
You can get a free trial account to see what this exact same set sold for.