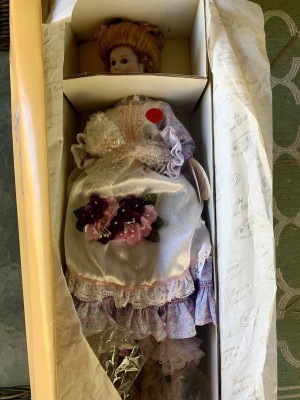 I have acquired all four of the Romantic Flower Maiden dolls by Merri Roderick. I know nothing about dolls. Three of them have the COA and say 29/2 a, 39/d and 187-a. What does that mean? Does anyone know how many were made? They are all in the box and have a lot of paperwork.
Thanks!
Answers

Judy
Gold Post Medal for All Time! 677 Posts
November 2, 2019
0

found this helpful
These are mass-produced dolls. The number tells you which number in the lot they were. They are in the $35 asking price range on eBay.

poehere
Bronze Post Medal for All Time! 105 Posts
November 2, 2019
0

found this helpful
Many grandparents buy dolls like this for their grandchildren. When they are made the company normally makes between 2500 to 5000 of each doll. The dolls are considered mass-produced and do not bring in a high resale value if you are looking to sell them. For the set of 4, you will be lucky to sell all of them for $30 to $50.

Ana
Bronze Post Medal for All Time! 140 Posts
November 3, 2019
0

found this helpful
This doll not going for more than $35. It would be hard to get to get more than that.You could auction or put on bid!

November 3, 2019
0

found this helpful
These dolls were sold during some of the 'hey days' of the doll selling era and thousands were made.
The numbering system used is probably something only the company knows and could be factory where made and other things and does not have anything to do with how many were produced.
There may be no way to find out how many were produced as they use the 'limited edition' with a certain number of 'firing days'. That means if the dolls sold they made more but if it was not a good seller they only produced several thousand. They give a date the production will stop and no limited number.
I have not seen anything saying how many styles of these dolls were produced as the only one with any indication is 'Rose' as being the first in the series. All others seem to be just in the same series.
Your pictures are good but it is difficult to see the dresses and hair and dress is how to research if no name is given.
Google has a lot of images so you might be able to find the one doll information you are missing by checking the images.
www.google.com/search?q=Romantic+Flower+Maiden+Dolls...
eBay and Etsy have dolls listed so you can see what dolls you are missing.
www.ebay.com/.../i.html?_from=R40&_trksid=m570.l1313...
Value is not high so I hope you plan to keep them as they are lovely.
You can always check sold listings on eBay to find current value of similar dolls. Here is a link to dolls in this series that sold over the last several months.
www.ebay.com/.../i.html?_from=R40&_nkw=Romantic+Flower...
If you Google the name you will be able to find where these dolls are listed for sale and maybe check back to see if they sold. Sellers keep dolls listed for many months or even years so it is difficult to say how long a doll was listed for sale before she sold.
Asking prices only represent what a seller would like to receive for their items and only a sold doll can tell you current value.
I do not believe doll values will increase over the coming years as the companies just produced too many and duped people into thinking they would increase in value over the following years.
Some Barbie dolls that sold for $150 now are difficult to sell for $35.
Thanks for sharing your dolls as this is my first encounter with this series and I have researched dolls for many years.

Pghgirl40
Bronze Feedback Medal for All Time! 196 Feedbacks
November 3, 2019
0

found this helpful
Thanks for sharing your lovely gals.
Unfortunately the information on the COA could be just about anything...the one could be 2nd doll of 29, but most likely is that it was made from the mold # 29/2 a. Same with the others.
As to the numbers made, some doll makers were very open with, as you said marking a doll with its number like 200/5000, but some makers were very candid about their numbers giving the allure that they were just making a few, when in fact they made multiple thousands, but only distributed a few to each seller (store). In today's world, many would call these doll makers scam artists, as their practices were shady and designed for them to profit on the backs of the hype they created with buyers.
When I sold dolls in the 1980s and 1990s, COAs were often stolen from doll boxes, switched from an expensive doll to an inexpensive one to give it the allure of more value and generally forged on copy machines when disreputable re-sellers were trying to ride the wave of collector dolls and sell them at flea markets and tag sales.
Bring us to today and all of that whole COA fiasco has rendered the COA meaningless for all but the few hard core doll collectors who know exactly what an "original COA and box for that matter" should look like and what it means to them for their collection.
The doll markers of this period created a buzz back then with false hopes that a COA would make the doll valuable (like COAs do for famous artists and valuable autographs).
For most, it doesn't and sadly today most sellers can't give dolls away.
To value your lovely gals, what I can tell you is there are a number of auctions for them on eBay. One sold for 5.99 + shipping and the rest have been sitting unsold at values from 5.99 to 19.99.
Some of those are for multiple dolls in one sale.
If you are trying to sell them, you can try to start at the 19.99 range and take best offer. Personally selling them online is a nightmare because you have to ship them and the cost of shipping in the US with the dimensional postal requirements is often higher than the value of the doll.
Best selling methods are in person or a consignment store.
Answer

this Question