November 24, 2020
0

found this helpful
From loking at photos online of Long-haired Chihuahua/Jack Russell mixes, I think your vet is probaby correct in identifying those 2 breeds in your dog. One thing is certain, she is abolutely adorable!
November 24, 2020
0

found this helpful
Thankyou so much for your reply, i agree with u she is absolutely gorgeous, i bought her as a long haired chihuahua a month ago but obviously as the days went by she got bigger and grew these long legs lol.. vet not sure so i thought i would ask for opinions.. thanks again
November 25, 2020
0

found this helpful
Thanks Ana im thinking shes more long haired chi by the day, with maybe a smidgen of something else, shes getting so hairy and fluffy and a proper chi tail, im guessing i will have to maybe wait a few months to tell for sure, she certainly turns a few heads when we are out walking.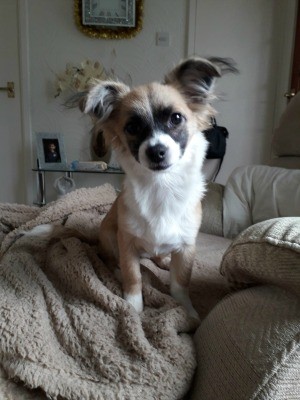 November 25, 2020
0

found this helpful
She is probably a mix but definitely has a lot of Chihuahua; more than any other breed. She has the ears and facial flags of the long haired Chihuahua and some short flags on her legs but since I cannot see her body it's difficult to tell about flags on her body and tail especially. Her face is Chi and that is why she is so cute!
You will be able to tell more about her features as she matures a little more. Her personality and temperament should give you a few clues also. If she has very much Jack Russell background she will be more hyper and her body will be less fragile and a little more stocky. More Jack Russell and she will be taller and weigh more than the Chi normally does.
The Jack Russell chihuahua mix weight is usually anywhere between 8 and 18 pounds, depending on which parent they take after the most, as well as their gender. The height is around 15 inches.
You can always check out sites online to see how she progresses and how she changes and maybe relates more in breed direction.
www.allthingsdogs.com/.../#:~:text=Jack%20Russell%20Chihuahua...
The most important thing you can do for your baby is to complete all of her shots/vaccinations and since you mentioned her vet then hopefully she is in good hands.
November 26, 2020
0

found this helpful
Thankyou so much for your valued opinion, im hoping you are right and will be able to tell more the older she gets she us starting to get the chi tail i think and the fur growing inwards like two quiffs on her bottom..shes a brain twister lol, but as i say shes the frendliest, cleverest pup ive ever had.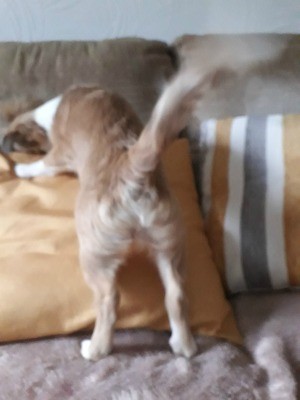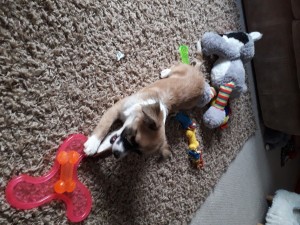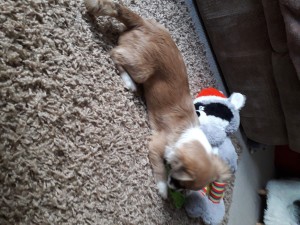 November 27, 2020
0

found this helpful
She is adorable - I have had 2 'true bred' long haired Chi's (one was from a champion mother but they were gifts to me and my daughter so price I did not know.
Generally their tail will curl over their back and 'flags' will hang down over their body.
They also will have flags hanging everywhere and if from a true bred they will kinda prance instead of the normal walk/run of other dogs.
It doesn't matter how much Chi she has as she looks Chi through and through.
If you get her DNA and it does not match the seller's description you might get some of your money back but a DNA test is nice to have just because....
November 28, 2020
0

found this helpful
I wouldnt be able to get any money back because when i called to querey her breed they blocked my number, that set the ringing bells in motion.. now i can say she was worth every penny ..
November 26, 2020
0

found this helpful
I have to agree with your vet on this one. She does look like she has some jack Russell terrier mixed in with her. When people sell dogs and claim they are one breed they should produce you with the bloodline of the dog if you paid a good price for this dog. Many breeders now just breed dogs and sell them off for a more expensive breed when they are mixed. No matter what she is adorable and you should have years of love and fun with your new pet.
November 27, 2020
0

found this helpful
Thankyou for your reply, yes you are right i dropped the ball with my purchase of Honey, i paid 1400 for a long haired chihuahua puppy, i should have been more aware but now ive got her i wouldnt change her for the world she is amazing, but yes still annoying that people feel the need to cheat and lie to you, someone would have bought her as a jack chi.. i dont understand why they would lie. Thanks again.