March 2, 2011
0

found this helpful
I work at an animal shelter. I tend to agree with the original guess of Min.Pin./Terrier mix. I don't see anything resembling Rottie other than the black and tan coloring. Only time will really tell as the puppy matures. We get a lot of dogs in the shelter that look completely different as adults than they did at only a few months old. Keep us updated with another picture once your baby is older! :)
March 2, 2011
0

found this helpful
Check his paws! Big feet mean a bigger dog! Little feet mean a littler dog.
March 2, 2011
0

found this helpful
Thanks! I am eager to see what he looks like when he is full grown! I definitely don't think he has any Rottweiler in him... he is just too small. I have been looking up different breeds of Terriers to see if I could find one that resembled him or his mother.
Anyone care to take a stab at a guess as to what kind of Terrier he may be mixed with? I am attaching a photo of Riley's mom to help out.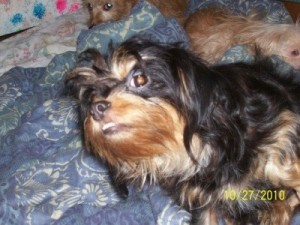 March 3, 2011
0

found this helpful
I would say that he probably is a Min Pin/ Terrier mix because I have a dog that looks just like him. I was told that is what my dog is. His name is Bubba Max.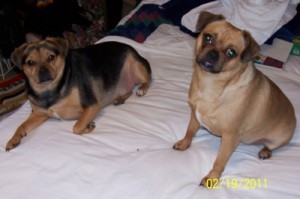 March 6, 2011
0

found this helpful
Mom looks like she has some Yorkie in her. Maybe a Yorkie/Min Pin mix?
Whatever he is, Riley sure is an adorable baby. Please do keep us updated on what he looks like as he matures.
April 2, 2011
0

found this helpful
Riley is getting bigger & bigger by the day!! He is now 16 weeks old and weighs 9 lbs! He is definitely part Mini Pin... Still not so sure as to what type of Terrier he is mixed with. He is perfect no matter what his breed is!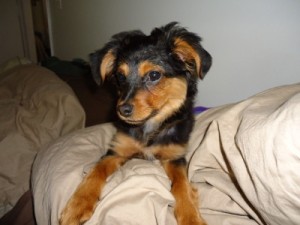 May 3, 2014
0

found this helpful
It looks like a chorkie or Yorkshire terrier.
January 22, 2015
0

found this helpful
Any idea what breed this guy is? His adoption paperwork says he is a Terrier mix, but I've never seen a terrier that looks like him.
He's 3 years old, so fully grown, and his tail curls over his back, kinda like a Pomeranian. He is 9lbs and has really soft, fine, but thick hair.