She looks like a pit bulldog to me. This breed has lots of bad press but the sweetest dog I ever owned was a pit bull.
What difference does it make? Give her lots of exercise and discipline and she'll be fine.
Her red nose makes me think she IS a pit. She looks like my daughter's pit.
Pit Bulls are sweet as long as you remain loving and the alpha dog. Here is a link about being a pack leader:
leerburg.com/puppygroundwork.htm I love this article it is so informative.
Pits are so much little wiggle buts and kissers it is sometimes easy to forget to train them. LOL. I would just call it a bulldog.
Probably has some pit (staffordshire terrier) from that forehead but the coloring and the width of nose makes me think she is at least part boxer. I would call her a boxer cross over a pit cross from this angle at least.
What a face! Your cutie sure looks like a pitbull or a pitbull-cross. My daughter has a pitbull named Peaches & I have a boxer so the pit-boxer mix might be right on the money.
You have an adorable dog, at any rate; don't be put off by the pitbull "reputation". Peaches (on the right) is the sweetest girl you'd ever come across and Bogie (my double brindle boxer on the left) is the sweetest little boy you'd ever want to meet so that would be a very good combination. ANY dog can be a wonderful member of your family if given the chance. If you rear your puppy correctly w/lots of love, socialization & don't forget positive discipline, you've got a winner, no matter what the breed! Good luck ~ Brenda in Idaho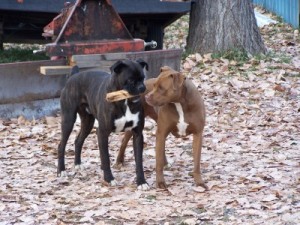 Definitely a pitbull; looks exactly like mine. They can be lovable but be careful because they can turn in a second, when least expecting it.
So cute, such a shame that Pitbulls have such a bad rep, but I understand your concern. It would be so sad if you let her go just because of that. I have a schnauzer mix and someone here told me about a place that does DNA testing, if you are that concerned.
My brother did it, gave up NO info and they got his 100% Boxer on the nose! He found it on the internet, cost about $40... Attached is my baby.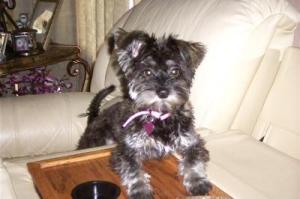 I had a pit/bulldog mix. He was the KINDEST dog around. I was very hesitant to take him for the reputation I had heard about pits. But soon realized that reputation is not a reality. I know some pits are trained as fighting dogs, but then so are other breeds and they are just as dangerous in that case. The dog I had would let me take bones right out of his mouth, although I don't recommend this with any dog. The only time I ever saw him acting like a mean dog was when a male stranger was getting a bit too close to me on a walking trail.
The man backed off immediately. I had to laugh cause he really was a faker. I doubt he would even know what to do! He is and always will be a memory that I smile at. I will always remember fondly my brindle pit/boxer mix named Caleb Bodine. So enjoy your baby. Just treat him kind and loving and he will be kind and loving.

She looks like a mixed pit. Please don't blame the breed, its the owner that make this breed bad. I raised 2 pits who were father and son, they were raised with love and discipline.
If you raise her right, she will be a very loyal companion.
Is your dog's temperment good. Is she well trained and taken care of appropriately. If so it doesn't matter what the breed name is. My teenage son bought home a dog and told me it was a lab-boxer mix. After a month I found out it was a pitbull. I freaked out. I had children coming to our home for tutoring. I told my son the dog had to go. I then did some reading on the breed and found out they are known for their docile behavior with children. Our dog stayed and for 14 years was lovable, funny and devoted to us. We had 2 other dogs, several cats and birds and she never harmed anyone. I hope you feel more confident and enjoy this precious dog. It's not her fault irresponsible people have exploited pitbulls and frightened the general public.