Pghgirl40
Bronze Feedback Medal for All Time! 196 Feedbacks
March 9, 2021
0

found this helpful
Best Answer
This one looks very much like yours. I cannot get a good bead on the legs of yours to see if this is an exact match.
These are often referred to as trolley tables.
The one in the photo is from 1938. These were a popular style in the 1930s.
I am shocked by the sticker price on the one on this site. That does not say that it actually SOLD for that amount, but that was the starting price.
Sadly actual sold prices are the only way to judge current value.
Value is also regional...so what may fetch a high dollar amount in one place, may not in another.
You can use this as a gauge and then take best offer.
Thanks for sharing your lovely piece!

March 11, 2021
0

found this helpful
It is close I agree bur it has no wheels. I had seen one very similar as well with a serving tray with handles that fit down in the top shelf. I have literally been looking for years. Something comes close but not quite it. It looks like my search continues. I uploaded the table with the serving tray on top.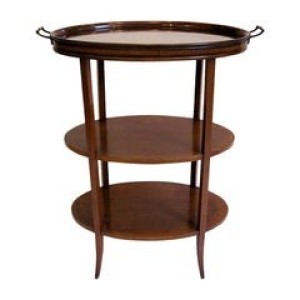 March 10, 2021
1

found this helpful
Best Answer
Nice looking tables.
If your measurements are correct - 16.25"L X 14.25"W X 27.5"H - these are small tables compared to the average end/side table.
It looks like the legs are slightly turned out near the floor but no metal claws (or wheels) which seems unusual to me but I'm not an expert on styles or dating furniture. I like researching but often just do visual searches.
I know that I've seem similar table tops and when searching I found the same type of top shelf on Mersman tables.
classifieds.ksl.com/.../56584258
www.ebay.com/.../174561747435?_trkparms=aid%3D1110006...
Due to the size/measurements of your tables these would be small end/side tables or lamp tables maybe.
The measurements of the tables in the listings above are:
27" H x 24.25" D x 26.50" W
This is an average size of end table so yours appear to be unusually small.
You might try asking about your tables on some of the vintage furniture forums.You will have to join first (free) but usually good response within a few days.
here are a couple but you can Google for other sites.
www.myantiquefurniturecollection.../.../ask.html
www.vintagefurnitureguide.com/.../

March 11, 2021
0

found this helpful
These E-bay Tables are close but only has 2 tiers and the wood seems rougher.
Vintage 1940's Hepplewhite Style Mersman Mahogany Oval Table with Inlay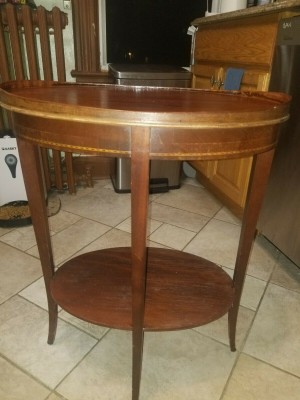 March 11, 2021
1

found this helpful
I did also see both tables you described but the one with a tray is definitely a serving style and the second table is larger but very similar style but only one shelf.
www.ebay.com/.../184553986757?hash=item2af8465ac5...
This table is also larger (recheck your measurements?)
22 3/4" x 16" x 27" compared to yours:
16.25" x 14.25" x 27.25"
The legs are same size and slant but no design on legs and legs are not inset in the same manner so there are similarities and several differences but may be similar in value.
I still believe it is a Mersman table and the mark/label is no longer there. The unusual top is the thing I see as unusual but maybe other companies made this style also. I have not checked that out as yet.

Judy
Gold Post Medal for All Time! 677 Posts
March 9, 2021
0

found this helpful
The number on the bottom is just the style. Look for a manufacturers mark.
These tables have shelves under them for books and the like.

Ana
Bronze Post Medal for All Time! 140 Posts
March 10, 2021
0

found this helpful
I did not find the exact one, but I found similar ones on consignment- here is one that sold - www.chairish.com/.../ferguson-3-tiered-mahogany-table... also another one on consignment- www.chairish.com/.../mahogany-3-teir-side-table-end-table

DianaHM
Silver Answer Medal for All Time! 440 Answers
April 17, 2021
1

found this helpful
You table looks like Edwardian Inlaid Mahogany Oval Tray Table: www.hingstons-antiques.co.uk/.../
Your table is quite eclectic, not dark in color. It was the furniture of the Edwardian era that distinguished these features. And mahogany is a popular wood found in Edwardian styles.
After the death of Queen Victoria in 1901, Edward VII was crowned king of England and reigned continuously until the beginning of the first world ward (1901-1910). As a departure from the Victorian style furniture, Edwardian furniture makers made it more modern looking but while combining it with earlier designs. Thus, Edwardian furniture had a more eclectic design. Compared to previous eras, Edwardian furniture combined the old and the new with a preference of lighter colors and designs like those featured in inlaid furniture from that era. Furniture designers hardly preferred the heavy, dark material that worked so well in previous eras. It is easy to say that Edwardian furniture pieces do not come with a unique style. The furniture looks much more like the pieces from other periods.