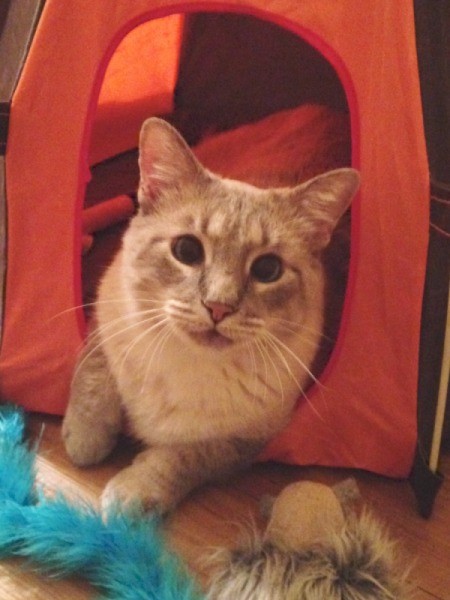 Your Pet's Age
Approximately 4-yrs old
Your Pet's Breed
Siamese mix
How and when did you get your pet?
We live out in the country and our area has a lot of feral cats. We had been feeding one feral, who we called Kiki, each night when suddenly this big grey bully showed up and scared Kiki away. He refused to leave, but was so sweet he stole our hearts. We immediately realized he was too friendly to be a feral. After feeding him on the carport for about 6 months we discovered our neighbor across the street had also been feeding him. As we approach the 1 year anniversary of Ziggy's appearance into our lives we decided to bring him indoors, get his shots, and have him neutered. We already had two indoor cats, but they were not happy about having Ziggy move into our house. Ever the bully, Ziggy kept attacking them, so he had to remain confined to his own room. By the end of the first week indoors we suspected Ziggy was diabetic (we had a "sugar kitty" in the past so we knew the signs.) Our vet confirmed our suspicions with a simple blood test. It's been almost a year since we brought Ziggy indoors and he has adjusted well to being a house cat and receiving insulin shots twice a day. We just wish he'd get along with the other cats. Tuesdays and Thursdays are Ziggy Days, when the other two spend the day in the basement and Ziggy has run of the upstairs. He also spends most evenings with Momma & Poppa. This picture shows him in his "kitty tent" which I purchased for the outside Ziggy enclosure I plan to build this fall.
What does your pet like to do for fun?
Ziggy's favorite thing to do is play on his cat tower. He loves to play "string" with a shoestring, or chase any of his many toys on the end of a stick (but mainly when someone is playing with him.)
Do you have anything else to share about your pet?
Our other cats - Sara Bette and Bear - each have their own personalities. We love all of our purr babies equally and continue to hope for the day when they will all play, eat, and sleep together. We also have a cockatiel named Monty.
Add your voice! Click below to comment. ThriftyFun is powered by your wisdom!
September 17, 2018
0

found this helpful
Sounds like one big happy family and I feel sure Ziggy will fit right in very soon. He is outnumbered even if he is the "bully".
Interesting story but sounds like everyone is in the right place.
Stay well and continue on as Ziggy is too smart to let this good thing get away.
September 17, 2018
0

found this helpful
Thank you. We hope and pray that one day he will get along with the other 2 ...they could have such fun together chasing each through the house. At 17 lbs, Ziggy could use the exercise.
September 18, 2018
0

found this helpful
Do you ever try to exchange their sleeping rugs/blankets?
This has helped me in the past when I fostered kittens (waiting on a forever home) and it was slow but it did occasionally work.
September 18, 2018
0

found this helpful
We have not but are willing to give it a try. We let Sara & Bear explore Ziggy's room while he is enjoying time in the sunroom.
And of course their scent is all over the place when he's out enjoying time in the rest of the house. Thank you for the tip.
September 26, 2018
0

found this helpful
All of your cats may be able to be together as long as you keep their nails trimmed. I've found that scratching one another is the biggest problem. Once I kept their nails trimmed my cats all got along, each finding their own special places when they wanted to be apart. Sometimes however, I would find them all sleeping together on my bed. If Ziggy establishes his dominance and the other two back down there should be no problem. Good luck.
Add your voice! Click below to comment. ThriftyFun is powered by your wisdom!