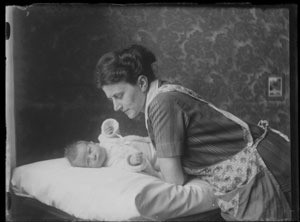 Putting the Leaves on Your Family Tree - Part Two
This could be a fun project for the teenagers in your family or just yourself. The best place to do this would be a family reunion, but if your family lives nearby, it can be easily accomplished. Basically, you will be interviewing the oldest members of your family, asking them to recall what it was like to live in the times that they did. I am going to detail just what you will need to do to put down their memories. First, you will need a tape recorder or, even better, a video camera. Plan on typing up your interview so that you can have a hard copy. Better to be safe than sorry if something should happen to your tape or video. You might also want to have a pen and paper available to take notes also. This will make a nice gift for others in your family.
You will want to get your subject nice and comfortable and in a chatty mood. This means if you are doing this with an older person, you will want to do your interview in the morning when they are fresh. Get them a fresh cup of coffee or tea or something cold to drink and set down and just talk to them. That is why the tape recorder is so great; you won't miss a word. I am going to include a nice interview format here so you will have a general idea as to some of the questions you might like to ask. Start with their childhood and work your way up. My questions are not in any particular order so you might want to rearrange them to fit your timeline.
What is your favorite color? Food? Hobby? Sports team? Music? How did these things impact your life? (Ask follow up questions when you get your answer. If they were a Yankees fan, ask which game they remember most. If they love to crochet as a hobby, ask them what their most challenging project was? Ask for their favorite recipe or pattern.)

Are you left handed or right handed?

Tell me a story about the games you played when you were a child.

What food can you just not stand and why?

Tell me about your high school graduation?

Did you go to college and if so, what was it like? If not, what kind of education did you get?

Did you live during the Depression and if so, how did you and your family cope?

What was your favorite vacation?

Who was your favorite President and why? How did he inspire you?

What political party are you affiliated with?

Who are your favorite actress and actor? Why?

Did you or anyone in your family fight in WWII, Korea or Vietnam? How did you feel about that? Tell me a story of your time over there?

If you fought in a war, did you win any medals or awards?

Have you ever met a famous person? Who and did you get to meet with them or was in just a handshake in a crowd sort of thing?

Where were you when Kennedy was assassinated? What were you thinking and feeling on this day? On Pearl Harbor Day?

Where were you when Neil Armstrong first walked on the Moon? What were your impressions of that day? When the Space Shuttle Challenger blew up? Or 9/11?

Were you a hippie or a flower child? What part of the social upheaval did you bring with you into your adulthood? Or is this a time in your life that you would like to forget?

What was your career like? Did you like your job? What exactly did you do for a living? (My grandmother was a farmer's wife but worked also in a seed company filling orders. We got her to tell stories of what it was like. She also was a school teacher in a one room schoolhouse, we asked her to tell us stories of what it was like.)

What was it like growing up in the part of the country you are from? Did you like living in the city/country? Tell me about the house you grew up in? Tell me a family story that tells about your house and your family?

What was in like when you first moved away from home?

What was it like when you bought your first home?

What was your social life like as a kid? Did you go to the drive-in movies or the drive- in hamburger joint? What did you do for entertainment? Were you a little hellion or were you the smart studious type?

Where did you always dream of living or of visiting and why?

What are the most important changes you can see between now and the 1950's. What about the 60's, 70's, 80's or 90's? Ask what they think was the best invention or how they think morals changed during these time periods.)

What was the best car you ever owned? (Ask its color and make and model. Ask why they loved it so much.)

What was your proudest moment? Your hardest moment? Your most embarrassing moment?

Who was your best friend? (Get them to tell you a story about them and ask them why was this friendship important to them? What are their ideas of friendship based on?)

As an adult, what was your social life like? What was your favorite activity and why? (My mom loved to go dancing and won trophies doing it and my dad's idea of a great time was going to Dodger Stadium and watching the game with his friends, they both loved to play bridge.) Tell me a story.

What was your favorite movie? Why did you like it so much?

Did you and your spouse have a special song? When did he first dedicate it to you or you to him?

How did your spouse propose or did you propose? Was it love at first sight? How did you meet? Did you know right away that this was the person you would spend your life with? Tell me a story about your wedding.

What was your favorite pet? Why was it important to you? Tell me a story about you and your pet.

What was it like to raise children in your time frame? How was in different than the way your parents raised you?

What is the one decision that you made that you would change now, if you could?

Who inspired you most in your lifetime? And why?

What is your religion? What does faith mean to you?

Which one of your siblings is your favorite? And why? Tell me a story

Do you have a favorite Aunt or Uncle or Grandparent? Tell me a story

Would you call yourself a liberal or a conservative?
You can add or delete from this list as much as you care too. Depending on their age, some of these questions may have to be modified. You don't want to be asking someone about WWII if they were just a baby or hadn't even been born yet. Start with easy questions about the person themselves. Go slow and be patient. Let them ask you questions about you too. While you are at it, ask your family member is they have any photographs that you could scan or copy. This could really add meat to your final product, plus who wouldn't laugh to see Granddad in his leisure suit. This should be more than enough to get you started. Remember to be considerate of your family member. If there are any questions on my list that they would not like to answer, delete it. You are here to put down a living oral history not unbury old skeletons. You will find that most of these questions will bring about more questions. Be true to the person and write down just what they said.
Now you have completed your tape or video. What comes next? Well, you can make copies of the tapes and pass them on to family, which would be priceless as you have the actual person talking, or you can transcript the material into a written format and pass that along to your family as a written biography of the person that you choose to interview plus you can copy the tape and send it along too. If you have gathered pictures to go along with your interview, you can put them in a photo-editing program and fix red eye problems or put a fancy border around them. Also you can crop the pictures to make them the best that they can be, The mountain in the background is great, but if Aunt Sylvia looks like an ant in the foreground, you just might want to crop it to be able to see her. Sit at your desk and listen carefully to the tape. Type what you hear. You can also drop your text into a publishing program like Microsoft Publisher, which comes with Microsoft Office. Then you can choose a blank document brochure and put it all together using the template. It will have preset places to put your pictures and makes layout easier. When you are done, you can print this out and make a small book out of it by stapling it all together or having it bound at your local copy shop.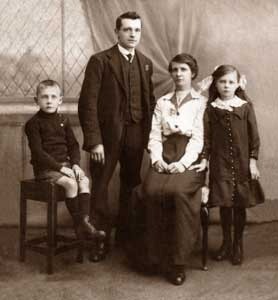 Putting the Leaves on Your Family Tree - Part Three
Well, by now if you have been working on this, you have lots of family information and treasures stored. When most of us are working on our genealogy, we find it's a piece of cake to find out about our parents or grandparents but getting information on great grandparents can be a little harder. Genealogy is kind of like a treasure hunt and history lesson all in one. Now if you are lucky, you have found some member of your family that has a written genealogy already prepared or a family member with a Bible that contains this information. If this has happened to you, you may want to research further. There are many areas that you still can explore. If you have found out that you are the only member of your family researching, I will give you many places you can go.
There are many documents that you will want to collect as you proceed with your genealogy. Among these will be Census Records, Wills, Church Records, Marriage, and Divorce Records. You will most likely want birth and death certificates also. Most of these can be found at the Clerk and Recorders office for the county in which your ancestors lived. In most cases, there will be a small fee for research and copying cost. Most Churches have records and a lot of them have been put online but if you find that your ancestor's records have not, you can get copies of the records by writing to the church. If your ancestor was buried in a church cemetery, they also will be able to help you find it. You will have a hard time getting anyone's records that is still living due to identity theft. There will be many websites that will want you to scan or copy your records but it is very dangerous to put out that kind of information. When sending out a Gedcom, you will want to be sure that it contains NO sensitive information like social security numbers. It is ok to include this in your research but identity thieves will steal anyone's identity, even people who are dead. A lot of people mark individuals who are still living as private, so you can not even get birth dates for them. But very old records can still be found. Many documents are available online. You can copy these records by using your browser's print function. You will want to take these records and put them all in your three ring binder. The Census bureau just released a bunch more records a couple of years ago, so finding your grandparents won't be hard. If you live a distance away from where your ancestors lived, you can always use one of the many genealogy libraries across the country. If you happen to live in Salt Lake City or can make a trip there, the Latter Day Saints have the best library in the country for genealogy and it is free to use for anybody. They have many old records on file in Microfiche films that can even be sent to your local genealogy library and they do maintain regional libraries across the country. Check through your public library for times and locations. These are usually staffed by well trained volunteers who can help you with any questions you may have.
Let's start with the people who don't have a written genealogy or have a partial genealogy and would like to try and take it back another couple of generations. Here, I will try and give you some of the best free websites that you can search. When I went to Google and typed in Genealogy Websites, it returned 1,370,000 results. This can seem pretty daunting but there are really just a few that are worth spending any time on. You need to understand that most of the information available on these sites is official records from an official database or copies of someone else's research, so you may find errors. The way that most free genealogy websites keep their information free is by accepting genealogy done by their contributors. Only by helping each other can we keep this information free. But again, I caution you to not release sensitive material out in to the public domain. If you do find an error in someone else's researches, please contact them so they can make a correction. They may ask you for credentials, meaning proof. But only by helping each other do we insure the accuracy of all the family trees on these sites. There are many web sites that want you to pay for their information and there are lots of sites that have been purchased by big companies that used to be free, so make sure that you do not have to pay for information. Most of these sites have free trials so if you feel the need or have reached a roadblock in your research, try one of them out. I was very disappointed when Genealogy.com was bought out by Family Tree Maker, a very expensive Genealogy software maker. I had contributed a lot of family pictures and scanned documents and now it hurts to think other researchers have to pay for information that I would have given freely.
There are many ways to find your missing ancestors. If you have names, you can do a search in one of the many surname databases listed here. You can also check Census Records online and Land records. Check every database for your information. You might not think it belongs there but the researcher might have included it anyway. If you don't have names, start with the name you do have and try to work your way back from there. Check your websites often, you never know when someone will have posted the breakthrough that you have been looking for. Also you can Google your surname plus genealogy, this will lead you to many web pages made by genealogists like yourself. Feel free to ask these people questions. More than likely, they will answer any questions you may have and may provided that missing link. They also may be willing to search their databases for your missing ancestors. You just might also find some interesting facts about your family. When researching my husband's family, I found many old, old pictures of a factory the family once owned in Pennsylvania. When I researched the company, I found out it was still in business. In the company history, I found pictures of the founding father, who was my husband's ancestor. With permission, I was allowed to copy the pictures and now have them in my file. You just never know what you may find.
Also while surfing these websites, you will find many enjoyable tutorials that will give you information on how to research a cemetery, how to do tombstone rubbings, and they will have many useful forms that are there for you to download and use. Some forms I recommend are: Census forms, Military Record forms, and Data forms. Data forms can be used to document where you found your information such as divorce records, marriage records or Baptism Records. You can also use this form to record passenger list and ship manifests. Keeping track of where you found your information can be critical if you need to certify your information. Just put down the webpage you found it on and the web site owner if it is from a private website or record that you found it on Rootsweb or where ever.
My first recommendation is the Latter Day Saints site. The Latter Day Saints have been compiling genealogies for years on everybody they can. You don't have to be a Latter Day Saint to use their site and they have compiled genealogies on every ethnic and religious denomination in the world. Their site is where you downloaded your program if you took my recommendation. But again, that website is http://www.familysearch.org. On the home page, you will find a search box that asks for your ancestor's name and the approximate year you would like to research. I would use the birth year or death year here, it seems to work the best. Don't be surprised if it returns hundreds of records for your ancestor's name. John, Charles, Henry, Michael were all common first names and if you have a surname like Jones, Smith, or Johnson, you will get even more returns. Take your time and go slow and look at each record. What you can expect to find from these records will be the birth and death records for that person; their parents and the person they married and their siblings. When you have found the correct person, copy this information down. Add it to your database. Hopefully, they will have records on this person's parents; just keep working your way up. Don't forget to do the other side of the tree, in other words if you have found records of your Great Granddad, don't forget to see if they have records on your Great Grandmother. Be sure to check out all of the many resources here, as they have many articles on doing your family tree.
Another great site is Cyndi's Genealogy List, http://www.cyndislist.com/. Cyndi's list has many great resources, including a surname site to type in your ancestors. On Cyndi's List, which is a constantly updated Links list, you will find places to search by country and state. There are also lots of links to information that people have compiled, such as oral histories, bibles, land grants and contracts. There are also articles on what to do if you get stuck or hit a brick wall in your research. Cyndi's list has been on the internet for a decade and is considered a must use for all Genealogists.
USGenWebProject is another must see and has invaluable information, http://www.usgenweb.com/. They have organized this site by county and state, and this website provides you with links to all the state genealogy websites which, in turn, provide gateways to the counties. The USGenWeb Project also sponsors important Special Projects at the national level and this website provides an entry point to all of those pages, as well. Many counties have searchable records for land deeds, Civil War records, and local genealogies.
Roots web is another very old genealogy web database with lots of records you can search. They are sponsored by Ancestry.com which is a pay site, http://www.rootsweb.com/. They have a surname search engine and message boards where you can leave a message searching for information. Their searches include a social security search, US/ county database and you can connect to The World Connect Project which has completed Family Trees. This is also a place where you can upload your completed tree so that other researchers can find it.
Genexchange is a great site with lots of databases to search, http://www.genexchange.org/. They also are a site where you can exchange information with others. Some of the highlights of their sites are Biographies, Census records, Military records, Passenger lists and Surname search. Very easy to use and great information
Free Genealogy Lookups is another great site, http://www.freegenealogylookups.com/. They have a surname search engine as well as records for Divorces, Passenger Records and most of the usual databases. They also have a genealogy learning center with articles on how to search for your ancestors with different ethnic backgrounds.
If you have ancestors that you know came through Ellis Island in New York City, Ellis Island has now opened their records to the public, http://www.ellisisland.org. Here you will find passenger lists and you can even add your ancestor to their wall of honor.
Now, let's say Aunt Mary was able to give you a complete Family tree all the way back to your country of origin. You might think that there would be nothing left to research, right? Why not research the country your ancestors came from and maybe the reasons they came to America. Lots of people came here to escape persecution but many also came because of famine and war and some came for the opportunities that America offered. Research the county that your ancestor finally settled. Read old accounts of the first pioneers and make a report of what you read. Online, you can find maps of the counties that date way back to add to the historical perspective of your research. I was able to find maps of Pennsylvania made in the 1700's, I added a map of Lancaster County to show how big it was at the time my ancestors migrated here. My ancestors were Quakers that came over from England and my husband's families were Mennonites. I did research on what there religion was all about and the history. I came across many historical accounts of what these pioneers went through. It gave my research a nice historical overview. Write your life story or your wife's. Tell tales about your grandfather. All these things make your genealogy less of a statistical endeavor. Why not search newspapers for obituaries. There are a lot of websites that have obituary databases on line and many newspapers have put their archives online. Many of the county websites on USGenWeb Project have many historical photos of the county, why not download some to flesh out your family history. If you have old photographs that these websites might be interested in, offer to scan and send them in. Many of the military databases are looking for volunteers to transcript records for the American Revolution and Civil War to be put online. Your help would be greatly appreciated. Take one of your ancestor's and write a story about their life or a poem All these things add a personal touch to your family history and make it more alive.
Genealogy is a living thing; by putting it all down and going the last mile, you insure that your family lives on and that future generations will know how it was. Also if you find yourself up at 2:00 A.M. with blurry eyes, hitting the print button and listening to your printers whirl, don't say I didn't warn you! You have officially become a genealogist and genealogy junkie. It's ok! It's legal and they have not come up with a 12 step program yet, so enjoy!