Really hoping someone will know the maker, and age of this chair (yellow/gold color) I picked up for $5? Seller told me her mother in law said that many years ago that she had had it reupholstered in fabric from the 40s. I don't know about that, but the original fabric that covered the bottom is long gone.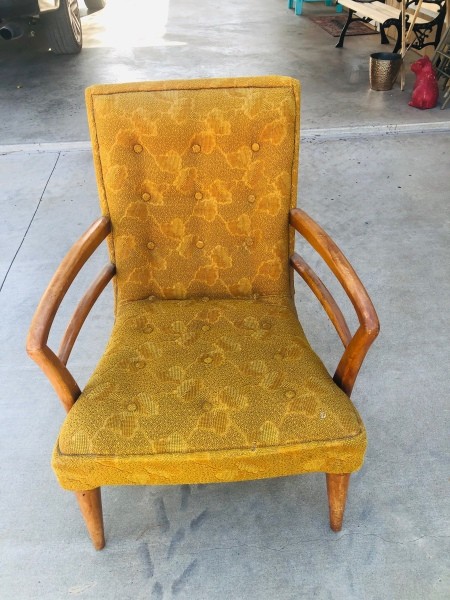 I found a couple of identical chairs online, and a pic of a partial label from the bottom of one them, but cannot figure out the maker.
It's very dusty and needs to be cleaned, but otherwise in great shape, and feels very sturdy and comfortable. Thanks for any, and all information and insight!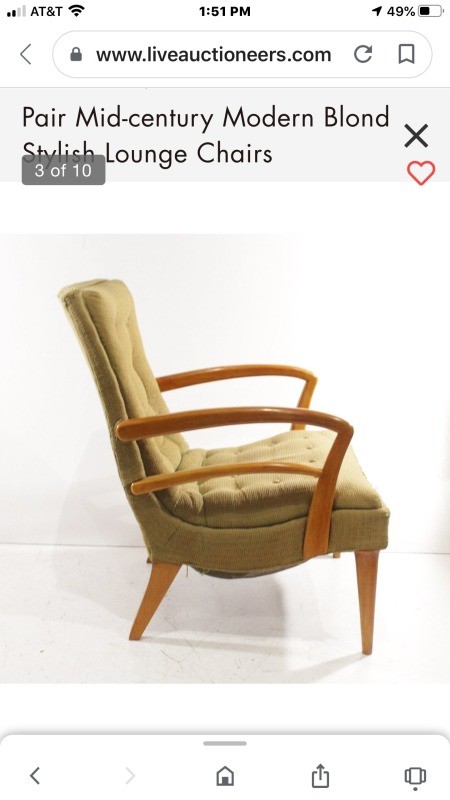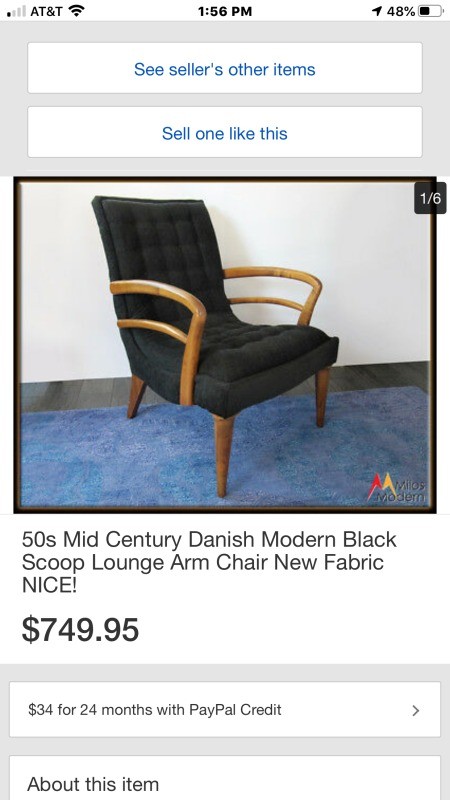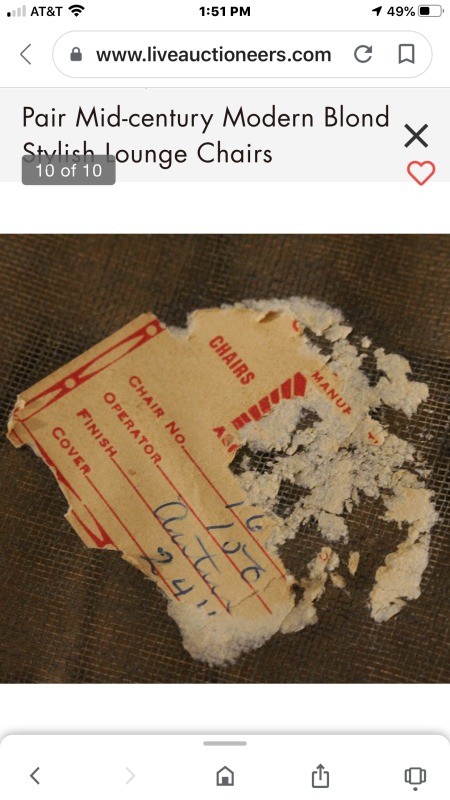 poehere
Bronze Post Medal for All Time! 105 Posts
October 7, 2020
0

found this helpful
Best Answer
From what I am seeing online and some of the auction sites I have visited the chair is from the 50s. I am not able to find any maker and most of them are not listed with one as you have found out. The chairs that you listed from the one auction site is typical of the other chairs I have seen from a few other auction sites. I am not sure if the auction sites have the items in their possession or they are taken on consignment and just the images are listed on their site.
I would try and contact a few of these auction sites and make an inquiry as to who has made this chair. Thye should know a bit more about the furniture they are selling. I can find a few chairs like yours listed and each one seems to be covered in a different fabric. I think the person you purchased this from was correct when she told you her mom had it recovered.

October 8, 2020
0

found this helpful
Best Answer
No matter the actual brand, you got a good deal!
This chair style was and still is, one of the most popular styles any company ever made so just about every company produced a similar style and sellers are calling this style: Danish, Scandinavian, mid-century, scoop, etc. because most of the chairs have no markings and as you've seen on one listing, original tags were usually paper and over the years have 'disappeared'.
This listing is for a beautiful chair and the seller does not mention any brand just as most chairs of similar style/age.
www.etsy.com/.../50s-mid-century-danish-modern-black...
This listing was for 2 chairs and they were in very bad condition (regardless of what is written in description) but sold for $190 in 2019. They also mention (or throw in) the brand name - Heywood Wakefield but I do not believe this partial tag is from Heywood Wakefield.
Listings like this are made on consignment and the auction site has nothing to do with what the seller writes about the item and does not know anything about the item and posts their disclaimer on the site.
www.liveauctioneers.com/.../74979102_two-2-mid-century-modern...
There are a lot of chair forums and most of these members are more knowledgeable about items like this.
You can post your question and picture (should be a side picture also) to one or more of these sites to see what they have to say about your chair.
www.myantiquefurniturecollection.../.../ask.html
I'm not sure about the value but maybe another member, Pghgirl, will be able to offer more information and she may also recognize the label.