Buying A Sewing Machine
Solutions
Share on ThriftyFunThis guide contains the following solutions. Have something to add? Please share your solution!
I love to sew and have been using the same machine for forty plus years. It doesn't do fancy stuff, but I'm not fancy. A few years ago I came across a hand crank Singer sewing machine. It didn't have a needle or an instruction book, but I fell in love with it.
After I got my "treasure" home, I found my hand crank sewing machine uses the same needles as the new ones. (I purchased the needles at the Dollar Store!) The manual is free on the Singer site.
This hand crank machine locks the stitches better than my trusty forty year old, sews through multiple layers of fabric without missing a stitch. Best of all, I can sew outside or at a civil war reenactment. I have made several friends while they sat and watched me sew. Yes, I let them crank if they ask!
Next time you see a machine for sale, give it a try, you might be surprised at how much pleasure you will receive. Oh, I paid $35.00 for mine in an antique store.
By Tedebear from San Jose CA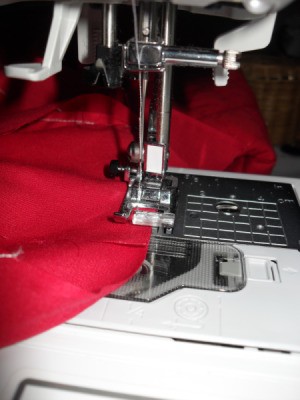 A few weeks ago I told you about my new Brother sewing machine. I just noticed something wonderful about it. I can't believe I didn't see this before. It has a needle threader which I haven't been able to figure out so I've continued to fuss and thread it like I've always done (with the index card or scrap of paper behind the needle).
I just noticed this morning that there is a little white area just above the presser foot which lines up with the needle when it's in the highest position for threading. This is another reason for an old person who doesn't see too well to buy Brother.
By Marty Dick from Knoxville, TN
January 5, 2005
1

found this helpful
Need a general purpose sewing machine for making repairs? Yard sales are an excellent source. They generally ask $20-$25.00 and can be bargained down too!

By Syd
I just recently bought a Brother Project Runway sewing machine. It is computerized, has 80 stitches, automatic needle threader and many other features. It is much heavier than other table top machines I have had. When it runs, it doesn't sound all clicky and shaky. It has a good powerful sound to it. I am really enjoying it. The very best part is that it is under 200 dollars!
I heartily recommend it to anyone who sews and needs a good serviceable machine. We were at Walmart looking at different machines. Three customers and one employee came over to us and started raving about this wonderful sewing machine. It has 2 manuals about the size of a Woman's Day magazine, one in English and one in Spanish.
By Marty Dick from Knoxville, TN
If your sewing machine is beyond repair, it may be time to buy a new one. This Brother sewing machine is easy to use and jam resistant.
Read More...
Questions
Ask a QuestionHere are the questions asked by community members. Read on to see the answers provided by the ThriftyFun community or ask a new question.
I'm considering buying a used Singer Tiny Serger Sewing Machine and want some feedback from anyone who has used this machine. I'm completely ignorant about serging and want to know if this machine can be used to shorten T-shirts and leave them with a smooth hem the way they were before. Any other hints about serging also appreciated. Thanks.
Seagrape
Answers
By Cindy in AL (Guest Post)
September 12, 2005
0

found this helpful
I have used a regular serger. I do not know how to make it the way it was before with a serger. In order to make that stitch you would have to make a blind hem and I don't know if that is possible with any serger. The serger will finish the edge so that it is stable and will not unravel but then you will have to put the hem in it. I suggest going to a specialty shop and ask for their advise on what to buy and then go from there. Don't feel obligated to purchase anything. I would guess even a shop that sold material would have knowledgeable workers
September 12, 2005
0

found this helpful
DON'T go with the Singer Tiny Serger!!! It is very hard to thread. It is very frustrating to say the least.
I bought one for my daughter and finally gave up. I let her use my New Home Serger...much easier. The Singer Tiny Serger to me is a waste of money....sorry
By KathyM (Guest Post)
September 14, 2005
0

found this helpful
Don't waste your money. Save that money and put toward a good serger. That is not for serious sewers. I didn't know what serging was until I bought a real one after buying a tiny serger. In my opinion the tiny serger will turn you off of serging because of the difficulty threading this machine and lack of things you can do with it. It's more for children I think.
By Katie in Texas (Guest Post)
December 28, 2005
0

found this helpful
got my Tiny Serger yesterday and its a bad! It only has one needle serging and yes its hard to thread so im gonna sell it back on ebay where i got it and get me a really good singer.
By Miss Unknown (Guest Post)
February 22, 2006
0

found this helpful
It's frustrating! Don't waste your time! I agree with Cindy, this is for a kid, which will never work. Please don't buy one! I'm sorry that I ever purchased one. I've been working on it for almost a year and still I haven't got it. And then they want to sell you a separate instruction manual, the nerve of them! They knew it was never going to work anyways. It was just a gimmick.
By andrea (Guest Post)
April 1, 2006
0

found this helpful
Wow!!! what a great site!! I too was going to buy a tiny serger on ebay. But after reading everyones feedbacks. I am going to take the money plung and just buy a regular one.
Thanks for answering her question!!!! it helped me out too!!!!
By Jackie (Guest Post)
March 25, 2007
0

found this helpful
In the old days, the main purpose of a serger was to finish the raw edges of a garment. Nowadays, the newer model of sergers provide most more!
Yes, you can use the serger to shorten a t-shirt but it is NOT a one step process without a cover-hem feature. If your serger has this feature, you can hem and serger at the same time (either a twin or triple needles top stitching, just like most knit garments you find in the store). It takes practice and patience.
If you don't have a cover-hem feature, then you will have to serger the raw edge of the t-shirt after you cut it, fold to the desired hem and using a twin needle and finish the hem using your sewing machine. If your sewing machine doesn't take twin needle, then you'll have to sew 2 straight lines. I hope it made sense.
By Donna in Michigan (Guest Post)
September 2, 2007
0

found this helpful
I bought 2 on shopgoodwill.com and neither one works. I have followed the rules of threading and still the thing doesn't work. I would suggest buying a good one at the store. Why spend money on used merchandise and maybe it will work and maybe it won't. Don't listen to them when they say the needle goes up and down because this doesn't mean a thing. If it can't be threaded why bother.
By Denise (Guest Post)
March 12, 2008
0

found this helpful
I just bought one of these tiny sergers off craigslist to give it a try and so far I'm really disappointed. I had read a lot of really good reviews from people so i was really excited to start some sewing projects. I got ithe machine threaded without too much trouble but I can not get the tension adjusted correctly and I've put at least 2 hours into that. It looks right but then when you turn the fabric over you can pull the seam apart. I think I'm going to give up and just get a regular sewing machine.
By Judith (Guest Post)
April 10, 2008
0

found this helpful
Some one gave me a Tiny Serger for my grandchildren, and it didn't work very well, so my husband took it apart.
I would consider buying the Tiny Serger for a toy but not to do what you want accomplished. Brother and baby lock have inexpensive machines that are easy to get your finished edge. But as Cindy mentioned, a regular sewing machine would have to do your blind finished hem.
By (Guest Post)
May 8, 2008
0

found this helpful
I have used one for years, but have consistently had trouble with having to rethread it during using. It ONLY finishes seams; does not cut them, or hem at all! I'm looking to buy a "real" serger now!
Read More Answers
July 31, 2004
0

found this helpful
My daughter wants to make her own clothing and I want to get a her a sewing machine for her birthday. Any sewers out there have any recommendations of what sewing machine to get her and reasonably inexpensive way to get one? Thanks, Carol.
Answers
July 31, 2004
0

found this helpful
You may want to see if www.freecycle.org is up and running close to where you live. If there is one near you or that you would be willing to drive to the area that has one-- you can ask for a free sewing machine. www.freecycle.org has people asking for, and giving away things all the time. If there isn't one close to you --you can start one.
There may also be a thirft store in your area where you could post a want ad for a sewing machine.
By karen. (Guest Post)
August 1, 2004
0

found this helpful
I recently bought a almost new sewing machine at a thrift store. The only problem, the cord and foot feed was lost during a move, so got it for 10.00.
I checked with the manufacture and was able to purchase a new cord and foot feed for 40.00.
You might keep your eyes out at garage sales. Sometimes if you ask, they also would sell you a sewing machine reasonable
By Allison (Guest Post)
August 2, 2004
0

found this helpful
I just bought a sewing machine last week and had looked at a Kenmore and a White both on sale for about $100. Both were very basic with straight and zig zag stitches. My stepmom recommended the White. She had one for 30 years that she loved. The white is also metal and the Kenmore is plastic.
I bought the White and I'm loving it. I also do very basic sewing so I don't need much. But make sure you decide first whether or not you want a machine in a cabinet, in a built in case or free-standing (no case). Mine is the latter and I love the flexibility since I don't have a room for sewing or space for a cabinet model. I can use it on the kitchen table where the best light is and put it aside during dinner.
But I would check around for older models as suggested above. I've had some great machines that were about 1950's-1960's. Very reliable. I got our vacuum years ago used at a vacuum/sewing repair place. Maybe they have used sewing machines for a bargain price.
Good luck.
By Barb (Guest Post)
August 2, 2004
0

found this helpful
I have an old Singer that I dearly love. Whatever kind you get, make sure that it has a button holer. She might not need it right away, but it really comes in handy later. Sewing machine & vacuum repair shops usually have a good selection of used ones, and they have just been serviced too. Otherwise, I would recommend Wal-mart for a new one. Good luck! Barb
By Lois (Guest Post)
August 2, 2004
0

found this helpful
Go to your local sewing machine repair shop...they have machines people trade in or don't pick up after the repairs have been done...I recommend an older machine to the new Plastic machines. These will do the job but for the same price to get an older well made one from a repair shop or a sewing machine dealer.
Lois
By Tawnda (Guest Post)
August 2, 2004
0

found this helpful
Also, check your newspaper or place an ad in the freebies papers under the want ads. I am not sure if you have the Nickel Saver there, but you can place any item for sale up to $500 value items I believe and you can place want ads for free. I think you have to renew it each week, but its free. They are usually a free paper you can pick up in front of grocery stores, gas stations and restaurants by the real estate booklets. You would be amazed at how many people use these. You may even find someone trying to sell a machine in there.
June 3, 2005
0

found this helpful
Look for estate sales. Many decades ago, no self respecting woman would be caught without a sewing machine, or 2, or 3 , or a half dozen. And she would rather die than part with her sewing machines.
Every estate sale I have been to has had at least one, usually many. These days most estate sales are just garage sales run directly from the home of the deceased. Most are "make an offer", or priced at garage sale prices. I routinely see expensive machines in excellent condition for 20 to 50 dollars.
By (Guest Post)
May 19, 2007
0

found this helpful
Hi there. How old is she? I bought a Janome 140M for my daughter who is 8 and it's perfect for learning on. They do a "Hello Kitty" version in Target if you are in the USA!
June 18, 2008
0

found this helpful
I'd suggest a Singer 120 stitch sewing machine which is easy to use and costs around $200. You can find it on Amazon.com. If you are looking for more ideas, then check the http://www.sewi hinereviewer.com for reviews and recommendations...
Read More Answers
I ordered a Janome HD 3000 sewing machine from Walmart World. They sent me a Janome New Home HD3000. Is it the same machine or is one an older model?
Read More Answers
Please share your ideas about what sewing machine model to buy and where for a newcomer to sewing. Also, I have gone to a few stores and the price of fabric is very daunting. I am on a fixed budget so any suggestions would be appreciated. Right now, the only place I have purchased some fabric was from a flea market. The retail stores are just too expensive for me to try since I am a novice. Thanks for your help!
Read More Answers
January 7, 2014
0

found this helpful
I just bought the Singer handheld sewing machine from Walmart. I've put rechargeable batteries in it. Well, it won't turn on! This is the second one I have bought that has done this. The first one came on and worked for 4 seconds. This one won't even come on.
Am I using the wrong batteries?
By Amber L.
Read More Answers
Where is the best place to buy a biomass pellet machine?

Scott from Lynn, MA
Read More Answers
April 19, 2019
0

found this helpful
There are a number of reasons to purchase a vintage sewing machine even if you already have a newer model. The older machines were typically built to last for generations. Check the machine for broken or missing parts and run down a list of typical functions, such as does the wheel turn, before deciding. This guide contains advice for choosing a vintage sewing machine.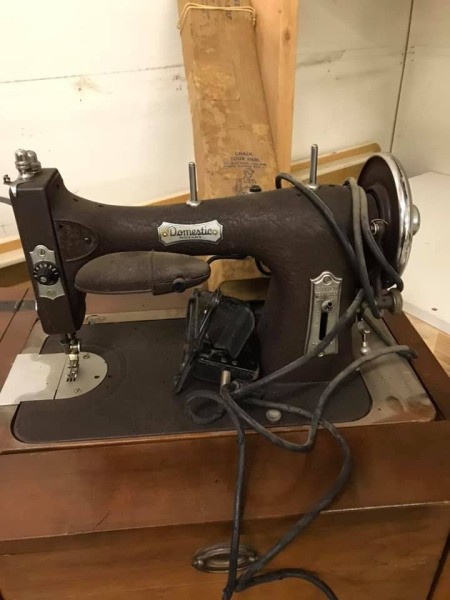 Related Content