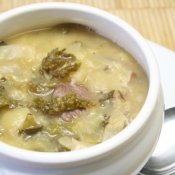 This is our very favorite soup, and is surprisingly easy and fun to make. It doesn't require a long cooking time before being ready to eat. Very nourishing, delicious, and fresh tasting. If you don't like a particular vegetable, you could leave it out and it'd still be a good soup. It makes a lot, and keeps for a couple of days in the refrigerator. Just take out the amount you want to eat or serve and heat it, leaving the rest in the fridge.
Ingredients:
3 Tbsp. olive oil
3 lbs. good lean ground beef
3 large onions, chopped small
3-4 carrots, chopped small
6 cloves garlic, minced
4 ribs celery including leaves, chopped small
6 Tbsp. parsley, finely chopped
3 large potatoes, chopped small
1 red bell pepper, chopped small
2 (15 oz.) cans dark red kidney beans, drained and rinsed
2/3 large head of cabbage, shredded then chopped.
salt and pepper, to taste
1 (29 oz.) can diced or stewed tomatoes
1 tsp. sugar
3 cups water
3 Tbsp. instant beef bouillon
1-2 Tbsp. Worcestershire or Soy Sauce (optional)
Directions:
In a large soup pot over medium heat, brown lean ground beef in olive oil. Do not drain. Peel all vegetables. You can chop them by the time they're ready to go into the pot. (Read all the directions).
When beef is nicely browned (about 15 minutes), begin adding vegetables. While beef is browning, chop carrots very small.
Add chopped carrots and stir. Cover and cook for 3 minutes. Chop and add celery and stir. Cover and cook 2 minutes. Chop and add potatoes and stir. Cover and cook 6 minutes. Chop and add garlic, parsley, chopped red pepper and stir. Cover and cook 3 minutes.
Add dark red kidney beans. Stir, cover and cook for 2 minutes.
Add tomatoes, sugar, water, beef bouillon, and stir. Cover and cook 5 minutes.
Chop very small and add cabbage and stir. Cover and cook 5-6 minutes. Taste and correct salt and pepper.
If you like, add 1-2 Tbsp. Worcestershire or soy sauce. Stir, and put the cover on the pot. Turn off heat and allow to sit for 10-15 minutes. Soup is ready to eat.
This soup is wonderful all by itself, but best of all when served with nice hot buttered cornbread.
Servings:
20 or more
Time:
30 Minutes Preparation Time
about 60 Minutes Cooking Time
Source: Manager Friend at Shoney's Big Boy Restaurant in Knoxville, TN
By Julia from Boca Raton, FL
Read More

Comments
I am looking for a cabbage soup recipe.



Answers
November 15, 2006
0

found this helpful
Cabbage Soup
by Wendy Kennedy
1/2 lb ground beef (lean) (250 g)
1/4 cup finely chopped onions (50 ml)
1 cup beef broth (284 ml)
4 cups tomato juice (1 L)
1 cup water (250 ml)
3/4 tsp salt (3 ml)
1/4 tsp pepper (1 ml)
2 cloves garlic, mashed (.5 ml)
1/2 tsp granulated sugar (2 ml)
5 cups shredded cabbage (1.25 L)
Brown ground beef. Drain off fat. Put all ingredients in a large pot. Bring to a boil. Cover and simmer for 30 minutes. Makes about 8 cups.
By (Guest Post)
November 15, 2006
0

found this helpful
VEGETABLE BORTSH
From the kitchen of Anna
INGREDIENTS
1 head green cabbage 4-6 large carrots
2 large green peppers 1 medium-large yellow onion
1/3 cup chicken soup base 1-2 cans whole tomatoes
1 small can tomatoe paste (optional) 4 teaspoons dry dill (or use fresh chopped)
margarine/butter vinegar
water sour cream
METHOD
In a large soup pot put a small amount of margarine to melt. Shred cabbage in bite size pieces. Place in pot to cook. Sprinkle small amount of chicken soup base over cabbage. As the cabbage is cooking on medium heat, clean and shred the carrots add to cabbage on stove until it looks like coleslaw.
At this point you may want to add a touch of water to the mixture to create more steam.
As the carrots are cooking dice the onion and add to pot, then add the green pepper. Stir this around and add a bit more soup stock. Once this has cooked for about 5 minutes add the can/s of whole tomatoes (crush them first). Then add about 4 canfulls of water to the soup. (You want the soup to look like soup) If you find the soup is to thin add the tomato paste.
Let this cook for a few minutes, then add the vinegar. This is to taste so it is a personal preference. (I add about 1 tablespoon, sometimes more). Add the dill in the last 5 minutes of cooking.
Just before serving add the sour cream or let each person add it themselves in their bowl. This is optional.
Bon Appetite!
Answer

this Question