My sewing machine needs adjustment but I don't know how and I can't afford to take it to a repair shop. The needle keeps hitting and breaking or bending really bad on the feed dog. Does anyone know how and what to adjust so the needle is in time with the feed plate. (The little teeth like things that help pull the material under the needle). Thanks to anyone who can help with this.
Brenda from Somerville, AL
Answers
By Memere (Guest Post)
October 17, 2005
0

found this helpful
Sorry, but your machine needs a professional adjustment. Do not continue to use your machine untill you have it repaired.....you could do more serious damage to it.
A new machine would be more costly than repairing yours. Get a free (or low cost) estimate, then save your pennies. It might be less expensive than you think.
By Cindy in AL (Guest Post)
October 18, 2005
0

found this helpful
Make sure the needle is pushed all the way in the holder for it.
I had to have mine fixed once because it did not reverse. They did a cleaning and that fixed it. It only cost $40. I did get a recommendation from a sewing shop, tailor, as to wear to go for repairs. I used the person's name who refered me, if that made a diffence to the repairman.

Holly
Silver Post Medal for All Time! 364 Posts
October 18, 2005
0

found this helpful
That can happen when the needle gets too old. Replace the needle with a new one. This action solved the problem for me (because it's what I was told to do at sewing class years ago).
By Brenda (Guest Post)
October 18, 2005
0

found this helpful
Thanks Cookwie, but I have replaced the needle with new ones but that is not the problem. The needle hits the plate when it goes down. I made sure I had the right needle for my machine and made sure it was inserted properly. I guess I will just have to take Memere's advice and save my pennies so I can take it to a repair shop.
Being disabled, it takes a while to save those pennies though and I was really hoping to sew some things for my granddaughters for Christmas. Thanks also to Cindy in AL. and to Memere for taking the time to help. God Bless you all.

October 18, 2005
0

found this helpful
You may simply have the wrong type of needles in your machine.Did you check the manual?
Other possible reasons may be:
As stated above - bent needle or needle inserted improperly (or crappy needles)
Plate is loose or crooked
Too much upper thread tension - or thread is caught elsewhere & not coming off spool properly - check threading
Too much bobbin tension - or bobbin is in backwards or upside-down
Thread is too thick
Fabric is too thick for needle
If you haven't trouble-shot all this stuff yet, check it out.
HTH

October 18, 2005
0

found this helpful
Oh and..
is it a zigzag machine? Did you doublecheck to see that needle position is set properly for the stitch you are doing?
By jeanette (Guest Post)
October 19, 2005
0

found this helpful
Memere are you from louisiana???
By James (Guest Post)
January 6, 2007
0

found this helpful
Brenda, the feed dogs on your machine maybe have come loose. I see this a lot. Check the screws in them. If not the needle bar or feed dogs, one have jumped time not that big of a deal oh by the way I also live in Somerville Al
By Brenda from Somerville, AL (Guest Post)
January 7, 2007
0

found this helpful
Thank you James. I will be sure to do what you suggested. I put my sewing machine away and have not used it since I posted the first time. I tried all the suggestions from others but none of them worked.
By the way, you can contact me at brenest(at)aol(dot)com (replace (at) with @ and (dot) with . ) I can explain this a little better in email. Thanks again, Brenda

Grandma J
Silver Feedback Medal for All Time! 270 Feedbacks
February 29, 2012
1

found this helpful
Please remember, all sewing machines need a good maintenance check up. The more computerized the more specialized the repair person.
I had been having an issue with my 25 year old machine and finally treated it massively. I had been doing my proper oil, cleaning, etc and blowing it clean with the air compressor from garage.
So I decided to buy a new one. Pfaff with utility sewing - not fancy. And when I brought my new one in the house, my old one worked perfectly after that. Karma?
Took my old machine to the shop of my new one and for $50 they went through it, tightened up, adjusted this and that, and now I have 2 machines to love.
Since they don't make machines like they did back when the Kenmore was new, I appreciate keeping it running. I paid $700 back then for the machine. Bells and whistles but nothing electronic. So I expect another 25 years with proper care.
Don't abuse it. Don't mess with the tension unless you know what you are doing. I keep notes besides the machine if making adjustments. Don't use cheap thread, match up thread with fabrics, and my rule of thumb I don't let anyone use it unless I can verify they know what they are doing. And it does not leave my house.
My husband has his sets in the basement for repairs of jeans, tarps, etc. On clean up day- where you can set things out to trash - one week a year - his seamstress got a new fancy one and set 2 good old machines out, stickers from there 'rehab in the shop' on them. I picked them both up. So we had 4 machines in the basement. Had another elderly friend who kept borrowing the simple one so her sister with dementia could use it - sew quilt squares. The last time she borrowed it I told her it was not to come back. It was hers.
Answer

this Question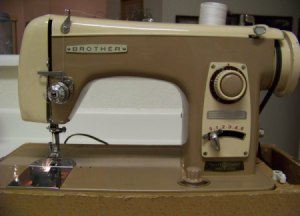 I have a Super Flairmatic 190B sewing machine. It has been working great then all of a sudden the needles keep breaking when I put it in reverse. I think the needles I have now are cheap, but it was doing it before I bought them. I have gone through over 30 needles in the past few weeks.
I have been told by the sewing center that it may be the timing, but I could fix it myself if I had a video that would show me. Would anyone on here have a video that shows how to set the timing on a front loading bobbin? I have done this before on an industrial machine, but can't find one for this machine. Please help I am cheap and don't want to spend the money to take it to a repair man. Thank you.
By pyduke
Read More

Answers
I have only just bought this machine, so I was really disappointed to hear it start clanking and jamming. It was a bit scary. I tried everything to correct the threads, but there doesn't seem to be a problem with the threading or any thread caught in the bobbin area underneath. I changed the needle afterwards and it seemed to work perfectly again for a few minutes.
Then the needle broke :( This has happened another two times. I don't know what's wrong. Do I just return the whole thing? It seems such a shame. I hope somebody can give me a hand on here? I would much rather know it's me messing things up rather than the machine being broken.
By Becky
Answers

August 25, 2013
0

found this helpful
Your problem could be caused by one of two issues. First one is incorrect bobbin case seating. Your machine is a front load bobbin system and getting that removable case properly seated can be a real beast of a job!
In stitching, the needle goes down into the bobbin case as it rotates, catches the bobbin thread and loops to create the stitch. If the bobbin case is not in there correctly it will cause needle breaks because the needle smacks against the case that isn't rotating correctly.
Those front load (and side load) bobbin systems are very difficult to use! I try to steer my sewing students to machines that have the nearly jam proof top drop-in system because the frustration with the front or side load system is too great - it can put a sewer right off sewing!
If you bought the machine at a dealer or a fabric store like JoAnn or Hancock's, take the machine back to the store and ask one of the staff to help you learn to load the bobbin case correctly. There should be no charge because you bought the machine there.
Take notes; if you can record the session you can play back the audio whilst trying to load the case at home. Snap several photos with either a mobile phone or a digital camera because yes, a picture really can be worth a thousand words when you are struggling to correctly seat one of those bobbin cases!
If you bought it at a big-box like WalMart or Target you're not going to get much help from them, sorry to say because most of the staff in those departments are not sewers. They used to be but they aren't anymore. You can try taking the machine to a Singer dealer, or JoAnn, etc, but expect they will charge you for teaching you how to use the machine.
The only other thing that could be happening is that the machine was dropped in the warehouse and the timing is off. This is a warranty problem for a qualified repair tech to fix, it isn't something you can do at home.
If you still have the receipt you can exchange the machine for either a replacement of the same model, or look for one that has the top drop-in system (so much easier! You may have to pay a little more but it is SO worth it! Any Singer or Brother top drop-in machine will give you years of sewing satisfaction).
When choosing the replacement box, make sure there are no crushed or dented corners as a sign the box was handled carefully. You may even want to try the machine before leaving the store with it.
Answer

this Question
My Dressmaker 300z sewing machine needle strikes the metal piece below the bobbin case and breaks the tip of the needle off. It was bought in 1990 at Walmart. How can I fix it?
By Melba M.
Answers

July 2, 2013
0

found this helpful
The timing is off in the machine-you need to take it to a professional for a resetting of the timing. This really isn't something that can be done at home by the sewer.
Most repair techs will have access to the information (usually in a service manual, a pricey item that can cost as much as several hundred dollars US) needed to set the timing on the different models of majour manufacturers, including your particular machine.
Make sure when you take the machine in that you get an estimate, and that the estimate includes a servicing (cleaning, oiling, and checking everything is in good order).
Answer

this Question