Ideas for decorating old wooden windows, for inside and outside use. Advice as suggested by the ThriftyFun community.
Two Creative Ideas In Photos
Here are a couple of ideas for old windows. The cards are all from my children.
By Gintoddy37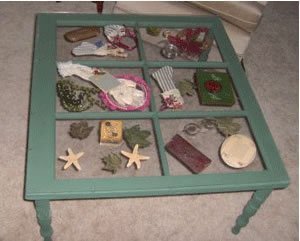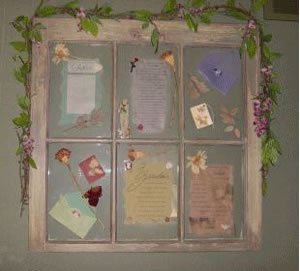 Add A "Window" to a Windowless Space
I had a kitchen down in the basement that had no windows. I found an old barn window, enlarged photos I had taken of my flowers, and taped them to the glass so that when the window was hung over the sink I could "look" outside and see my garden! You could also have one photo enlarged at a copy shop and use just one scene, maybe frame a calender.
By Glenn'sMom
Make a Mirror
You could have mirrors cut the size of window panes to use instead of glass. Decorate the frame with silk green garlands. Maybe add a few silk flowers depending on the season of the year.
By Jewellz
Picture Frame
Do you have any posters or blown up pictures to frame? Depending the size, they would make an interesting border. You could also let ivy, plants or vegetables climb them in the garden.
By Rh0286
Make A Blackboard
I bought blackboard paint (you can find it at craft stores or Home Depot) and painted the glass. I use it as a blackboard by my back door. I attached a wooden scrabble letter holder for the chalk.
By RealtorRose
Alternative to Stained Glass
I saw this at a local recycled art fair a few years ago. Broken colored and textured glass arranged in the form of bearded irises and adhered to the glass of an old window. A beautiful alternative to stained glass.
By Gardener