My husband and I had very different childhoods. He grew up in inner city St. Louis while I was raised deep in a rural Alabama valley. We do, however, share one common thread. We both grew up poor. Building a better life was key, not because we were ashamed but because we quite simply wanted options for our children and a little safety as we considered our retirement. If being poor as a child was hard, we guessed it would be much harder as we grew old.
We both knew that the only way up the mountain was to work our way up it. It was not easy but there was personal pride in watching our lives mature into a cautious sigh of relief. For years, we made careful progress, mindful to put some back for a rainy day. Just about the time we were at the top of our personal mountain, it began to rain. And it rained and rained and rained.
It was 2009. Three years earlier, my husband had kept his career of over 20 years by agreeing to work for the company that took over a contract for his job. Such change brought anxious times. But we had always believed hard work kept our foundation solid. We were wrong. One phone call ended a career in a mass lay-off. It's amazing how such a slow climb up became an incredible free fall to old, familiar ground. The savings we had slowly built vanished in a few short months. All that was left was a modest retirement account that we weren't quite old enough to touch.
All but the youngest one of our children were gone by the time everything turned upside down. In what seemed like a dream happening at the speed of sound, the house we had purchased with the idea of it being home for our family at the holidays or when they simply needed a safe place to work out their own lives was gone. Then the peripheral things disappeared. My husband's truck. Most of the furniture. Garage sales, items given to family members, trips to charities, and finally, what had not gone was bagged up and put out as trash.
We landed from our fall into a 750 square foot upstairs apartment. Even though most of what we had was gone, the little we had saved had to be crammed under beds or left boxed and stacked in two tiny closets. But I carefully hung our children's pictures on the walls. Home is where you hang your children's pictures. I had heard that as a child and it brought me familiarity and strength.
Though we both had developed serious medical issues, it was time to raise our heads and get back to work. The business of living is not for the faint of heart. It took months, but my husband finally found a job. Though it paid $30 per hour less than the old job, it was an income. Given the economy, we felt blessed. But the real blessing came from our early years, when we had learned and lived out of necessity. Those lessons would be our survival kit going forward.
My grandmother cooked every single day until her age and health forbade it. Our dinner is now on the table between 5 and 6 every afternoon. And like her, I stretch my resources so I can freeze or reuse leftovers. Nothing is wasted if it can one day go into a soup. And the real reward is, instead of everyone grabbing fast food or junk food as they run out the door, we eat together. We talk and we laugh. That time matters so much I wonder why it wasn't more crucial to us before.
Instead of paying outrageous ticket prices we watch movies at home where the popcorn doesn't cost as much as two pounds of chicken. We keep faith with our priorities by volunteering at the animal shelter. Our groceries are bought using coupons, our clothes come second-hand, and I have gotten quite good, if I do say so, at cutting everyone's hair.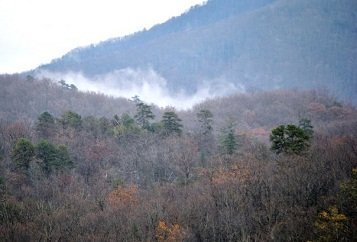 We made it very close to society's mountaintop. I won't deny that I still miss those short vacations in the Smoky Mountains with my husband. But we found that at the bottom of that mountain lies a valley. While supplies may be more limited, what you build in that valley is up to you.
By Carol from Lebanon, TN
Do you have a frugal story to share with the ThriftyFun community? Submit your essay here: http://www.thriftyfun.com/post_myfrugallife.ldml