March 1, 2007
0

found this helpful
It depends on what the child likes. I painted clouds for my son when he was little, and now he has sticky stars and planets as well as a space ship painted on his wall. Does he like cars? Try a road like border around the room and attach some Velcro in some locations then Velcro on some cars to make them look like they are driving on the wall. There are endless possibilities, I have many ideas too many to list, Can you post about his interests so we can fine tune the details? Hope we can help
By Sandy (Guest Post)
March 2, 2007
0

found this helpful
This is me, Sandy. My son is 5 and right now he likes karate, swimming, video games, Mickey Mouse, Spiderman, singing, art, cars and trucks, bikes, cats, eagles, stars. I would rather not do Spiderman or Mickey, since I think he could tire of that too soon.
He likes a lot of things. I currently have his room decorated with wild animals--leopards, pandas, giraffes, elephants, zebras, tigers, etc. He tore down half of the wall border, so it's time for a change. I would like to give him a variety of ideas, even ones I haven't mentioned. Thanks!
By Ace (Guest Post)
March 2, 2007
0

found this helpful
When my boy was small, we painted the walls a darker blue to help prevent any markings from showing through. We then put up a St Louis Cardinals wallpaper border at the top of the wall. I thought this worked out very nicely for his growing up years. Have fun!
March 2, 2007
0

found this helpful
When my son was young I wallpapered one wall in a sports montage and the opposite wall in red, white and blue stripes. The room was bright and colorful and definitely workable for years!
March 2, 2007
0

found this helpful
Maybe he would like an outdoor theme. you do up his room to look like a tree fort. then you can recycle some of the wild animal stuff. Think Swiss family robinson, most kids would love to live in a house like that.
An open theme can help you incorporate alot of the things he likes. I'll post back after a bit, with some more ideas.
March 3, 2007
0

found this helpful
Such a fun project!! If you're looking for something that will last a long time, perhaps paint walls in either fun colors that could support several themes OR try a background of neutrals - tans, browns, etc -- even patterns or textures (stripes, etc) that don't lock you into a certain theme. Once you have a lasting background, you can decorate using wallhangings, throw pillows, picture frames, posters, shelving, bedding and knick-knacks -- whatever! Then you can change it as frequently as you (or your son) desires without having to "re-do" any of your painting, etc.
March 3, 2007
0

found this helpful
Okay, i have 2 example ideas for you, I wasn't sure what the layout of the room was so i guessed. I can change things around or colors if you want me to, so you can get a better inspiration. let me know.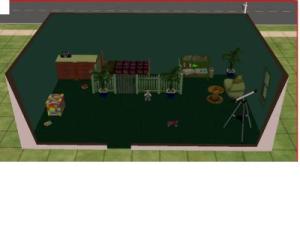 March 3, 2007
0

found this helpful
here is the other one, a bit more conservative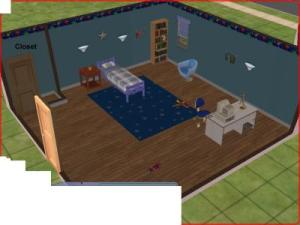 By jojo (Guest Post)
March 3, 2007
0

found this helpful
Hi Sandy,
You could pick his favourite colours (I wouldn't use more than 2 or it might look 2 busy) and paint opposite walls with the same colours. Since he seems to have varied interests, you could devote one wall to each interest by perhaps getting largish, cheap picture frames and popping posters or some of his artwork into the frames, then hanging them on the designated walls, you could even paint the frames to co-ordinate with the paintwork e.g. say you have 2 blue walls opposite each other and the other two opposite walls were yellow or green (whatever), you could contrast the frames on the blue wall by painting them yellow and the frames on the yellow wall by painting them blue.
Then you could let him decorate the frames using stickers themed around the picture/poster inside.
That way when he gets bored with something you can simply change the picture, rather than redecorate...
You could keep bedding kind of neutral but co-ordinating with the wall colours and theme it a little by making cushion covers which are more cheaply and easily changed. You could also paint furniture & any shelving to co-ordinate with the wall colours and picture frames. Hope some of this helps...good luck with it all.
By Harpmaster (Guest Post)
May 14, 2007
0

found this helpful
We like royal blue on the bottom, red on top. His furniture is royal blue and beechwood. Then when he tires of Spiderman, we'll change the theme to an older sports theme but won't have to repaint.
Red white and blue go with anything. American soldier? Airplane theme? Stitch & Leroy? Superman?
By Michelle (Guest Post)
March 6, 2008
0

found this helpful
I have a son 8yrs old. When he was 2 yrs we painted his room each wall has a primary color. Red, Yellow, Blue, Green with the ceiling yellow. There is a border that consist of planes, trains, auto's etc really cute idea but not to my son anymore. I'm on a tight budget and could use some help with ideas thanks for listening.
Best Regards, Michelle