My mother believed in "waste not, want not" and taught me to take good care of my belongings. If it were clothes I wore, they could be passed onto another and if it were toys, a younger child would get them.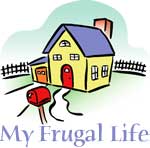 "Eat what's on my plate" taught me I could learn to like a lot of foods that were good for me that I may have otherwise turned my nose up at and I remained healthy. "Some child is going hungry" taught me I should be thankful for the food I do have.
Early valuable lessons learned have stuck with me through my adult years and have been taught to my children and grandchildren.
In the world today it has helped me tremendously to conserve on water used, making one trip to town to run several errands saves dollars on gas and wear and tear on my vehicle. Yard sales, flea markets, thrift stores, coupons and checking on sale items at the grocery store contributes to saving more money.
If I want to see a movie, I go to the library and check them out for free just as I do books and most importantly, I've become a savvy shopper over the internet and shipping is a lot cheaper most of the time than using gas and grabbing a "bite out" while getting the necessary item(s).
I've also learned how to make things with my own hands that cost a lot less than buying elsewhere such as crocheting, macramé, watercolor and pencil art, stained glass and use what has been created to decorate my home and give as gifts to family and friends.
As a young adult, I had nothing but used furniture and learned how to refinish it so it was nice looking. From this, I added another "DIY" to my growing list.
I have a vegetable garden each year and can and freeze my crops. I pick berries and make jelly and share fresh produce with others.
Life is about learning and being frugal is what has been the most enriching of experiences as it can be easy to do or even difficult, but being frugal is proven oftentimes to be born out of necessity.
By Lorelei
Do you have a frugal story to share with the ThriftyFun community? Submit your essay here: http://www.thriftyfun.com/post_myfrugallife.ldml