April 16, 2009
0

found this helpful
My friends and I are hosting a masquerade ball as a sweet 16 but don't have much of a budget. We could use some decorating ideas.

Sydney

Answers:
Decorating Ideas for a Masquerade Ball
The only idea I have at the moment is to use lots of soft lighting. Candles are inexpensive and can come in whatever colors you want to use for your theme (purple, maybe?). The lighting will really set the mood and make the evening seem more glamorous and mysterious. If you can't (or don't) want open flames, try using cheap white Christmas lights (available year round at craft stores or raid your basement Christmas decorations) and tone them down by wrapping them in tulle in your theme colors. (07/13/2005)

By Trix
Decorating Ideas for a Masquerade Ball
Hmmm...using candles is a nice idea, but try also setting a space aside to dance. Of course make it relaxing but fun! You only turn 16 once so make it fun and brilliant. Happy 16th. (09/04/2005)

By Tayler
Decorating Ideas for a Masquerade Ball
A masked ball, that will be fun. Well I tried to come up with some decoration ideas that are not too pricey. In my mind when I think masquerade ball, I think Elegant or Dramatic. So to me colors that I would go with would be golds, silvers, whites, blacks, reds, and purples. What ever the colors you have in mind I would include a metallic for pizazz.

An idea that you could try is feather plumes situated in vases. Peacock feathers would be most beautiful but these can get a little pricey when bought at crafts stores unless you have some hanging around anyway. If you have any plain Christmas decoration balls maybe clear, gold or silver then you can daintily hang those up. The clear ones can be bought in packs around now for very cheap and can be lightly dusted with glitter to increase the effect. You can make tissue paper flowers to set around the table or in a vase. You can set objects on the table that give that extra glamour of a Masked ball. These can be such as a high heel shoe, dainty gloves, a feathered boa, fan and a tiara. All of these can be bought at thrift stores, but depending on the store they may or may not be inexpensive.

You can take some thin scraggly branches from trees or bushes and spray paint them. Gold, silver, black and white will come off most mysterious. These can also be set in vases. Maybe hang these branches with ribbon and the gold, and silver Christmas decorations. Those flat glass pebbles found at craft shops and dollar stores would be a nice touch to add by scattering them about the tables or in bowls. You can get one spool of ribbon for cheap and use it to tie bows onto silverware, napkins and so forth. One idea that is fun would be to make place cards and write the names of guests in lemon juice (invisible ink) so then once they come they can hold their cards over the candle flame and let the names appear. Of course this would be fun as everyone would have to keep trading seats.

Try and borrow silver serving piece trays, bowls, goblets, etc. from anyone that will loan them to you. Put a small label on the bottom of the pieces so you know who to return them to later. Well that's all that I can think of now but a good book to look at your library is "Halloween" by Joanne O'Sullivan. It has a really neat party in it called the Masked Ball Dessert Party, which is quite elegant and doesn't have to be used for Halloween. Anyway I'm sure it will trigger some ideas. ~Good luck. (09/27/2005)

By GLORIA~
Decorating Ideas for a Masquerade Ball
I was thinking black and white, with black and white streamers and black and white masks and balloons. Maybe have a local band like a high school band and lots of lights. All the girls can wear black or white prom dresses just as long as its long, and the guys can wear a suit and tie (black and white of course). (01/07/2006)

By jackie
Decorating Ideas for a Masquerade Ball
Use strands of Christmas lights and various colored fake flowers, you can put the flowers around the lights. I think it would be a nice way to have some soft lighting and still have it look decorative. (02/05/2007)

By Mars
Decorating Ideas for a Masquerade Ball
I'm also having a Masquerade ball for my 16th. I'm going to use an amethyst and silver theme for mine so I've got deep purple feathers, silver garlands, plenty of balloons and confetti and soft lighting for the hall. I've also hired a DJ for the night who has agreed to help me with the set so he's bringing along some more purple decorations such as gems and feathers.

Try and stay sophisticated. The idea of a masked ball will get your friends thinking of scenes similar to Phantom of the Opera and Romeo and Juliet. You should tell them your theme and ask them to dress accordingly, then half your decoration is done already as you have decorated them! Enjoy your birthday and good luck! (02/07/2007)

By Roxy
Decorating Ideas for a Masquerade Ball
Gloria helped a lot and I pretty much have the same idea. If you wanted more of a mardi gras theme or colors, a good place for decorations is orientaltrading.com. My invitations are going to be on the back of white masks. I'm having my guests decorate them because we are going to have a contest. As center pieces, I think I'm having the happy and sad masks or black and white roses. As my entrance, I'm having my dance studio do a dance with me. That's about it for now, but if I think about any more I'll post. (08/06/2007)

By Jacki
Decorating Ideas for a Masquerade Ball
White Christmas lights bordering the ceiling. (08/13/2007)

By kelly
Decorating Ideas for a Masquerade Ball
My daughter is turning 14 and I thought a Masquerade Ball would be fun and different. I want to have a setting of an elegant evening Ball with a flavor that yells :"Midnight Garden". So, soft white lights everywhere will be put in, green garland along with white and green jewel tone balloons. We are going to have a D.J for dancing so everyone will have fun dancing too. My daughter will wear a Ball gown and will have a Mask (hand held) and the look and feel will be shimmer/garden/mysterious. I'm going to design and paint the invitation myself and then mass print them out and voila! The invitation should include that a mask is wanted and dress accordingly for the Ball.. Fingers crossed that it will be a great success and that the night is sizzling with fun and elegance. Wishing everyone good luck as this is a great theme sure to be all the rage for parties! (08/23/2007)

By just me
Decorating Ideas for a Masquerade Ball
The theme "Masquerade Ball" is really popular right now. There are so many different approaches to this theme. If you want to keep it formal and elegant, then use low lighting in your room/hall - soft white Christmas lights everywhere, white, green and purple (all jewel toned) balloons would be very enchanting. I am having a ball for my teenage daughter at a beautiful historical church hall and basically this hall is my canvas.

Round tables will all be covered with linen table clothes (green, plum, and purple). Each chair will be draped and tied with tulle fabric colors :(green,purple and plum). I decided to paint paper mache hat boxes the same colors (staying with the theme), and also hot glue matching beads and ribbons on the hat box. Each table will have balloons that will go into the hat box and also matching tissue paper popping out.

I have hired a D.J. because honestly teenagers love to dance. My daughter will be announced (the little bugger), once all the guests have arrived, the birthday girl will walk in wearing: a floor length white and silver spaghetti strap gown, tiara, and wrap over her shoulders and silver heels as well.. whew. There will be balloons everywhere. I love to paint and create, so this was a total blast for me. Be careful as this can get pricey if you go overboard. For food we decided because they are only 14 people we would stick with chicken tenders (from the deli) and fresh pizza. I also had tortilla chips with salsa, soda, bottled water and a beautiful custom order cake from a pastry shop.

Favors.. Go to Wal Mart or even a dollar store and buy a bunch of little bags. Paint your design or for us our daughter's name, on the bag and fill it with candy, little silly things etc. Tie a ribbon around the bag and Voila, you have a great favor. It's also fun to buy a sturdy poster board so that all your guests can sign it for you to keep as a keepsake. Leave it at the door so that upon entry they see it (lay it on an easel) and they can sign it. The key here is color, music and glitz with good taste. Your guests can come in any sort of creative mask and attire other than gore, as this is not a Halloween party. This is more of an enchanting evening masked Ball. Color, Color, Color. You can make this so awesome.. Good Luck!

P.S. Some plastic champagne glasses for our guests makes the evening that much more formal. Tie some ribbon onto the stems for an added ta da! : ) (09/13/2007)

By Artsee
Decorating Ideas for a Masquerade Ball
I am planning a Cinderella themed wedding in March of 2008 and we are having a Masquerade for the reception. I have been planning this wedding for 6 months now and have done a lot of research. Check out shindigzs.com and orientaltrading.com for props and decor and masks. Of course lots of flowers, candelabras and balloons. When I think of Masquerade I think set in a castle, so decorate the room to look like you are in a castle. However stay away from Mardi Gras colors or you could give off the wrong impression to your guests. Pinchello masks are famous when it comes to masquerades. I got some good ideas from both movies, "Ever After" and "Labrynth". Check them out. I did a lot of google searches for masquerade decorations, masquerade centerpieces, Venetian decor, renaissance decoration ideas, etc. That's how I found this website. Hope this helps. (10/04/2007)

By Shaunta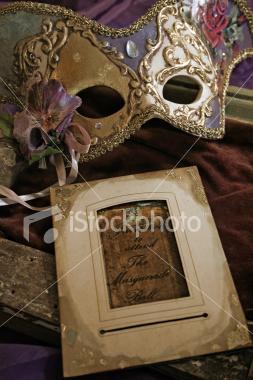 Decorating Ideas for a Masquerade Ball
I was thinking about my 16 and a lot of what everyone said was really cute. I decided that my colors would be red back and white and hints of gold for glam. Everyone wear red back and white, and then I wear gold to stand out. I'm giving everyone a gold mask at the entrance. At the door I thought it would be cute to have a photo taken with everyone that comes in and then have them sign a photo album for me to remember the night by. It will be semi formal and I will enter in a full length gown with white gloves and a mask, but then change into a short gold dress after I enter. Of course there will be a DJ and I will give my dad his father daughter dance (shag) and there will be dim white lights every where with lots of glitz and glam! Hope everyone's party will be as great as I want mine to be! (11/25/2007)

By becky
Decorating Ideas for a Masquerade Ball
My school's talent show this year is going to have a masquerade theme. My close friend and I are planning it all on a very small budget. The colors we are going with are the basic black, white, silver and gold. Some ideas we are going with are those really soft tube lights lining the aisles, tinsel (yeah the stuff that goes on Christmas trees) will line the entire length of the auditorium in a sort of hanging fashion. Also, we were thinking about getting gold and black balloons to place in groups for when people first enter. There will be black curtains up and pulled back at every door and finally we were thinking of decorating the stage as though the performers were standing on the top of the stairs from phantom of the opera. Okay, that's all we have so far but we fear it is not enough since it is a rather large (1500 people) auditorium. (12/18/2007)

By Yolanda
Decorating Ideas for a Masquerade Ball
A good idea for anyone here is to use google to look up pictures. I'd google, "The Phantom Of The Opera" if I were you, because you'll see pictures of how they did the Masquerade scene in the play and movie. You can get ideas from those photos. Decide if you want to go for a venetian or futuristic Masquerade theme. I also am having a 16th birthday Masquerade Party which is going to be combined with my best friend, since our birthdays are only 2 months apart, but I'm already starting to look for ideas when it's a year away. Happy Masquerading to you! (12/31/2007)

By Shannon
Decorating Ideas for a Masquerade Ball
I'm having a masquerade ball for my husband's 30th birthday. I'm buying paper mache masks and decorating theme for all 100 guests, buying my husband a bad one from Goblin and crumb. The theme for his party is more like a gothic masquerade, but the colors he wanted was emerald green, black, and either dark red or purple. The table scape is going to be the themed colors lots of fresh flowers candlebras, and silver serving platters. I'm basing the invites from the movie the count of Monte Cristo.

I'm also asking that everyone RSVP and wear the theme colors to the party. For the menu my husband loves pasta and Italian food so I've designed an excellent food choices, and my friend and I are catering it ourselves. I'm ordering a few kegs, absinthe, wine, and a few cases of black flag ale from our local brewery because the bottle has a cool look and the beer is excellent. And for the non-alcoholic beverages, I'm ordering cases of Jones Soda if you go to their website you can send them a picture, I'm using a few of my husband, and they can put it on the bottles of soda. I'm making a huge cake all dark chocolate, and having a whiskey fountain. The whole thing I hope will go well, everyone is going to look awesome cause it's formal and when I get pictures I'll post them. (01/04/2008)

By Kristaball
Decorating Ideas for a Masquerade Ball
I am helping a friend plan a masquerade ball theme party for her 30th birthday. I have been doing a lot of research online for ideas. This site has been very helpful.

http://italianfood.about.com/od/italylivingvisiting/ig/Venezia--Citt--e-Carnevale/Venice--Carnival-Masks-17.htm has photos and some recipes associated with Venice. I tend to think of Venice Carnival and masquerades together. I would love, then, to have a "gondola" that guests could sit in to have their pics taken.

We are planning on decorating with white Christmas lights, candles, tulle, and lush plants and flowers, along with feathers and masks. We are thinking of printing the invites on parchment, rolling them up, sealing with wax, and possibly sending them with the mask they will wear to the party. I will continue to check this site as the planning continues. I hope that more people post some of their ideas, as I have enjoyed many of those I read here so far. (01/23/2008)
Neon Masquerade in New York
For my sweet sixteen, I was trying to find a theme that would mix the elegant side of me and the fun exciting side of me at the same time. That is when I thought of throwing a Neon Masquerade Party. My plan is to have bright color and things like:

neon colored balloons
glow sticks
bright colored beaded necklaces
bright colored masquerade masks
bright colored boas


I also live in New York and we always love having the city sites around us, so I thought that I could have cool fake skyscrapers on the walls all around where we are dancing. (02/04/2008)


By Samantha
Decorating Ideas for a Masquerade Ball
Well, I'm having a small masquerade for my sweet 16 but I'm a little over the top. My 16th birthday is on the 14th of July 2009, but I think it is better to be safe than sorry. What I am planning to do is, rather than a modern masquerade, or an old fashioned masquerade, I am going to do a vampire masquerade. I am going to use those lights that have the fabric so that they look like flames and I am going to have my color scheme as black, purple, and red.

One of the snacks I will be serving is cupcakes. They will be matching in with the color scheme and with either red or black roses, or white or black lilies. There would be a bowl of red punch and the glasses will be goblets. There will also be black and red roses mixed in with white lilies decorating the hall. I haven't designed the invites yet, but I hope this can help anyone else who might want a Gothic masquerade. (03/09/2008)

By becky
Decorating Ideas for a Masquerade Ball
I threw a masquerade party for my 13th b-day. It had a modern twist to it though. Everyone wore colorful party dresses, and there was elegant candles (my own from home), then some clear fish bowl rocks on the table to look like water droplets, and when the candle light reflected off of them it was really pretty.

Everyone was wearing really colorful, & dare I say "hip" dresses, instead of those big fancy (expensive) long ones. Just a tip, I got my dress at JC Penny's for 15 dollars, when it was originally 130 dollars. We also played the board game "clue" but with a twist also. It was life sized. We had some cube seats at home & I asked my mom to glue on some white dots, to make them look like dice. Then someone would roll the "dice" & take that many steps. The rest of the rules were just like they are in the board game, except for the names of course. My mom, boyfriend, and I came up with "old-time" names like "Butler Winston" and "Lady Isabella". That way it still fit in with the masquerade theme. Well, I hope my ideas helped! Good luck. (03/14/2008)

By Rach.
Decorating Ideas for a Masquerade Ball
The invites can be cheaper for anyone who is wondering, if you just have the card cut out like a mask. Tell everyone to choose their favorite dress from all the dances or events so far and wear that. Could be lots of fun. Maybe have everyone remove their masks at midnight to find out who is who (even though you'll probably already know).

You can also buy "glass" balls that have lights in them and you can paint designs onto them so it reflects onto the walls and around the room. Or cover a bright room light with black paper, but cut designs in that to also make a design on the walls. All simple little things to make the party a little more glamorous. For snacks, maybe make some rice crispies and cut them into the shape of a mask or shoes, something else along these lines. Have fun everyone. These are all just ideas I have had from planning my sweet 16 this summer. (03/23/2008)

By Brittany
Decorating Ideas for a Masquerade Ball
At my school we are planning a masquerade prom for next week, April 26, and some ideas we are doing are really cheap. We went to hobby lobby and bought vases. We have these huge feathered masks and we are going to put the mask and a bunch of feathers and sticks that coordinate with our colors all together. To cover it all up, we are putting tulle in the vase with a sequenced mask. Everything is dark colors. We are also putting fake pearls around the tables to add a little bit more elegance to the whole look. For our invitations, we are giving everyone a plain white mask and they can decorate it and bring it with them to prom. Maybe some of these ideas will help. (04/22/2008)

By ashlee
Decorating Ideas for a Masquerade Ball
I've just read a lot of the posted messages here and a lot of concern is how to decorate. Ladies, don't stress it. This is one event where you can be creative beyond your imagination, even if you have no imagination. I've spent the past 2 months planning my daughter's 16th B-day and in doing so, researching "Masquerade Balls" in hopes of giving our little Kansas town an experience some high school kids won't soon forget. The answer to the "how to" is: whatever you want. Use whatever colors you like, it's your party after all. Which era of clothing? Pick one. Fancy or low-key? Your call.

I will suggest that the best place I have found to get decorations was Ebay. Since I chose Mardi Gras decorations that didn't say Mardi Gras on them, I got a great deal. I paid $43.00 for a box of decorations, never opened, that for retail cost $315.00. I shopped online for everything (so far). You don't have to be stuck for decoration ideas. Grab a party catalog. Pick your colors. You like feathers? How about twinkle lights? Drag out your Christmas tree lights and hang em up! One tip I think that makes it a fantasy type of evening: Make it shiny. Use foil hanging decorations and foil confetti. Keep the food simple and the drinks too. Regardless of the era you choose, use the music you and your friends like. Not everyone is a history buff and digs chamber music. For her invites I'm splurging and going to Office Depot to get the package of 50 invites. You know, the ones used in budget tight weddings? Simple, elegant, with a silver satin border, but cheaper than you think for 50 people. Good luck and Happy Birthday to you all! (05/03/2008)

By April's Mom
Decorating Ideas for a Masquerade Ball
Hey everyone. I'm in the 7th grade and at my school every year the 7th graders have to throw an annual "Class Night" for the 8th graders. This year my class has picked the theme Masquerade Ball. So far all we've done is made some cool masks.

All you need to do is go to your local craft store and by some simple gold masks and decorate them with feathers and glitter, etc. We got some big pieces of paper and each drew a mask so we can hang them up. You can also go to your local party store and get plates, napkins, cups, etc. (for sale). We're also going to get some Christmas lights and hang them around the room. We might go get some gold and black balloons to hang in the room and we're going to have a poster in the entrance that everyone can sign. Some kids from my class are going to be announcing the 8th graders in the microphone and the guys will be bringing in the girls. I don't know about the boys. We might buy confetti to put around the tables, and party string to put around the railings and some other places.
(05/30/2008)
Decorating Ideas for a Masquerade Ball
Hi everyone. I hope this isn't too late to help everyone on here out. I'm planning a Sweet Sixteen Starlight Masquerade party that happens in a weeks time and am searching for a cake online currently. Since the website is down, I have some spare time, so I'll share some of my secrets with you all. ;)


So, first off, decoration:
We're going with theme colors of deep elegance. Scarlet red, forest green, black, gold, silver, and white. Oh, and royal blue. That's the color of my dress. The tables are circular and draped with gossamer and are center pieced with a vase that has roses and a mask on a stick prodding from the top. The table will be scattered with silver stars.
We'll have stars hanging from the ceiling as well and we're doing a backdrop for people to take pictures on. Balloons will also be strategically placed throughout the room.


Accommodations:
We're renting a clubhouse so that we can have plenty of space for the vast guest list (probably 90 people!) and a dance floor. We've also rented a DJ, which is a must for a Sweet Sixteen.


Food:
Cake is undecided, but we're working on it. We decided to do many hot dishes like meatballs and sausages as well as a chocolate fountain. Chips and dip will also be available. Snack foods, as most people will continuously be up and moving.


Last of all, my attire:
I'm going with a blue dress with black undertone so it shimmers and a velvet flower design along the bottom. It reaches my knees. And I'm wearing a silver diamond tiara with '16' on it, with jewelry to match. A black heel with a false diamond completes the ensemble. My mask is also undecided, but there's a probable one that we'll order. =D

So, that's all. I'd just like to point out that it sounds like a lot, but most decoration was bought on a bargain and we got a great deal on my clothes. It's all about thrift stores, truthfully, diamonds in the rough and all. Anybody could pull this together with enough resolve. (06/07/2008)

By Jessie
Decorating Ideas for a Masquerade Ball
Well I think that if you use the idea of food and decorating "Mary Antoinette" style would look great, also a good idea if you are on a budget is get everyone to make fun crazy masks with a modern, glitzy appeal. (06/13/2008)

By kate