I have learned so much. I have made a few mistakes that have changed the way I do things; in the kitchen and elsewhere throughout our home.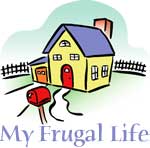 I really enjoy this newsletter, it is so fun and has saved me lots of money when I needed it!
Canned Milk - Evaporated and Condensed: One thing I have learned is that condensed milk (the sweet gooey stuff, which I opened by accident) is great in oatmeal and pancakes mixes, etc. Store in refrigerator. Evaporated milk is great too. I use it in oatmeal and potato mixes.
No More Toxic Cleaners for Me: Another thing I have learned is that I hate the cleaner I have been using. I am just plain tired of it. I am not going to name it here. But I am switching to vinegar, probably apple cider vinegar.
It has been a humid summer so out comes my large coffee cup into the bathroom with water and a capful of apple cider vinegar in the window. I don't know what it is but it makes the bathroom more breezy and bright. I know it sounds crazy but it does. I use this for several reasons. When I am hot, I go in and dip a clean washcloth in the cup and wring it out in the sink (which helps clean the sink too) and then wipe my face off with it and my neck and chest. It is so natural and it feels sooooo much better than just water.
Topsy Turvey Homemade Planters: I have become obsessed with making topsy turvy planters for all my plants to see which ones respond to it. I am not interested in tomatoes this year unless someone gives me one that is overripe. I will squish it over the dirt and water it and then put a small layer of dirt over it. They grow so well this way.
I am putting morning glories through a hole in the bottom of a butter container, filling it with potting soil and then planting a few moon flowers on top of it. The hole has to be smaller than the root balls but large enough for the plants to go through unless you use something to anchor it down with. There are sites on the internet about making your own topsy turny tomato plant hangers. I just like doing my own recycling thing this way. I covered the whole thing with a yellow handkerchief paperclipped around it to see how it did, it is doing pretty good.
Only Rubber Brooms for Me: I thought I had lost my rubber bristle broom.. Oh no, there is no way I will be without that even if someone offered me a thousand regular straw brooms, no way! I will order one of the many on the market since I have pets and this gets dirt and hair and all up. It is soo cool and the carpet just almost glows. It uses static to pull stuff up. Also it has a squeegie on the other side and it is washable too, since it is rubber. It dries up a mopped kitchen floor so unfortunate people don't trip on the floor after mopping. LOL, like me.
Fewer Flies and a Pretty Front Door: The sheer panel I put in the front open doorway with a small pressure rod is such a blessing to us. It is so nice and it gives the house a wedding like white look, not to mention privacy and a non toxic way to rid the house of 80 percent of bugs that might fly in. We have to have our door open and the dogs will ruin a screen or break a glass storm door. It is held up with a small pressure rod that I adjust every so often to make sure it is tight. I will use it in the winter before it gets too cold too, then take it down. The flies, junebugs and bees don't like it at all because it sways in the breeze.
My Darling Crabs: The crabitat which is the large plastic box I bought for three dollars at the Dollar General, is not keeping humidity in. I looked on the internet for the answer. You have to keep the humidity at 75 or up or their gills will dry out. They will then die. I don't want my crabbies to die, they are a joy to me even if I rarely see them. You have to have a humidity gauge in there. I have chosen to not use sand in the whole area, I had coconut bark, which I might go back to.
I am thinking of increasing the size of the box. When I put the wet socks in there and the wet towel in an upside down, half cut off plastic ice cream bucket, the humidity went way up, yaaa! They were all active. They have to have dechlorinated water or they will die too. They are so wonderful to watch...but they can pinch.
Play Pen for Garden: I got a free playpen off of freecycle.org. It has been through many uses. I put it outside under a tree to clean it. So now it has balls in it, basket balls, rubber balls, to keep them from blowing around the yard. It could also be a pet free garden area if I were to put potted plants in there and then it truly would be a "flower bed." LOL.
Positive Dog Training: We have a puppy that is kind of hard to train. We are doing to love handle leash thing on him off and on, he is almost off of it. It is a leash cut off where it hangs almost down to the ground where I can guide him lovingly to what he needs to do almost without speaking. It has worked wonders.
Also we are training the puppy to hurry to mama when there is a correction. When it is about to do something, the perfect timing to say No SIR. Then I indicate to come to me and I right them make up with the pup. This guarantees a positive approach to simple house training. This is not for aggression.
The Shepherd we have who is seven years old, recently went to the vets and she needed to have anti yeast pills two different kinds and anti yeast bath. I am going to change her food over, since I think she might be allergic to grain or corn. I hate yeast it is soo bad for doggies! I am about to look up how to cook bread, if possible, in a slow cooker.
Walking Sticks out of Pruned Branches Off My Trees: When I prune trees, we have a few of them, I make walking sticks out of the branches. I always have one I like to walk with it all the time. I make them for other people too. I am not really an artist, they are pretty plain but they are wonderfu. I duct tape the top to make it soft, but I have thought of those rubber handle bar things for bikes would feel even better.
Crayons: I have heard that putting crayons in the freezer or the refrigerator to see if it makes them last longer like it does for soap and candles. We will see if this works I am a big fan of not having crayons break all the time.
Photos Speak Louder Then Words: A project I am doing is a Honey Do Not list for the kids with pictures. One of the pictures I will take is of the shovel being left on the lawn where people can step on it. Then one of underwear or clothes being left on the floor, and then one about not bunching up a wet rag and hiding it places around the back of the tub, etc. I will put this on a poster which I can get done through snapfish or picasawebalbums. They have cheap prints from digital cameras, some as low as 25 cents or lower for pictures.
I am also thinking of doing picture stuff for Christmas this year. Not sure what but I have a whole lot of slides, and I might find a slide scanning service and make a photo book for the family.
Finally, Homemade Sugaring For Facial Hair http://www.pioneerthinking.com/bodysugaring.html
I made like half or 1/4 of this and I didn't use the cornstarch and it works wonders, I use a handkerchief or a sock to pull off the sugaring. You have to press it about ten or less times and then pull it off quickly agaist the hair growth. If it is sweltering in the house, it won't work because your skin will be so hot, it will melt the sugar.
Happy Reading!
By Robyn Fed from Thrifty Mistakes School
Do you have a frugal story to share with the ThriftyFun community? Submit your essay here: http://www.thriftyfun.com/post_myfrugallife.ldml