June 19, 2007
0

found this helpful
Very cute! I love the name, very unique too!
June 19, 2007
0

found this helpful
Isn't it amazing that the smaller the box and the larger the cat - there is an affinity.
My two are both male and both around 15 lbs. You should see one of them in a shoe box.
Laine
June 19, 2007
0

found this helpful
When I saw Kurrundi, I had to cry, because he looks like my BooBoo. I had to have him put to sleep a couple of weeks ago. About four years ago, I saw him outside by my deck. He was very shy, but finally he let me get him. He was no bigger than my hand. I had him checked over by the vet and had him neutered and he became my little boy kitty. He would follow me from room to room and he slept by me.
He had a bad heart, which the vet said he probably had since birth. His little heart gave out and he is in heaven now. I believe animals go to heaven. I miss him sooo much. I have had alot of cats in 40 yrs of marriage, but he was the sweetest cat that I have ever had. I still have 6 cats and they are all special, but he was in my heart. My kitties are all indoor kitties. Love your little boy.
June 19, 2007
0

found this helpful
Oh, what a cutie! My cat curls up in any kind of box too, it's so funny! I sure love 'em!
June 19, 2007
0

found this helpful
I didn't know just how fun those fluffy balls of fur could be until fate sent me my first cat! And now I'm a true cat lover too! Your cat Kurrundi reminds me a lot of my cat Smokey... except Smokey hides in paper bags & waits until we walk by to "Tag" us... then he runs off & pretends it never happened.... Then re-hides & does it all over again...
What wonderful & crazy personalities these pets of ours have!
And to think someone just moved away & left Smokey to fend for himself at my daughters apartments. They were to lazy to get him neutered, so, of course he started spraying as all boy cats will do... They moved, & left him in the parking lot where my daughter the cat lover scooped him up, paid for him to be fixed & de-fleaed... Then she begged me to take him, already having 2 cats herself... I needed a mouser, so I adopted Smokey & what a friend he has been! He never sprayed again & greets us with a "meow" whenever we enter the room... PLUS, whenever we feed him, he "sings" for his supper with us... with a special singing voice reserved only for feeding time... First, we sing (in a cat voice), then he answers, & we go back & forth "singing" while we prepare his food. What a crazy cat he is!
Smokey was born in that very same apartment parking lot, to a stray, so
People, have your cats neutered & spayed! ... It's the RIGHT thing to do!!!
Here's a picture of Smokey stalking his "prey".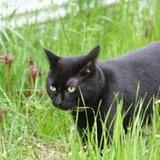 June 19, 2007
0

found this helpful
what a sweet cat, like the part of waiting for dog.
very pretty kitty...