Spending the summer running around with no shoes was a normal occurrence. Mom bought boots for the fall and winter and carded and spun wool for socks, mittens, hats, and other winter clothes. Our cows provided milk and butter.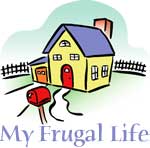 Sour cream and cottage cheese were more products provided by our cows. Eggs were provided by the chickens. We never butchered our cows. Instead we used every part of the pigs we slaughtered and enjoyed them tremendously. Chickens provided our other meat and hatched our little chicks.
Lots of work and tons of rocks on our farm. Thankfully, our mom was a very good cook. We had a clean home and although we lost our Dad when we were very young, I worked with Mom to keep the farm running. I was the eldest at seven and had a lot of responsibility. We lived on very little, but what we had was very good. Our garden was always good, My Mom married after four years and we had a larger house, but still had plenty of rocks.
By Bev from Chilliwack, BC
Do you have a frugal story to share with the ThriftyFun community? Submit your essay here: http://www.thriftyfun.com/post_myfrugallife.ldml