About 15 years ago, I designed an afghan based on a design that my mom used to draw for me. It was three lines in four different directions, with oval lines that connected them. I know there is some kind of knot that is named for this, or the other way around, but I am not sure what it's called. I didn't want to make it rounded, as it was too hard to connect with the other squares. So, I made it square.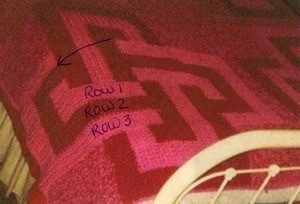 I entered it in a design afghan contest and got an Honorable Mention. It's easy to do and you can do them in any size you want.
Approximate Time: Each "L" shape was 20 inches so it took about 2.5 hours to do each one, plus joining.
Supplies:
either single or double yarn
size N or smaller hook
two colors that you like
plastic darning/sewing needle
Instructions:
For the center of each of the four designs, pick a color you like and chain 29. Now, you can choose to do this in a single yarn and your item will be smaller. This one was done with two strands and an N size hook. You can then turn and make a single crochet in each of the next 28 chain stitches. If you find that you have 29 at the end of the first row, simply undo the last single crochet. You need to have a number divisible by 4, so if you want something larger, you might start with 32 or 36, etc. This is the key to the entire pattern, so make sure your math is right on.
Turn, and make a single crochet back to the beginning, and repeat this 6 more times. This gives you 8 rows.
Turn, and do one single crochet in the next 7 (8 or 9, etc.), turn, and repeat till there are 8 rows. Then, add the second color, and make another 8 rows of the same width, but with the second color. You will see how this works soon.
Cut about 2 inches from hook. I like to pull one through and then you can tie them like you would a knot. This gives you kind of a "backwards L". Set aside.
With the other color, chain the original 28 plus 7 so it's now 35. This section will have to be divisible by 5, so 5 times 7 is 35; see how the pattern starts to make sense?
Crochet the same as you did before, making 8 rows on the longest part. Then, turn and make the narrow part, but this time, make 24 rows. This section will have to go past the first 8 rows of the previous part, then past the narrow 8 rows and make it's own 8 rows. Since it's the same color as the smaller end you made, you can now whip stitch them together when you are ready to sew them all at the same time.
Go back to the same first color, and this last part, crochet a chain of 42. This will be divisible by 6, so 6 times 7 is 42. Make your 8 rows of single crochets, then the narrow part will be 40 rows. When you are done, sew all the pieces together as shown in the photo. Then, attach your hook on the beginning of the 2nd color horizontal portion, as indicated in the arrow.
Continue on with the single crochet like you have been doing, and make your 8 rows, as if the finished work was a chain. This will give you the "L Block" for your first of four pieces.
For the pattern to work, you need to make another one just like this. Then, make two more using the opposite colors first and second that you did second and first on the other two. When they are all done, sew them together. To "fill in the square", I used a block of both colors to complement the design.
You can make them all the same two colors as I did, or mix and match. I know it looks complicated, but it's really not. If you wanted to try a smaller pattern, that might be good. Also, keep in mind this double yarn makes the afghan heavy. If you live in Minnesota, great. If you live in Arizona, not so much. N-JOY!
By Sandra from Salem, OR