My husband and I moved here to CO to be close to our kids and grand-kids.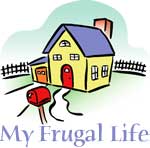 We had lived in KY to be close to our oldest son, but we had to move away because of my arthritis, allergies, and asthma. Since we've lived here, we've both had to work and we're on Social Security. I lost my job 2 years ago and my unemployment a few months ago. My husband had a stroke in October of 2010, so he is no longer able to work as he did. That means with the loss of his income (about $800 a month) and the little I made (maybe about $300 a month) our finances suffered a sharp shortage at a very bad time. Since gas has gone up, along with groceries, we're barely able to pay our bills, but there's nothing left for groceries. The dog and cat were eating better than us.
My husband had become quite friendly and well-liked where he'd been working, so some of the people there are saving cans for him. Our daughter and family save cans for us and, of course, we do too. We pick them up wherever we see them.
Last week our cupboards and refrigerator were getting so empty, that when I cleaned out the fridge there wasn't much for me to move out of the way. That day my husband took all the cans we'd accumulated to cash them in and we had $45 for groceries that got us through until something else comes along.
He also saves plastic covered copper wire, takes the plastic off, and cashes the wire in. He gets the wire from construction sites. Stripping the wire is a tedious job, but worth it, and think of all that doesn't go into the trash site.
When my husband wanted to cover our homemade shed he rounded up left over pieces of strand board, plywood, and whatever else he could find. He got enough after while to cover our whole shed for nothing. We painted it white with leftover discarded paint and you'd never know how that wood that was thrown away started.
Somehow when things get scary for us, we always seem to come up with some way to make it through a little longer. We're 69, husband, and I'm 70. I reuse plastic containers for my crafts. I look at things and see something to use, not throw away. To us it's kind of a challenge to see what we can reuse.
By Ellen from Loma, CO
Do you have a frugal story to share with the ThriftyFun community? Submit your essay here: http://www.thriftyfun.com/post_myfrugallife.ldml