Year after year, my husband says "don't spend any money" and I make lists of things we "need" and then go about getting them. Next, I sell a bunch of what I call JUNK at garage sales every so often. See a pattern here?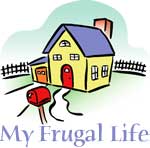 Well, my husband's advice seemed ridiculous, but when you see the pattern and you see your beautiful home, but your weak retirement plan (or no real plan at all), you better see change. So, we've changed, especially ME!
We have made our biggest priority, financially, to put 6 months living expense in a savings account for real emergencies only. We have committed to each other that we will save for ANYTHING else. So, until we have our emergency fund fully funded, we have cut ourselves off. Completely. And it actually feels wonderful.
Groceries are now budgeted and really thought through before purchase. Meals are planned out for a month. Coupons are cut. Clothes are mended. In other words, our focus is on maintaining the things we have rather than getting any more of anything that is not essential.
This tough time in the economy has been a true blessing for us. As a couple, there is increased joy when both partners are on the same page. Shared goals are priceless.
laubru010 from Mason, OH
Do you have a frugal story to share with the ThriftyFun community? Submit your essay here: http://www.thriftyfun.com/post_myfrugallife.ldml