---
ThriftyFun News
Recycled Crafts
Volume Seven, Number 23 June 10, 2005
http://www.ThriftyFun.com
---
Hello,
This week's issue is about Recycled Crafts. Next week's issue will be about Computer Maintenance Tips. If you have any computer tips to offer, please send them in.
Thanks for reading,
Susan
Enter The Photo Contest:
http://www.thriftyfun.com/photo_contest.ldml
Enter The Tip Contest:
http://www.thriftyfun.com/contest.ldml
Frugal solutions to everyday problems: Submit a request...
http://www.thriftyfun.com/add.ldml
This newsletter contains:
---
Today's Sponsors
---
MyBudgetPlannerManage your money simply and quickly. Inexpensive budget planningsoftware.
http://www.mybudgetplanner.com/partner/thf/mbpmain.htm
---
New Contest - More Prizes
---
We are giving away 16 $25 prizes in the following categories!
Tip Contest Prizes!
Best Gardening Tip
Best Recipe
Best Food Tip
Best Home Improvement Tip
Best Gardening Tip
Best Craft Recipe or Tip
Best Money Saving Tip
Plus 2 tips chosen at random
To enter, visit:http://www.thriftyfun.com/contest.ldml
Photo Contest Prizes!
Best Pet Photo
Best Party Tip, Craft Recipe or Craft Tip with Photo
Best Gardening Tip with Photo
Best Home Improvement or Decorating Tip with Photo
Best Organization Tip with Photo
Best Wedding Tip with Photo
Best of the Rest
To enter, visit:http://www.thriftyfun.com/photo_contest.ldml
Contest ends July 15, 2005
---
Recycled Crafts
---
Junk Drawer Picture Frames
By Jess Hampton
Turning boring picture frames into works of art doesn't take much more than some paint, glue, a junk drawer full of odds and ends, and an imagination! Revamping a picture frame is an easy project that you can complete in an afternoon (drying time included).
Read More: Click Here
---
I'm attempting once again to grow birdhouse gourds. They work well in hills with a lot of area to spread, but I don't have a large area to spare. They also will climb, so I'm trying it this way this year. I needed a trellis, and made my own from items I already had in the house.
Read More: Click Here
---
Funky Crocheted Containers: A creative way to use up that leftover wool!
By Jess Hampton
Sometimes our knit or crochet projects leave us with awkward amounts of leftover wool -- not quite enough from which to make anything substantial. However, with basic crochet skills you can turn that leftover wool into funky, unusual decorative containers, perfect for storing change, buttons, beads -- anything your heart desires.
Read More: Click Here
---
Recycle your large salsa jars. I use them for my salt, pepper and spices. Just spray paint the lid any color, I use white spray paint then take a nail and hammer in holes on the top of the lid large enough for whatever spice you are putting in them. Great for dry rubs and your own spice blends. These work great for barbecue. After friends and family saw mine they all made their own.
By Pam
Post Feedback: Click Here
---
Recycle That Old Dresser, Make a Puppet Theatre
Here is a cute idea for recycling an old dresser that is falling apart. First take out all the old drawers and runners. Take off the back. Install a shelf that hangs outside of the dresser all the way across the front.

Underneath the shelf on the inside of the dresser install two 2x2's that go all the way across the front. On the outside put a piece of Mdf or plywood that has been cut to the size of the dresser. Above the shelf on the outside install a small curtain rod for curtains for your stage (the shelf). On the back staple two black curtains.

Now the fun part! Paint and decorate in bright colors. You could even make a plywood triangle the size of the top of the dresser to make it look like a circus tent. Put a small flag at the top.

By Debra in Colorado
Post Feedback: Click Here
---
Recycle Dish Towels and Jeans to Make Hot Pads
Instead of tossing the worn out dish towel, I fold it in fourths making a small place mat size rectangle. I stitch the edges with my sewing machine (or you can serge the edges) to keep it together.
Then, I cut two pieces of denim, from worn out jeans, to fit over and sew this over the old worn out dish towel. After it is stitched together, I will top stitch it to be sure that the dish towel is attached securely to the denim, and do a few quilt ties.
We use these all the time, at lunch time for hot bowls of soup as well as large size hot pads. They work out perfect and don't cost anything extra, other than my time.
With making sure all the dish towel is sewn to the denim, I never have problems tossing them in the wash.
If you want a pretty fabric on top, I just cover the denim with the cotton fabric of choice, doing the top stitching at this point. This way you can have some that match your kitchen decor. The other day I made a few from an old corduroy skirt. Very pretty.
Post Feedback: Click Here
---
Decorate with buttons by gluing them to a lamp shade, picture frame or clock. Use wire cutters to clip off the shank of any buttons that have them. Be careful that the pieces you clip don't fly off and hurt you. I close my hand around it to keep it from flying, or you could wear safety goggles.
By Linda
Post Feedback: Click Here
---
Barbie Condo - Recycling An Old Bookcase.
Take a small bookcase and add a triangle made of plywood to the top for the roof. Make the triangle the dimension's of the bookcase. Add a back made from plywood or old shelves. Now decorate as you would any dollhouse. You can use gift wrap for wallpaper. Small scraps of carpet for the floors. You can add walls to make smaller rooms.

The plastic Velveeta box that they sell for storing Velveeta can make a pretty bed by cutting out sections of the box leaving the corners for legs. Make a pillow and a bedspread and hang a small cup hook above the bed and drape some fabric down. Old fabric napkins work well for this as some of them are pretty damask.

1 and 2 liter bottles can be used to make chairs with big bead legs. Take contact paper and cut into squares and make windows on the sides and backs of your rooms. A permanent black marker can be used to draw on the panes.

Now turn the Condo around and paint it to look like a building. Paint or contact paper the front. Add a front door and windows. You could then mount this whole thing on a industrial lazy susan so that when she is not playing with it all she has to do is turn it around. Add doors with hinges to close off the front if you like. Old wood can be cut into shingles for the roof.

This could also be made into a fort type structure for a little boy and his action figures or a fantasy castle for other dolls. Be creative and think out of the box.

By Debra in Colorado
Post Feedback: Click Here
---
Don't Throw Out Those Old Sweaters - Use Them In Crafts
Old sweaters are excellent (and beautiful) for recovering throw pillows, or making pillows for the kids to use on the floor while playing video games. Another great use for them is to cut them into huge squares and sew together. Sew to an old blanket or throw and keep in the car for cold mornings or emergencies. They make the warmest car blankets!

By Glynda Lomax
Post Feedback: Click Here
---
Cut old ties in equal lengths of your choice and sew together to make a neat purse. Line it with an inexpensive muslin and you're all set!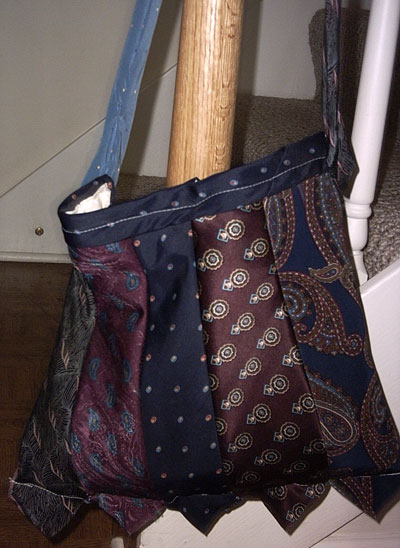 By Kim
Post Feedback: Click Here
---
From the Laundry Room to Snowmen!

Save those big caps from your Liquid Laundry detergent bottles. Wash them out good and turn them upside down (so it looks like a cup). Add 2 coal eyes (black pom-poms) and a carrot nose (orange felt, craft foam or clay) and you have a snowman favor cup for holiday entertaining. Start collecting the lids now for holiday crafting.

By Gail
Post Feedback: Click Here
---
Creative Decorating Ideas Using Old Windows
By Kathy Burns-Millyard
A Room With A View
Have you ever wished you had a great view right outside your bedroom window but all you see when you wake up in the morning is the wall of the next-door neighbor's house? Well then follow these easy steps to create your own window with a great view.
Read More: Click Here
---
Craft Uses For Wallpaper Samples
Go to wallpaper shops and ask for the outdated samples. You can make lovely greeting cards and stationary from them.

By mollyanna777.

What are your craft ideas using wallpaper samples?
Post Feedback: Click Here
---
Making a Duct Tape Purse
By Stella Rivet
Need a purse? You can make one out of cardboard and duct tape. They are easy and cool!
Duct Tape Purse
Read More: Click Here
---
Tips and ideas for making crafts with wine corks. Post your ideas!
Post Feedback: Click Here
---
Creative uses for old maps. Post your ideas.
Post Feedback: Click Here
---
Crafty Uses For Plastic Baby Food Containers
I have TONS of the new babyfood plastic containers with covers on hand. Can anyone think of something I could do with them. Anything crafty? My hubby wants to use them for his screws and such. Any other suggestions would be great. I would love to do something crafty with them.

Laurie
Post Feedback: Click Here
---
I would like some ideas on what to use old and new calendars for, we get so many sent and hate throwing them away. My grand daughter uses some to write her own things in the squares but I would like to have more ideas. Thanks,

Connie C.
Post Feedback: Click Here
---
More Stuff
---
Coupon Swap!
Swap coupons with other ThriftyFun.com users:
Seed Swap!
Swap seeds with other ThriftyFun.com users:
Tip Contest!
Submit a tip and enter our contest.
Submit a Request
Frugal solutions to everyday problems.
Search ThriftyFun!
Use Google technology to search ThriftyFun.