I love fabric crafts, but often want many different fabric materials, patterns, and colors. I now go to the Thrift Store (Goodwill, Salvation Army, etc.) and look at the clearance rack for shirts, pants, or skirts made of fabric I can use in my crafts. That great skirt may be out of style, but the fabric is still usable.
By Trina from sunny south FL
Add your voice! Click below to comment. ThriftyFun is powered by your wisdom!
February 17, 2011
0

found this helpful
Recently one of my local thrift stores had a sale, fill a 13 gallon kitchen bag with clothes for $4! It was amazing how many silk blouses, skirts, and ties I got for my fabric crafts! Oh, and also velvet skirts, one each black, red and green. (great for Christmas crafts) These sales are wonderful for fabric, plus you get zippers and buttons to play with, too!
April 8, 2013
0

found this helpful
Great tips. I have been doing this for a while now, too. But don't ignore the rest of the craft spectrum! I buy yarn still in the skeins, hooks and needles for pennies on the dollar. Baskets, crochet thread, and so much more can be purchased new or like new for so much less. Once, I paid $5.99 for 8 double skeins of yarn unrolled and that would have cost me $23.76 new, and they were still new. Here is another bag I got for just $15.00 on Craigslist. There are 25 skeins in the bag and that would have cost me $74.25!
I learned a long time ago that secondhand is not the same as used. Been doing it ever since. Kudos!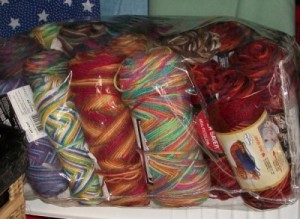 Add your voice! Click below to comment. ThriftyFun is powered by your wisdom!
When our local thrift shop has bag sales. I normally go and pick out clothes (fabric) to make different things with. Some I use to make photo albums, others I use to make quilt pieces. I also buy the quilted bed covers to use in between my quilts. This makes the item I am making so very much cheaper.
I bring all the fabric home wash it, remove the buttons, and break the fabric down in as large a piece as I can. I store it until I am ready to use it. Not only do I have a great deal on fabric, but I also have lots of buttons also. I can normally get a large paper bag of clothing (fabric) for $3.00.

A funny for you: The last time I went, I was looking at some blue jean jumpers and this lady came by and said "That would look great on you." I chuckled and thanked her, but I was inspecting it for some albums and quilting projects.

By gem from VA

Answers:
Shop Thrift Store Bag Sales for Fabric
I do this same thing! :) Every time a new nephew or niece are born, I go a get a bunch of tee shirts and make baby quilts. The jersey material is so soft and they love them! (12/16/2010)

By mrscrafty