Trinity and Niobe are both about 5 years old, and coincidentally born within a week of each other. Trinity is a black and tan Belgian Sheperd (Malinois), and Niobe is a red and black Rottweiler/Sharpei mix. I adopted Trinity from a local shelter. One week later, I found Niobe in an abusive situation and rescued her. I ended up keeping both of them!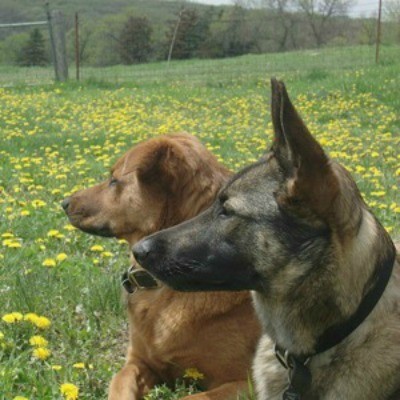 Trinity is a 'down to business' dog. She loves to go running along side my truck out in the country and can't get enough even after 8 miles!
Niobe is still a puppy at heart! She loves to 'prance' and play with her stuffed bear by tossing him over her head. She only goes about a quarter of the way that Trinity does when we run, then she wants back in the truck.
These two are polar opposites! Trinity is very serious and Niobe is playful, but Trinity behaves and listens, whereas Niobe is pretty bull-headed. They get along together fabulously and they like cats.
By Dragoness