Be Careful What Your Bird Plays With
My daughter made a lanyard for her phone using beads and chain. Recently, her Masked Indian Ringneck (MIR) parakeet was chewing on her lanyard and managed to get one of the beads off of the chain.
She kept hiding it under her tongue so we couldn't get it out; I finally managed to get her to open her beak large enough that I could blow hard and the bead flew out. Something that small could get caught in the bird's crop, and have to be surgically removed. We were very lucky with 'dita, that both of us were sitting on the couch with her when this incident happened.
By one.of.a.kind from AL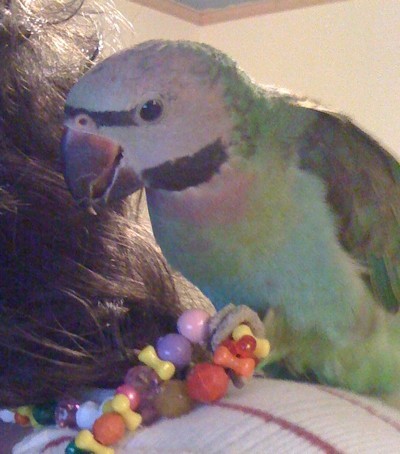 Add your voice! Click below to comment. ThriftyFun is powered by your wisdom!
June 18, 2010
0

found this helpful
This is what my Moluccan did to my watch band in about 3 big chomps. Owie owie owie!

June 18, 2010
0

found this helpful
Wow! They are pretty handy with their beaks! I have Perry and I put some cereal in his cage to see if he would play with it but he doesn't. He just likes millet seed. I will make sure there are none of those beads, poor little bird that wouldn't let the bead out of its mouth, I am so glad he didn't have to have surgery at the vets!
Blessings,
Robyn
August 31, 2013
0

found this helpful
Wowie, wowie, wowie! Don't piss him off! ;>
February 16, 2015
0

found this helpful
What a sweet bird! Beautiful. I'm glad all turned out well, birds LOVE small shiny objects. Once I was visiting a pet store and a lady came in with her two lovebirds on her shoulder. I asked could I pet one, and when I reached my finger out the bird hopped right on and walked up to my shoulder. Next thing I know my tiny emerald stud earring was in its mouth, and the other bird was on my friend's shoulder, I watched as her necklace slid down the front of her shirt, after the other bird had opened the clasp! I'm sure those beads on your daughter's phone accessory looked fun and yummy to the bird!
February 21, 2018
0

found this helpful
I found my cockatiel hanging when a length of string that had a rattle ball tied to the bottom had wrapped itself around her neck while she played with it. Also the little bit of metal inside bells that make them ring can come off & lodge down the birds throats & string can get lodged in the birds crop so thoughtful toys need to be considered .
Add your voice! Click below to comment. ThriftyFun is powered by your wisdom!