One of the difficult things about being frugal is when you see others doing what you would like to do. At the mall where I shop, there are a lot of cafes and eateries. Delicious smells in the air.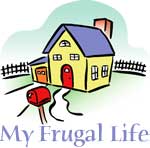 People sitting, talking and eating and I realize I am HUNGRY.
But wait! If I can contain myself for another 20 minutes to get home, I can make myself a grilled cheese sandwich with ingredients I already have. I have saved myself many dollars by doing that and not being lead into cafe temptation!
I don't buy magazines any more. I love to read, both books and magazines. but they are too expensive for me to indulge in that now, A friend gives me a bundle of magazines once a month when she has finished with them, then I give them to a next door neighbour, who works at a nursing home and she takes them in for the patients. This is better than throwing them in the recycling bin, as the pleasure of reading is passed on.
There are many other ways you can think twice or three times!
Sharing is good too. Recently I was given four avocados, which are expensive to buy here. The next day, I took two of them and gave them to a friend. Helping each other makes the world go around.
By Ellie from Melbourne, Australia
Do you have a frugal story to share with the ThriftyFun community? Submit your essay here: http://www.thriftyfun.com/post_myfrugallife.ldml