Breed Description:
This strong, courageous dog is one of the most popular breeds in the world. It possesses one of the keenest noses and highest degrees of intelligence in the dog world, making it suitable in almost any working capacity: herding, police work, guard dog or guide dog. The German Shepherd also makes a loving and faithful companion.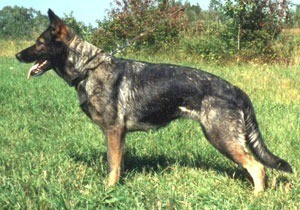 Group: Herding Group.
Purpose of Breed: Herding sheep
Country of Origin: Germany
Average Size: Ranges from 22-26 inches and 60-90 pounds depending on sex.
Color(s): Although their color may vary, German Shepherds are most commonly black, gray, and tan, many times with a black or dark-colored saddle.
Coat Type: Double coats of medium length hair. The outer coat consists of dense, straight hair that lays flat against the body. The hair length is somewhat shorter on the head and legs than on the rest of the body.
Grooming: Daily brushing is required to keep this breed's coat in top condition, however bathing is needed usually only a few times per year. This breed requires standard care for eyes, ears, pads, and nails.
Exercise Needs: German Shepherds are a large, highly intelligent breed that needs frequent exercise and mental stimulation to maintain optimal health. They adapt well to indoor living, but need daily exercise and a house with a fenced yard.
Temperament: This breed is highly intelligent and territorial, and makes a faithful and devoted companion. If properly trained and handled, the German Shepherd fits well within a family circle as a loyal and obedient companion. Initially suspicious of strangers, the multi-talented German Shepherd makes an excellent watchdog. This breed bonds deeply and does not like to be separated from his owner.
Common Ailments: Susceptible to bloat, skin disease, congenital heart problems, and hip dysplasia.
Life Expectancy: Averages 10-12 years.
Trivia: The famous dog "Rin Tin Tin" was a German Shepherd.
More Information: German Shepherd Dog Club of America