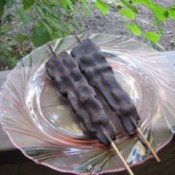 A dear friend of mine, Aric, whom I've known since I was sixteen years old and who also loves trying new recipes, heard about chocolate covered bacon while watching a cooking show and suggested giving it a try.

I never knew of such a thing before, so did a search and sure enough there are oodles of assorted recipes on the web. I also found out that they are apparently a huge hit at county and state fairs. I guess I should have been going to the fair each year. ;-)

I don't have the best of lighting nor much counter space in my kitchen so this is the best photo I could get on the patio rail outside by placing a couple of them on a plate after they had cooled in the refrigerator. Oh, by the way, they are indeed tasty and I used maple cured bacon because it just sounded so right to use with chocolate.
Ingredients:
12 (10 inch) bamboo skewers
12 slices thick cut bacon
8 oz. semisweet chocolate, roughly chopped.
Directions:
Soak skewers in water for 20 to 30 minutes. Preheat the oven to 375 degrees F.
Thread a bacon strip onto a wooden skewer ribbon candy style, place on a flat baking rack on a cookie sheet that has a lip edge, repeat until all bacon slices are skewered, bake until crispy and lightly browned, about 16 to 22 minutes, and allow to completely cool on a cloth towel.
If you don't have an extra cookie sheet then wash the currently used sheet, dry and line it with wax paper.
Bring water to boil in a double boiler, add chocolate, reduce heat to medium low and stir until chocolate is melted.
Spoon chocolate over both sides of the cooked skewered bacon. Use the back side of the spoon to remove excess chocolate in between the ribbons. Lightly shake to remove any remaining dripping chocolate and place on the wax paper cookie sheet, repeat until all skewers are coated. Refrigerate until firm and serve or wrap and store in the refrigerator or freezer.
By Deeli from Richland, WA