Candle Wax
I was looking on here for uses for old candle wax, and I came across the following ideas: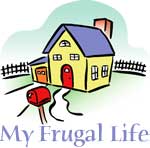 I have kind of changed several of the ideas into one that would utilize what I had in the house.
I took a corn cob holder, the kind with the two long prongs on it and stuck it in the little glass candle I wanted to recycle. This makes a kind of granule like crystal of the wax. I then piled it onto an unused dryer sheet and tied it with a ribbon. Not tight but pretty loose. Not open enough at the top to fall out but not too tight either.
For safety sake and for the pets sake, I will tie it to a hidden area of the car on a short ribbon. I want the car to have a nice scent, and it gets so hot, I think it will do the same as a tart burner without the flame.
Ribbons
I had used some old ribbon to tie a rubber trash container to the fence in the back, which I no longer need the storage out there in the yard so I removed the trash container. There was a remnant of ribbon still on the fence where I had cut it. It looks just like a yellow flower in bloom on the fence. I am thinking of putting more out there. You can't tie them in a bow. If you want them to look like a flower, they have to have two or three pieces of ribbon hanging down. The more tattered looking the ribbon, the better.
The Morning Glories I keep out on the fence didn't do well this year. I am going to have to reseed. It has been six years or so since I have had to buy the one dollar packets of the morning glories at the dollar store.
I noticed that when I had some yellow ribbon, and I tied a bow onto the stem of a rather poor looking plant, it cheered it up. the plant may not bloom but it looks so adorable with that bright cheerful ribbon. The ribbon cost me 28 cents at Walmart.
Crafts
I have been looking at crafts a lot on ThriftyFun and thinking about how what kind of a year it will be for Christmas this year, not that it is all about presents at all, but I suspect people will be holding onto their money and crafting more. This is just my humble opinion, and then maybe it will explode and people will go crazy and buy lots of electronics etc.
Coconut Oil
I have been looking into the uses of coconut oil, as far as for rubbing into the skin to reduce fever and the like, and I am wondering if I should get some. It is supposed to be great for massage and dry skin. I am going to research more of it on earthclinic.com. I know it is great for dry skin.
Neem Oil
I am going to buy some Neem oil and make a spray out of it and see if it does kill insects in the yard. I am interesting in hearing anyone's experiences with it. I have heard it smells pretty bad. Also anytime you use natural remedies, than you usually are better off with the organic stuff rather than the grocery store stuff, at least that is what I have heard.
Trial Samples as Stocking Stuffers
I don't intend to blow a huge amount of money all at once at Christmas, so I hide things back I find at the store..There are cute things at the sample isle at Walmart, from tooth brush sets, to perfume to hand lotion, and I am thinking about getting a 20 dollar gift card at Walmart and putting little by little more money on it each time I go shopping there and then when the time comes split it into two cards for the kids. The money I have will come from the savings I get from making so much of my own stuff.
A lot of that I have got from this site: Cleaning with vinegar, baking soda, etc. is helping me use less laundry detergent, etc.
Photo Hunt
I have been all into photography of the weather and insects lately. The kids are so happy to be in pictures, but some of these will come in handy for any kind of project that they might do at school.
I am going to take the kids on a walk and ask them to point out things to take pictures of. I like them to be the ones to make decisions. My youngest one took a great picture of a side of a rocky cliff that had water coming out of it due to a spring underneath it. I don't know what ever happened to that picture but the memories of taking it are great.
Leaf Collection Tree
We want to make a little tree out of a branch that is no longer than two feet or so tall. We are going to collect leaves, and cover them in either sandwich bags or clear contact paper and punch hole in it with an ice pick or hole punch and then hang them on the tree with ribbons.
We love leaves and nature. We still have a seed poster our youngest child did for school. We got the colored index cards and put a sample of all sorts of seeds on it and then covered it with clear wrapping tape. We hung it with a yarn. We love it still!
Extra Winter Gloves
These gloves that are child sized are all over the storage room, the odd ones that don't have matches!
I used it to pad my digital camera in the holder, and it is great when I take it out there is a soft fabric to lay it on when I am uploading...I just love how these gloves have given me a "hand up" on storing my camera and wires etc!
Slides to CD or Print
I have found that Walmart is rather reasonable or turning those old color slides into prints or on CD. I have found using one of those clear almost translucent butter containers and putting the slide on it and then holding that up to the light, helps you to see the slide better than just holding it up to the light.
By Robyn Fed from Hampton TN
Do you have a frugal story to share with the ThriftyFun community? Submit your essay here: http://www.thriftyfun.com/post_myfrugallife.ldml