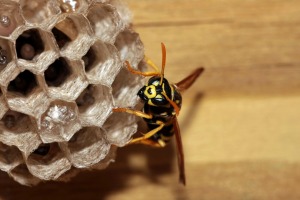 Help! A week ago I was stung by way over 50 yellow jackets. The pain has gone by now but the itching makes me want to rip my skin off. I have tried a number of things to relieve it but nothing works for more than a few minutes. Anyone got any suggestions? Do you know how long this will last?
Anita from Montclair, NJ
Answers

joan pecsek
Bronze Request Medal for All Time! 66 Requests
August 8, 2007
1

found this helpful
Best Answer
Make a paste of meat tenderizer and water. Make the paste kind of thick, put it on the bites, and cover it loosely with gauze to hold it in place. You will be amazed at how well this works. Be sure your meat tenderizer contains "papain". It's an enzyme found in papaya and it's the thing that makes this work. It's been a long time since we were bitten but I think we itched for a couple of weeks. This remedy will work on most bee stings.

August 10, 2007
0

found this helpful
Best Answer
I am allergic to yellow jackets and went through 5 years of desensitization. I didn't go into shock after that, when I later stepped into a nest of them.
I am thinking it might help to go to the doctor and get a hydrocortisone shot like they give for bad poison oak. It will go away then, within a day. You might have it in your blood stream now.
The next time you get stung, this is what I do immediately and it doesn't even leave an itchy bump. I take two Benadryl, and Aleve (for the inflammation) or 2 ibuprofen and put ice on the sting so it doesn't spread the venom.
I was an RN when I was younger but I am not giving medical advise, just talking from my experience.
If you stand in the shower under warm water and direct it on the stings, it will bring the histimine to the surface that causes the itching and it will not itch so badly for awhile.
By Pat (Guest Post)
August 11, 2007
2

found this helpful
Best Answer
I was stung by a wasp six times. I applied straight household ammonia on a cotton ball and dabbed on the stings. Pain went away immediately. I did use it again when I started to itch and it took away the itching.
My family and I have used household ammonia for all type of insect bites for the past ten years. If you look at some of the anti-itch sticks that you can carry with you, the main ingredient will be ammonia.
I was told to use ammonia by a neighbor who is a chemist. He was from Thailand and told me that when farmers who work the fields get stung, they can't run to a pharmacy for any type of treatment so they urinate on the stings. Sound disgusting but works for them in that part of the world.
I, of course, prefer the ammonia out of the bottle. You should test an area of your skin to check for any type of reactions before trying this. We never had a problem but as we know, everyone is different. Good luck.
By KarenC (Guest Post)
August 13, 2007
0

found this helpful
Best Answer
I've never had that many but as soon as any of my family get stung, we douse a tissue with lemon juice and hold it on the sting until the pain goes away. We may need to re-apply but usually it is gone the first time.
Hope this will help you. You must also get the stingers out if they're still there or it will continue to itch.
By Jan Folsom (Guest Post)
August 13, 2007
0

found this helpful
Best Answer
My Mom swears by Anbesol for the initial sting. I'm so allergic that I can't be around them. BUT hot compresses 24 to 48 hours after the sting, will bring down the inflamation and the itching amazingly! That's from an RN at the hospital where I worked, just prior to going into anaphalaxis from the last sting I got. Be very aware that the more you are stung the stronger the possibility of bad reaction!
By stngray (Guest Post)
August 14, 2007
0

found this helpful
Best Answer
First of all, you should call a doctor for that many stings. But, always keep Benadryl caps (otc) and a Benadryl stick around. Take a couple of caps immediately, and dab each bite with the stick. The stick takes the sting right away and keeps it from getting as puffy and painful as it can.
If one is allergic to these stings they need an injection from a doctor. The Benadryl advice came from my MD.
By RC (Guest Post)
September 13, 2007
0

found this helpful
Best Answer
Ammonia is your friend for practically every type of itch. Apply a small amount of household Ammonia to a cotton swap and gently apply. And I mean a very small amount. do not use too much. Perhaps dilute a small amount in a little water before applying. But it will work. Ammonia is great at relieving most kinds of itches. And it works pretty fast too.
Answer

this Question

How can I ease the pain and itch of a yellow jacket sting? I think I got the stinger out completely, but it was so hard to see. Should I put something on it to draw it out in case I didn't get it all? It's been about 24 hours and the itch is incredible. It's not too painful anymore, just a dull ache now and a little redness.
By ~gloria
Answers

Lizzyanny
Bronze Feedback Medal for All Time! 226 Feedbacks
October 5, 2011
0

found this helpful
Best Answer
Try hydrocortisone cream for the drug store. It will improve things overnight. You can put it on several times a day.
Answer

this Question

I was stung about 25x about 2 weeks ago by yellow jackets. I've itched a bit, but suddenly today my skin is on fire and I'm itching like crazy. Is this normal?
Answers

Judy
Gold Post Medal for All Time! 677 Posts
August 30, 2018
0

found this helpful
Put some ice on the strings and take an antihistamine

Pghgirl40
Bronze Feedback Medal for All Time! 196 Feedbacks
August 30, 2018
0

found this helpful
Please call your doctor ASAP!! Bites are nothing to mess with and that you had so many stings and still have issues, it is time to get a professional look see and get you on the road to wellness! Healing prayers for you!!!

September 7, 2019
0

found this helpful
I was stung by several yellow jackets two weeks ago, my arm swelled, turned red and itched like crazy. Ended up going to the ER and was given antibiotics which took care of the infection but it still itches.
Answer

this Question

I was stung by a yellow jacket 2 days ago and have tried all the home treatments I know of. I got the stinger out, applied ice, baking soda, vinegar, antihistamine, OTC itch cream. Nothing is working. The itch is horrible and there is a good deal of swelling and redness. I'm OK otherwise, no typical allergic reaction like trouble breathing or nausea. It doesn't look infected. Does anyone know how long this will last? Or anything else I can try?
By ~gloria
Answers

October 4, 2011
0

found this helpful
Go to a health food store or one online and get the Homeopathic remedy Apis Mel (6x would be fine) and take one or two pillules every hour or two till you find relief. Should not take more than two or three doses.
I keep this on hand all the time since I have an allergy to bee stings. It will work with any bite or sting. Hope you feel better real soon.

October 5, 2011
0

found this helpful
To littlegamma,
Thanks for your suggestion. What's in the stuff? I don't take anything unless I know what it is and where it came from. Is there a description somewhere online?
~gloria

August 14, 2019
0

found this helpful
This sounds weird, but when I have an itch from poison oak or a bug bite or sting, I blow a hot blow dryer on it from about a foot away for about 20-30 seconds, or as long as you can stand it. It will itch like crazy while you are doing this, but as soon as you stop, the itch is gone. With poison oak, the itch is gone for 4 hours, but I have to do it more often with the yellow jacket bites I'm dealing with right now. I will use Benadryl tonight, so I can sleep!
Answer

this Question