August 25, 2010
0

found this helpful
No offense but home remedies do not always work for tape worms and Princess should be getting medication from a vet and especially because of her age and then the worms will be gone in a day or two that way! Princess isn't getting enough nutrition because the worms are eating it. :-(
June 17, 2017
4

found this helpful
Yes, diatomaceous earth does work on fleas and tape worms. I have been using it for years effectively, with my vets approval. Infact, I introduced the vet to it. It has also helped with heartworm in a dog I once fostered.
Some people are just closed minded.
August 1, 2017
0

found this helpful
How often and how much do you give daily?
August 23, 2017
1

found this helpful
I disagree with this answer. I have used garlic and a little raw hamburger to conquer worm infestation in my cats. It is an old remedy passed down from my great grandmother to my grandmother to my mother and now to me. And it works great! I mentioned it to my vet and she has given her stamp of approval for it, so to speak. So anyone who pushes you to only go to a vet (which can cost a fortune), is probably a person not looking out for your animals well being but probably their own pocket book.
September 1, 2017
0

found this helpful
My nursing cat and new borns I suspect have worms. I'm really interested in this garlic and hamburger idea. What should I do
September 27, 2017
0

found this helpful
My cats won't eat it mixed with dry.. is it still effective when I mix it with water and pumpkin purée and oral syringe feed it to them?
October 10, 2017
0

found this helpful
Do NOT give your pets garlic please!! As someone looking out for the well being of all animals, I'm not sure why your vet would've given "the stamp of approval" when any vet should know garlic and anything in the onion family is toxic to cats and dogs. It's actually considered to be about 5X as potent as an onion. Since garlic is significantly more concentrated than an onion, an even smaller ingested amount will likely lead to toxicosis as little as one clove of garlic can lead to toxicity in dogs and cats. If you didn't know this and you care about your pet's health, please find another remedy that's safer for them.
August 26, 2010
3

found this helpful
Hello and thanks for the advice.
Perhaps a little background info would be helpful. Princess is one of 3 sisters born to a "stray" in May of 1992. My family loves animals and cannot stand to see anyone go hungry. We feed strays and try to find homes but if not possible, we drive 40 miles to another county that has a "no kill" shelter (and they are who gets our generous donations).
The 3 sisters have been in our family since 1992 and are very well loved and cared for. We lost one sister (Pumpkin) to cancer at the age of 16 and we still miss her today.
One sister (Bootowful) belongs to my son and is in excellent health. She has not seen a vet since she was 2 years old and is still going strong. My son sees that she has everything she needs and much, much more. He is 56 yrs old and still single and she is his favorite companion. It was love at first sight and has lasted through the years with no regrets I am sure. We do use "home" remedies but indoor kiddies do not generally have many problems if cared for properly.
Pumpkin was the homely one but loved me and was my constant companion. She was an "attack" cat where I was concerned. Very protective. It was a very sad 6 months (and 800+ dollars) that we had to watch as she deteriorated with no cure in site. She was in no pain and I hand fed her with an eye dropper for the last 2 months. She was still chipper and still loving when she could no longer swallow her food. Letting her go was one of the hardest things I have had to do in 75 years on this earth. I still miss her today.
Princess is in excellent health and sees a vet on a regular basis. Usually for no reason except it has been a while and my daughter wants to be sure there is nothing wrong that she cannot see. Her vet gave her medication for worm treatment and Princess had a very bad reaction and was very sick. The vet is the one who told us to start using the diatomaceous earth. My daughter has called the vet since I asked this question and she says it will take a couple more weeks to be sure. If there is no sign of improvement then we will take another route.
We have several other pets and love them all. Other pets have come and gone over the years, all loved and appreciated.
I really appreciate all the responders on this site as I have found many "home" remedies that have helped me solve lots of problems. Not everyone can agree and that is a good thing because it keeps us on our toes and searching for better answers.
May 8, 2017
1

found this helpful
The tapeworm meds sold now do not always kill the tapeworm.
They only dissolve the segments from the head..Then they grow again an again..Takes several weeks for them to grow an drop off.
Vets used to use a pill that vibrated the intestine a dislodge the head..They no longer use it.. If the head isn't removed, it's a loosing battle,at 25.00 a pop..I am now using diatamasious earth With good results. Hope this helps.
June 26, 2017
0

found this helpful
can you tell me how much (powder form) do i put in 3 cups of food and a can of wet food for the mama stray. I have been taking care of them since the mother was killed. Now there are 3 adults (all related) and 4 kittens. I feed a big flat bowl of food with one can of wet. I just need to know how to use this powder.
August 27, 2010
0

found this helpful
Well, cybergrannie, since the vet says to go ahead and do it because she had problems with the regular meds then you have no choice. Is DE also being sprinkled in her litter box and on her favorite sleeping areas? Let us know the outcome, okay?
August 27, 2010
1

found this helpful
Hello again and thanks for your response. Yes we do use DE in several areas but since the vet says she has no fleas (Princess has a bath every week with Dawn) her biggest concern is cleaning up the worms.
Undoubtedly Princess got a flea or two from somewhere or she would not have the worms. She is a house cat but does love our enclosed patio which does have some grass and we do occasionally visit neighbors with dogs and cats of their own. Fleas love to latch on to a "new" body so I believe this is the case. Princess is due at the vet's on September 10 so I hope she will be okay. Her age is always a concern.
Thanks again.
July 7, 2015
1

found this helpful
I gave my cats diatomaceous earth twice to help with worms and about a week later one of my cats was severely dehydrated and ended up passing away. Apparently she was diabetic and I did not know so the DE could have just exasperated the health situation but I think it's funny that a week after feeding th this stuff she was severely dehydrated and that is how DE kills parasites. You see a lot of pages saying how safe it is but I have found a few that say otherwise. On one a vet told a woman that this stuff is toxic to cats, on another it says that you should not continuously give it to your cats and on others in regards to human consumption it says that it can be very dehydrating. If you do decide to chance it and feed it to your cats please be very careful and keep a close eye on them so you don't end up in a situation like me. I have had the most awful week and it was heart breaking to not only lose my cat but to know may have been the one to cause her the problem and I don't want it to happen to anybody else or their pet. God Bless.
September 3, 2015
2

found this helpful
Diatomite did NOT kill anyone's cat. The worms did. Worms themselves often cause diarrhoea. Which dehydrates cats. Especially kittens. I've got 60 cats, all raised from birth right on my property. Outdoors. Diatomaceous Earth is not provably for deworming via ingestion, though some swear by it. I keep it around because, by keeping it mixed in my cats' fur, it keeps fleas somewhat under control, which stops worms from becoming so abundant that my cats have no way to fight for their health (long enough to become big from lots of solid food). Tapeworms kill. And fleas facilitate worms. Tapeworms can stay afloat only if fleas go unchecked. Else, they will lose the battle for your cats' lives. Get rid of tapeworms with praziquantel (contained in Droncit & Drontal). For roundworms, use pyrantel palmoate. Both are available over the counter. Drontal is pricey. It's worth it if you're rich.
(Pictured: Darrell is 1 year old. DE keeps him healthy. 3 of his sibs died from worms before I first used it. He gets his fur powdered. I don't feed it to him, really. Used to. But no evidence it deworms, despite the hype. The significance is, it fights fleas.
No fleas? No worms. Eventually.)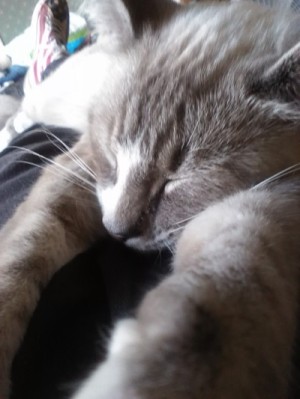 September 3, 2015
0

found this helpful
[Often, one may notice fragments from tapeworms in a cat's stool. This isn't necessarily a sign that anything is killing the worms since this happens anyway as a tapeworm grows and produces eggs (which are inside the tapeworm segments that break off and pass into the stool.)]
March 22, 2017
1

found this helpful
brewers yeast for fleas in the cat's food, fleas don't like the taste in the blood.
April 5, 2017
0

found this helpful
I have one cat out of 7 that consistently comes down with worms every two months.The vet says I will need to treat all of them in order to eliminate the problem. He is the only one that is a house cat. Very frustrating
July 10, 2017
1

found this helpful
From my research, tapeworms take the longest amount of time to be treated with diotamacious earth. Atleast 30 days is recommended.