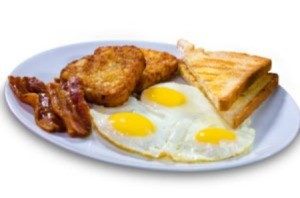 Breakfast is the most neglected meal of the day. Here are tips for saving money on breakfast items as suggested by the ThriftyFun community?
Make Sure Kids Have Breakfast Before School
Especially for children, breakfast is important. Make sure your children have a good breakfast before they leave for school. I use to set the breakfast table before I went to sleep so it would be ready and not as rushed in the morning.
Generic Oatmeal is inexpensive and will hold the children until lunch. Put raisins in it and it will cook up nicely in the microwave without boiling over.
When you make pancakes or waffles, make a lot and freeze some to heat in microwave (pancakes) or toaster (waffles) for a special change. (Premade ones purchased in the store are much more expensive and you can substitute whole wheat flour for part of the flour in the ones you make.
Look for bargains in cereals and use coupons too. Just make sure the dates on top have a long away expiration date if you stock up. Do not purchase "junk" cereal with food coloring, sugar, etc. Whole grain Cheerios, mini wheats (with warm milk) , etc are much better for them. Do not skimp totally because it is an important meal. Whole wheat toast is as good nutritionally as cereal and my sons like a few slices of that in place of cereal too.
Scrambled Eggs With Brown Rice
I get eggs from Costco carton and brown rice and make it in big batches on the weekend.
The egg and rice together gives me a good carb and protein balance and more interesting texture. Sometimes I throw hot sauce or soy sauce on there.
It's easy to mix up the ratio depending on whether it's going to be a physical morning (gym - more rice) or an office morning (more eggs).
By Dan
Hot Cereals
Hot cereals are always a good choice for us, oatmeal, steel cut oats, cream of wheat, wheat cereals, etc. We top it with brown sugar, maple syrup, milk, fruit, or a dip of ice cream. The best is chopped fruit and ice cream.
By Suzin
Make Your Own Flavored Oatmeal
If your kids will eat generic oatmeal or cream of wheat, let them put peanut butter and jelly (which you can get at any discount grocery) in it. You can also just add jelly to make flavored hot cereals like the peaches and cream. Or, for younger ones, you can use sugar free Jell-o powder (just a touch). They will eat it more if it has fun colors.
By wendi
Raisin Rice and Sushi
I cook Sushi rice with raisins in it (you can cook up extra and reheat in the microwave) and then add a little milk and a little brown sugar. I also blend OJ, a banana (or raspberries when on sale at the Farmers Market) with a scoop of Vanilla Flavored protein powder.
By Deeli
Freezing Bacon
Any bacon users out there? I found the best-ever way to freeze and use it. I never have to throw out spoiled meat. One pound of thick-cut bacon takes about three feet of waxed paper; place a slice on the end of the torn off sheet. Fold it over to cover, add another. Repeat. This way, it's easy to use the individual slices of frozen bacon.
By Chuck
Day Old Bagels and Muffins
We eat a lot of bagels and English muffins. We have found that if we buy them at the bread stores or "day old bakery/bread store" they cost at least half the price. English muffins here in Arkansas at Wal-Mart cost $2.60. We get them at the bread store for $0.80. Can't beat that! Also, those $3-$4 loaves of specialty bread usually cost $1-$1.25.
By Jess
Two Favorite Breakfasts: Pancakes and Oatmeal
We have two recipes that we use as standards. One is pancakes. We soak two cups of whole wheat flour in two cups of yogurt or buttermilk overnight. In the morning, add an egg, a teaspoon of salt, a teaspoon of baking soda and enough water to thin the batter the way you like it. Makes about 15 pancakes. We serve them with honey, homemade fruit syrup, sauteed apple slices, jam or homemade pancake syrup. With an egg on the side it is a fine meal.
The other standard I make just for myself. Bring to boil a cup of water, 2 tablespoons raisins and 3/4 teaspoon cinnamon. (I'm diabetic and this is supposed to help even out the blood sugar.) Stir in 1/2 cup old fashioned oats and a tablespoon of brown sugar, and cook about a minute. Let it stand 2-3 more minutes. Pour in a bowl and add a little milk. With either recipe, you're hardly spending any cash, and they taste wonderful.
By Coreen Hart
Grits or Masa
Grits can feed 2 people on 1/3 of a cup of dry corn grits, boiled with 2 cups of water. Add a large chunk of Velveeta and cook in it for more protein. Also, masa meal can be cooked the same way, for a Mexican flavored breakfast. Either of these are great with a bit of salsa or picante sauce on them.
By Nance
Oatmeal for the Road
I start my day with a fruit shake using an orange, frozen banana pieces, and frozen strawberries plus some soy milk, stevia and soy powder. YUM
Save money on the follow up: I package my own serving size of oatmeal using the snack size zip bags. I use 1/3 cup quick cooking oatmeal, one Tbsp. ground flax seed, some raisins, and 1/2-1 Tbsp. cinnamon. When ready to eat it, I just put the contents in a glass bowl with some water and microwave it for 90 seconds. Add some honey and hit the road! Of course you can customize what you add to the oatmeal and still have a quick, cheap and filling start to the day.
By Caroljean
Day Old Bread and Oats
We buy day old discounted bread and keep it in the freezer. We can toast the bread, spread it with peanut butter, and have a quick breakfast. Also, it is more cost effective to buy the large size plain box of oats (the big round boxes). Then buy brown sugar, vanilla, a large box of raisins or other flavorings. You can get many more servings of oats this way rather than buying the prepackaged convenience size oats in the packets. You can customize the flavors and still have microwave convenience.
By Cora
Sausage Breakfast
On mornings when I need a little extra energy, I like to eat a 3-4 inch piece of smoked sausage in a piece of bread, left over biscuit, or a hot dog bun. I really like to braise it in a slice of yellow onion the night before and just heat it up next morning when I'm in a hurry. You can add a slice of cheese to it if you wish.
By Carol
Breakfast Sandwiches
My husband cooks scrambled eggs on the weekend, and then puts the eggs and a slice of cheese between toasted English muffins. We bag them and pop them in the freezer. Each evening we pull two out to defrost, and the kids take them along as they leave the house for school. Of course, sausage or bacon can be added before freezing, or a slice of tomato in the morning. They love these breakfast sandwiches! Tortillas work in place of the English muffins too.
By leslie
Have A Breakfast Menu
Our kids developed a breakfast menu which dad prepares for them:
We bake mini-muffins and freeze, we cook bacon and sausage patties and freeze (remove and microwave).
One daughter likes boiled eggs so we boil up a batch of those (especially when eggs are on sale).
When making waffles we cook up the rest of the batter and freeze for use at a later date.
We freeze our berries and use in yogurt topped granola.
We have unconventional breakfasts: macaroni and cheese or spaghetti, pizza, etc.
Use leftovers in omelets (grilled vegies, bits of meat).
Breakfast tacos: leftovers in a tortilla.
By Diana
Read More

Comments