July 15, 2010
0

found this helpful
If I were going to have a puppy now, this is exactly what I'd like to do when teaching/training him or her. I really like the gentle approach as it makes for such a loving gentle pet. They are nice to other animals too which is always so nice to see in any pet.
Wishing you both the best.
Pookarina
July 15, 2010
0

found this helpful
Thank you!
He also has a different type of walking leash also, since Frankie is such an enthusiastic walker, and very easily distracted by the least impulse he has, I made a leash for him that fits his personality. In other words, I used a light and bright color of duct tape and tied a knot in an extra long leash up by my loop handle of the leash, so my hands wont be destroyed in training, and then I covered the area around his neck and legs with the same duct tape. This is to protect him when he gets wild and gets his legs over the leash and also it keeps the leash from really rubbing him the wrong way.
It really feels good to hold this part of the leash, it is soft and doesn't slip out of my hand. I noticed today, that when we walk I don't really talk to him, I just make a big deal of loosening the leash, almost with a flourish, I make sure he knows the leash is loose.
I kind of wiggle it, when it is loose. He gets so confused so easy, I don't use a lot of words with him. For a pup that does get confused and panicked easy, he sure talks a great deal. I have heard several people who are schnauzer/terrier type lovers, tell me that their dogs talk to. It is so amusing, and just the other day, well I asked him a question, and to my amazement he shook his head no, which always means yes in our dogs language, and I know he has not seen that before in any of our dogs, he has not been here long enough. I am amazed that they all shake their head no, when I ask them if they are good or if they want a treat or to go bye bye, what would we do without our pets?
Blessings,
Robyn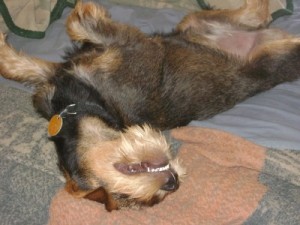 July 16, 2010
0

found this helpful
Can you please give me some advice on how to get a puppy to walk with a collar and leash? I understand that the collar and leash feels awkward to him, and I don't want to pull him, but what do I do when he just sits down and won't walk?
I have tried Cesar Millan's advice of just letting him run around with the leash attached to get him used to it without being pulled. But I am willing to listen to everybody who has an idea!
August 15, 2012
0

found this helpful
It's really nice to come across other dog lovers. I love your idea. Once in awhile I'll get a rescue dog or puppy that had never been on a leash and does the dead dog act for hours. In the past I would just attach a light weighted leash and just let them drag it around the house until they got use to it. I offer treats, sound happy and do the silliest things to convince them they weren't walking down death roll. It's all worth it and I think I'm going to do your idea and make a few braided ones for different size dogs and puppies.