By Linda Smyth (Guest Post)
June 27, 2007
0

found this helpful
In Australia we have a show called 'What's good for you' and last Monday they had a segment in which a university experiment was done to drop the weight with the least amount of exercise.
They used a bike and what you do is cycle flat out for 8 seconds and slow for 12 seconds. You only need to do this for 20 minutes, three times a week. The lady lost 8 kgs in 15 weeks without any diet change.
If you have a look at the website www.//health.ninemsn.com.au/wgfu/section.aspx or just google the name above if you have trouble.
What it does is that the fat cells release fat to help the body with the energy and is processed. I will be trying this when I get my exercise bike back.
Just be carefull as I am not aware of your fitness level - you know what they say - always check with your doctor.
Hope this helps.
Linda from Down Under
November 26, 2019
1

found this helpful
The advice I can give you is to exercise and diet. And avoid taking volume pills.
By Linda Smyth (Guest Post)
June 27, 2007
0

found this helpful
PS - The most difficult thing for a new mum is to have some time for herself. We feel so guilty - the wonders of motherhood.
Maybe you can round up family and friends and organise to take care of the little one to help her have some time for herself - even exercise if she wants to. The more time she can have doing something that she wants, the more she will want to do other stuff and overall be a happier mother, wife and daughter.
Hope this helps,
Linda from Down Under
June 29, 2007
0

found this helpful
Robin McGraw, Dr. Phils wife was talking about this one day on his show. She said she works out every day, but could never get rid of that little "pouch". She was told to cut out white sugar. She did and it worked.
By Kim Ch (Guest Post)
June 29, 2007
0

found this helpful
One thing that is inescapable: it always has to be BOTH diet and exercise. I am walking and running, and I have found that even a monster amount of running and work, I still can't eat whatever I want!
I have accepted that I'll always be in this body as far as genetics, but I can be the fit version of these genetics.
I only got started in getting more toned up when I decided NEVER to exercise. I would not do it! only when I decided to call it play, and only do it if it's actually fun, did it start to stick. Several times I've found that I actually forgot that my legs were bopping along underneath me. That's my idea of success! God bless you in this!
June 30, 2007
0

found this helpful
If you have access to a pool, water aerobics is excellent for losing inches without making your body hurt in the process. The warmer the water, the better! God bless you!
By (Guest Post)
June 30, 2007
0

found this helpful
I HAVE LOST A LOT OF WEIGHT (OVER SIXTY POUNDS) AND OVER ONE HUNDRED INCHES. I DIET AND EAT AROUND TWELVE HUNDRED CALORIES A DAY AND I WRITE DOWN EVERY MORSEL THAT I EAT SO THAT I DO NOT CHEAT. I ALSO WALK EVERY DAY IF I CAN, FOR AT LEAST ONE HALF AN HOUR.
YOU CAN BREAK THIS UP INTO TEN OR FIFTEEN MINUTE INTERVALS, BUT THAT IS THE SECRET TO LOSING YOUR EXTRA WEIGHT AROOUND THE MIDDLE, DIET AND EXERCISE. ALSO IF YOU NEED MOTIVATION, STUDIES HAVE PROVEN THAT WEIGHT AROOUND THE MIDDLE IS REALLY WORSE FOR YOUR HEALTH THAN IF YOU ARE BOTTOM HEAVY.
By Debbie, Columbia, Sc (Guest Post)
July 1, 2007
0

found this helpful
Count your carbs. Over 60 grams in one meal and the rest goes to belly. Eat 6 small meals a day.
Grazing. A few carrot sticks and a piece of cheese.
A banana and an apple.
A boiled chicken breast (season the water and store cold in fridge) and some lentil bean soup.
An orange and some fresh spinach.
You see? Always full. : )
I lost 125 lbs this way.. and I walk alot and I joined local gym. 3 days a week.
good luck
By tinah (Guest Post)
July 2, 2007
0

found this helpful
Sparkpeople.com is a sight that shows you how to lose weight, exercises, food trackers, recipes, motivational tools, and chat board for all sorts of types and interests that you may have. It is free and I highly recommend it! The information provided there is priceless! If you check it out, tell them skinnynanny sent you!
By dacia (Guest Post)
July 2, 2007
0

found this helpful
I went to sparkpeople website and found this:
There is no way to target weight loss to a specific area of the body because your body decides where it wants to put on weight and where it wants to take it off. The midsection is a common "problem" area for many people. The best way to lose fat is through cardiovascular exercise.
It is important to do a variety of abdominal exercises (including crunches) to keep your core strong, but until that excess fat is gone, you will not see the muscle definition.
It sounds like that is just where you carry excess weight. Go to www.dietician.com and mayoclinic.com for your healthy weight range. (I may not have the exact web addresses, that is from memory)
July 7, 2007
0

found this helpful
My husband and I have a piece of equipment called the AB-Lounge. It is relatively inexpensive....available at WalMart for about $100.00. And an easy exercise product to use. Also available for a little less at Amazon.com with free shipping. The picture is from Amazon.com It really works to tighten the stomach muscles. You sit in it, push against the bars with your feet to a reclining position, and then grab the strap above your head and pull yourself into a sitting position. Repeat for as many "sit-ups" as you can manage. I started with 10, and have worked up to 50
Harlean from Arkansas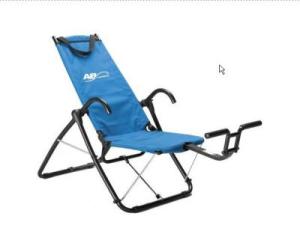 By brian (Guest Post)
July 19, 2008
0

found this helpful
Cardio is an excellent way to burn calories, which in return will result in weight loss as long as your calorie intake doesn't exceed your BMR. Say for example your required calorie intake for a day is 2000, just to maintain your current weight. You would want to cut roughly 500 calories form your daily intake. Any more than this will eventually cause problems with energy levels due to your body thinking it is starving. At this point your body will go into a catabolic state, meaning it will start eating lean muscle instead of fat, because your body knows fat as an energy source and it will want to save this source for as long as possible.
Diet is your foundation. We can exercise until we're blue in the face whether it be cardio or what ever exercises you do, then go out and eat the wrong foods, we have done nothing but waste time. And remember above anything else..."have patience". I'm sure the weight didn't come on in one night. It's not going to leave in one either, so set realistic goals for yourself and stay committed to the task...you won't be sorry!
By brian (Guest Post)
July 19, 2008
0

found this helpful
And remember, just because your not seeing the weight come of your stomach or hips, like other area's on your body, is due to the thickness of the fat layer on these particular parts. When you lose weight, you lose weight pretty much evenly across your body. For example if you lose a 1/4" of fat across you entire body you will start to see more definition in area's that are none to have thinner fat walls. Unfortunately the belly area is probably the thickest fat source we have, so it will take a little longer to achieve the flat stomach your after, but again..."DON'T GIVE UP"! It will happen! Stay focused.
February 9, 2011
0

found this helpful
We can exercise until we're blue in the face whether it be cardio or what ever exercises you do, then go out and eat the wrong foods, we have done nothing but waste time.