July 13, 2009
1

found this helpful
I ran into the same problem. No need to remove it. Just paint over it. It will be alot faster and cheaper.

July 13, 2009
1

found this helpful
You can remodel a mobile home the same way you would remodel a stick-built house, including using laminate flooring. Just follow the manufacturers instructions. The vinyl on your walls might not be wallpaper, though, it might be part of the wall panels that were installed at the factory.
I agree with barrsbits, just paint over it. Trying to remove it might cause permanent damage to your walls.

July 13, 2009
1

found this helpful
I used to work for an energy assistance program. Before you worry about aesthetics, check the belly board under the flooring. It's a band of supports for the insulation and it and the skirting is very important in keeping your home warm this winter. Yes, painting, esp' with a textured effect, would be much easier. You can get better door for a little more sound proofing, and if not, you can get kick plates that can be installed lower to cover that silly 1" gap under the door!
Make sure all mold is at bay, insulate when and where you can, and then you can have some fun.
The dollar tree sells peel and stick tiles, painting supplies, drop cloths and more.
You can provide almost as much warmth with throw rugs as you can carpeting, for so much less money and no fumes from carpets and glues. You don't often find good wooden supports along the molding where the wall and floor meet, so keep this idea in mind.
If you want to replace your cove molding or mop boards as it is sometimes called, either paint the existing with Rustoleum or take off the old, and glue the new on between where you can tack it on with smaller nails.
Good luck with everything, and when it's all done, show it off to us!

July 13, 2009
0

found this helpful
My husband remodeled our kitchen and one thing to remember is there is always movement in a mobile home. Unfortunately we chose laminated tiles for our kitchen and soon afterwards they started showing gaps in between the tiles.

July 13, 2009
1

found this helpful
Laminate flooring is not good for mobile homes, due to the stability issue. And yes, paint over the paper, or cover it with a diff paper that you like. Mobile homes are very inexpensive to redo inside, and can be done often.
For our floors, we either use carpet, the square tiles that peel and stick (but we do put glue down under them), or vinyl flooring. I found a very nice vinyl that looks like wooden planks, and works just as well.

July 14, 2009
1

found this helpful
I'm in the middle of remodling my double wide mobile home. I removed the slats that cover the vinyl covered walls, and spackled the cracks. Use mesh tape to help, if you don't know how to spackle well. Use a wet sponge to help get rid of excess spackling, to save time sanding. Before you paint, you must prime first. My dining room had paneling, and after priming, I used Paper Illusion, bought at Lowe's. Beautiful effect, and quite easy to do.
I changed the hardware on kitchen cabinets and drawers, for an updated look.
Hope this helps!
Bobbie

June 11, 2011
2

found this helpful
I'm living in my third "mobile" home now. Before we lived in a single wide, that we remodeled the kitchen. Put in new cabinets, new vinyl on floor,new sink,etc. What we've learned on all remodeling is: Always expect the unexpected, and always plan for it to cost more than originally planned. (Like we didn't realize our window air conditioner was leaking down our wall and rotted the floor and sheetrock.) Some mobile homes are made very well, and it's much like a house what you have to work with, and then there are some...well, let's just say that sometimes you have to adjust things a bit.
And upkeep! You work hard on it, do the upkeep. And don't use the cheapest or the most expensive. Pay for as you go! What I hate most about mobile homes are the window sills-or lack of sills. My husband has redone my kitchen window in 2 mobile homes with oak trim/molding and a wider sill,even though it's a tiny window! Hopefully we'll be able to afford to do some more windowsills like that. Best of luck, and hope you'll post some before/after pictures. I don't know why HGTV or DIY network hasn't got a show on renovating mobile homes!
June 12, 2011
1

found this helpful
Back in Feb I did a lot of remodeling in my mobile home. It took my husband I a month to do but it looks great! We removed the chair rail in the living room and by doing so we had to replace the battens that were covering the seams which we did with lattice pieces. We also put cap pieces on any outside corners, cove pieces for the inner corners. We ripped up the carpet in 3 areas, then had to remove the staples and nails in the sub floor then sanded the exposed sub floor. We laid grout-able vinyl tile diagonally in the kitchen, living room, hall way and guest bathroom. Then we did the grout. We did baseboards in the living room, kitchen, hall way and guest bathroom. We changed all of the door knobs on the main doors then we changed all of the hardware for the cabinets. We painted 5 areas of the house including the doors and window sill/frames. It feels like we expanded the living space upwards and outwards. I'm so pleased with it.
Is this the first time you have lived in a mobile home? If you have any questions, please don't hesitate to ask.

June 15, 2013
1

found this helpful
I need to say a couple of things. My late husband had MS and the shag carpet that came in our manufactured home in the 1980's no longer worked. Home depot installed commercial carpeting! It was wonderful! So easy to take care of and we put it in four rooms. No problems.
The other thing is when we rented it out for a couple of years due to my job moving the daughter of the renters put two or three fist size holes in the bedroom wall. I was really upset. But a carpenter came, secured mesh in the wall with putty and then did spackle and I painted over it. Could not tell anything was wrong!

July 13, 2013
0

found this helpful
This is a before picture.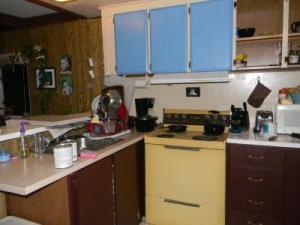 July 13, 2013
3

found this helpful
This is after (before pic below) we spent under 1000 and the reason the price was as high as it was is because we bought a new stove for 400.00 We did peel and stick tiles which have still been great (remodel a little over a year ago) and used things we already had. My husband and I did all the work ourselves and we think it turned out pretty good. Since this picture we have done a little more work, such as putting the microwave above the stove and adding knive bar, etc.