Living a frugal life is a true reality in these economical times. No one has money to spend. Here are some things my husband and I have done and continue to do to help out our budget.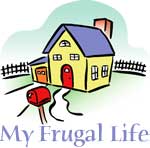 My husband is disabled and I am the only one working in the household, so doing some minor things can lead to a more manageable way to use our money.
Each year, we rake the leaves and grass clippings and put on the compost pile. It is just that, a big pile. We cover it with a heavy black piece of rubber our neighbor supplied us with. We add anything (tea bags, coffee grounds are examples) we have from the house leftovers that the dogs won't eat except for citrus, bones and meats. Excluding fish heads. We cook it down with the black rubber piece and, believe me, it gets hot enough to burn you, and till it into the garden. No waste as it all goes back into the earth.
For fresh veggies from the market, the green bags keep them fresh for over a month. Yes folks, they do work! Thus saving us money on celery or lettuce which gets used very seldom.
Have a garden and plant so you can can the vegetables. It is easy and can produce enough food for a year at least.
We carpool as much as we can to and from work. I keep a cooler in the car and some cold packs in the freezer at work. I buy anything we need from the grocery when I am in town instead of making a special trip. We stock up once a month at one of the "Clubs" for all the essentials.
We buy specials in bulk as much as possible. Also plan your meals around the store specials. This will save you too. Menus are a great idea. If you plan a menu for a week or month and stick to it you have decided what you will need and can buy only what is necessary. Don't go to the grocery store hungry!
We keep all our old towels for rags. We use them to clean up spills, dog washing and drying, cleaning and craft project cleanup. Then they are washed separately and restored. Use cloth napkins instead of paying for disposable ones. Saves you a fortune. They are easily made too.
We use Angel Food Ministries for the kids since their money is tight. If they can't pay us for it, they can come work the garden or help in the yard or other areas to pay for it.
We conserve water. We have water barrels set out to water the garden and flowers with if they need it. We use the hot water from canning to go into the washing machine or to wash dishes with since it is clean and sterile. We only do wash on an as needed basis We hardly ever double rinse anything. This is a waste of water. We use the dishwasher sparingly although it is a water saver. I love it to sterilize my canning jars before I re sterilize them. It also gets all the dust off them.
We reuse many things that normally would be thrown away. Trays for takeout can be used for seedling starters. There are a trillion ideas here. So you really don't want me to expound on it. Most crafters can see a craft in almost everything. We save the see through mayo containers for the shop to sort things in.
We reuse boxes. Pizza bottoms (those round ones) are great for all kinds of projects. Dry them and store them for use when you need a pattern cut or a cake holder. You can reuse aluminum foil and after it has been used enough clean it off and recycle it. Recycle drink cans or find someone who does and donate them. Around here, they are going for 37 cents a pound, but in the city it is much higher, extra cash. Save cans from vegetables for painting projects then just throw them away.
Don't buy a new vehicle. Fix your old one. Those car payments are just not in the budget. Oh, make yourself up a budget. This will keep you from overspending. Decrease those credit card debts by getting a no cost transfer and multiply the payment by the months before APR's set in and make the payment you come up with. (Example you owe 5,000.00. Transfer it on a no cost credit card and say it is for 15 months. Your payment will be 333.33 a month for the 15 months. Then you are debt free! Yah!)
Get rid of scrap metal. It is going for a mild fortune. Especially copper. (Companies are not setting out their wires anymore because people are stealing it for the copper in them.)
Close down or let run out unnecessary subscriptions to magazines. The library is a great source for books and magazines. But please do keep on reading.
Run the dishwasher or washing machine or any heavy appliance on the off hours at night to save on electricity. Use the lowest setting possible. You'll see a big difference in your bill if you do not use peak hours.
Use the close line to dry items. If you want them softer, just put them in the dryer for 10 minutes. Beats drying them for an hour and using up all that electricity.
My favorite is go solar. Ask your electric company if they are going solar. You still pay for your usage, but you are putting energy back into the grid and you may get a locked rate. Our locked rate is 25 cent per kilowatt hour. This could save you a bundle. With our company, there is no installation fees, no maintenance fees and no hidden charges for the solar panels.
Set your air conditioning (or heat) on one setting and leave it there. Pushing it up or down makes you use more electricity. Wear a sweater if your cool or take it off when you get warm.
When you cook, make enough for at least two meals. Freeze what you don't need or put it on your menu for another meal. Bake two cakes at a time or a cake and cornbread or raised rolls to save the electricity. Use up all that oven space while you have it on.
Go green as much as you can so we can preserve what is left for our Grandchildren.
Gem from Gordonsville, VA
Do you have a frugal story to share with the ThriftyFun community? Submit your essay here: http://www.thriftyfun.com/post_myfrugallife.ldml