Kathy
Bronze Feedback Medal for All Time! 190 Feedbacks
March 3, 2010
0

found this helpful
Best Answer
What I do before I go to my hairdresser is google wigs. In particular, Eva Gabor wigs. When I see a wig style I like, I print it out and take it with me to my stylist. Then she just duplicates the cut. The wig pictures gives the length measurements all the way around; sides, top and back and my hairdresser loves this. This way she can see exactly what I want rather than me try to explain it and have her misinterpret. Hope this helps.

March 3, 2010
0

found this helpful
Best Answer
I would clip magazine picks of things you like and book an appointment with your hairdresser but ask for a few extra minutes scheduled so you can discuss it before hand. Showing them what you like and asking them for suggestions for your face, hair type and age. They should be able to provide you with a cut you will love for a long time.
If not, go elsewhere.
Often, asking someone whose hair you think looks good on them where they go ... works great.
I've learned that spending a few minutes discussing a new do, what you expect, how long do you want to spend in the morning fixing it, etc. All this is stuff your hair dresser needs to know.

March 17, 2010
0

found this helpful
Best Answer
I just checked out a book from the library called Staging Your Comeback. There is also a website about it. I forget the man's name who is a stylist. It's for women over 45. It talks about body types and hair styles that flatter older women.
It's full of fantastic information. The website has makeovers that are incredible. I don't know the web address, but search out Staging Your Comeback. You won't be disappointed.

pam munro
Gold Post Medal for All Time! 519 Posts
March 1, 2010
0

found this helpful
One way is to cut out a picture of a mature woman you admire - like Diane Sawyer - with a style you like and bring it to your hairdresser for inspiration. (P.S. they also have all sorts of new thickening products for you to try.)

Betty
Bronze Post Medal for All Time! 104 Posts
March 1, 2010
0

found this helpful
Look around you at the older women in the grocery store, etc. That's what I do. I have problem hair because mine is thick but has NO body when it's grey. I tried growing the color off but I'm back to coloring for that reason. I know a lot of ladies don't want to color their grey hair but it does give a lot of body and makes it much easier to style. Luckily I have a good hairdresser that doesn't make me look like every other old lady in town.
That's the problem with some hairdressers. I think at our age real short is not good but too long isn't either. Keep it away from you face. I can't have my hair chins length because of a double chin. I'm letting mine grow out on top and shorter in back. Sides below my ears but not to my chin. I have to have bangs. Good luck.

Joan
Bronze Feedback Medal for All Time! 186 Feedbacks
March 1, 2010
0

found this helpful
I have tried almost every hair thickening, volumizing product they come out with and nothing helps my thin, fine, limp hair.

March 2, 2010
0

found this helpful
Debi
You might try a product called HINOKI. I have not tried it myself but I have talked to some people that say that it really works great for hair loss and thinning hair.
This is the contact information I have: Pro-Worx Beauty Systems 1-888-550-669. The information that I have states that hair loss is dramatically reduced in 3-5 weeks and hair reproduction is usually visible in 8-12 weeks.
Please get back with me and let me know if the product works for you.
Best Regards, Tuey
P.S. You might have to get your salon to order it for you.

susan
Silver Feedback Medal for All Time! 472 Feedbacks
March 3, 2010
0

found this helpful
Keep you hair type in mind. A hairstyle that looks really good on someone else may not work with your fine, limp hair. My hair has a medium thickness, but each individual hair shaft is extremely thin. Beauticians have sent me away not being able to do much with my hair. It has been described as raw silk.
A tiny mis-cut sticks out like a sore thumb on my head. I do best with a precision cut--yes, it costs a lot more--and a simple style with no layering. Basically, some form of a bob. It can be boring for me, but it is about the only style that works for my baby fine, straight hair.

March 3, 2010
0

found this helpful
My hairdresser said to try Biotin, you can get it at a local Health Food Store, to thicken your hair. I haven't tried it yet so if you do and it works, please post it! Good luck with finding a hair style that works for you. I keep mine short and like it!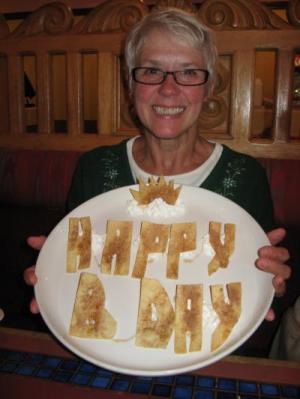 March 3, 2010
0

found this helpful
Carry a camera. A lady stopped my dd in a restaurant one day and asked if she could taker her picture because she loved her hair style. She had her turn around and took several pictures to show her beauty operator to ask if it would look good on her. Unfortunately she didn't have enough hair for that hairdo, but she no doubt found that out when her operator saw it.

Poca
Bronze Feedback Medal for All Time! 115 Feedbacks
March 3, 2010
0

found this helpful
I had read that biotin helps build up your hair, thicker. I told a friend (70 yrs old) about this & she has been using it & says her hair is getting thicker. Also, I have read that folic acid is also good or could be used along with biotin but I would check with my doctor first as each of us are different & have different systems.

April 16, 2010
0

found this helpful
I like asymmetrical bobs on older women here have a look 2.bp.blogspot.com/.../Hairstyles-for-Older-Women.jpg