I haven't seen any photo restoration on here yet, and since it is one of my favorite pastimes, I decided to post a before and after photo of my work.
My husband's father was a rake, and a handsome gambler. He died 2 years before I met my husband, so I never got to meet him. Naturally when I saw this photo, I had to restore it. This is eye candy from the olden days! I am pretty sure this was taken in the early 40's.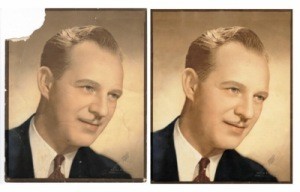 I also restored this photo of my mother-in-law, taken on her wedding day. You can see how damaged this was. It took many months before I finally got it right. I did the work using CorelDraw/PhotoPaint, and was able to maintain the original sienna colors. I am glad this one wasn't torn up! I don't know when this taken. I suppose I should ask the hubby!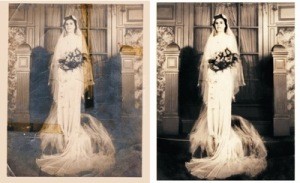 By Leigh