Tips for Saving Money on Bedding as suggested by the ThriftyFun community.
Buy Used Bedding
The Salvation Army is where I buy all my bedding! Savers or Goodwill are good places, too. If things get stained or torn, then it hasn't cost me much and I can rag them out. They have everything including mattress pads, pillow cases and blankets. Since I will be asleep when using them, it doesn't matter what kind of design is on them. Some flat sheets have been turned into drop cloths for painting or covering plants on freezing nights in the winter.
By Gorius
Buy Quality So It Will Last
We buy our bedding at Bed, Bath and Beyond or Linens and Things. We get tons of those 20% off any one item coupons in the paper or mail. Things are always on sale there and we get good quality sheet sets with a good thread count. They last and don't cost any more than sets at Wal-mart or Target
By Mrsdawn
Reuse Top Sheet as a Bottom Sheet
Since the top sheet always lasts longer than the bottom fitted sheet, you can make a fitted sheet out of a flat with elastic and a little time. I don't have the directions anymore, but I am sure someone else on this site would have, or you could try googling for directions.
I also have had very good luck at buying top quality sheets at places like Winners. These give you a luxury sheet at regular sheet prices, and are worth the extra in the long run as they don't pill up like cheap sheets.
By Louel53
Update Old Bedding
If you have old or outdated comforters or bedspreads, you can use them as the lining for a quilt. You can use scrap material or you can get more creative. When I was in college, I had an ugly comforter that I hated but there was nothing really wrong with it. I bought several yards of unbleached muslin (very cheap) at the fabric store and also some fabric dye. I tie dyed some of it in blue, using rubber bands to create a ripple pattern. Some I dyed straight blue, a nice soft color. I did some pillowcases and sheets at the same time, some older ones that had stains.
I could have made a large comforter cover with the fabric but I went one step further and cut the fabric up into squares and stitched them together as a quilt. I left the back as one big plain piece and tacked down the squares every so often. I got many compliments and had this for years. That is my baby Beck in the picture, he is a big third grader now.
By Jess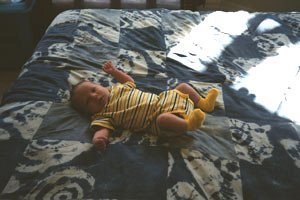 Use Bubble Wrap as an Insulating Layer
If you are just starting out, try connecting 2 wide (24 inch or more) pieces of bubble wrap and secure it between the top sheet and the next blanket. This is said to be a way to insulate the bed without using an electric blanket. This would also save on laundering one blanket because the second layer is plastic!
This probably would not make a huge difference in saving money to others old like myself who have plenty of blankets, but the difference in the weight of all the bedding is a big difference because layer #2 is air!
Editor's Note: Never use plastic in a child's bed. There is a suffocation hazard, especially with small children.
Feel free to share your own ideas below.