March 12, 2011
0

found this helpful
Best Answer
In my machine, there is a plastic pin under the machine lid that forces the switch down in the spin cycle when the lid is closed. That pin has probably broken. You can get the replacement part online, probably. When it happened to me the machine was still under warranty so I was able to have it fixed for free.
The pic is of the lid, about to be closed, with the pin directly over the switch hole.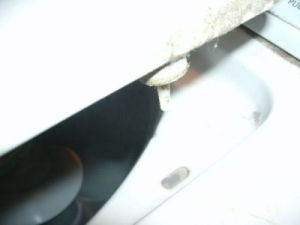 March 15, 2011
0

found this helpful
Best Answer
If the safety pin is working, and it sounds like it is, you probably need a new belt for the drum. The fact that the tub spins once you start it means the belt is still there, but may not be tight enough to generate the friction necessary to start the spinning process.
Take the back off the washer, and you should see the belt at the bottom of the tub. You can probably even get the Kenmore manual from their website if you need more help.
April 3, 2013
0

found this helpful
I got the same problem yesterday night. My washing mashine didn't spin the water. In the morning I opened the small door on the front of the mashine, in the right down corner. It was not easy, but finally opened. After I twisted the cap and pull out a very, very stinking and disgusting black thing. Bleah!
At first I thought I finished, but after I checked inside with a flashlight, and saw, there is some more of this disgusting black stuff. I pushed inside a fork and got it out. In the same time ALL THE WATER came out to the floor. So I think the water couldnt leave, because the filter was totally full.
Now I am testing it and hope it was the only problem. I hope I could help you guys! Have a nice day!