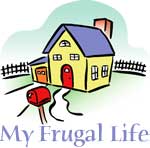 The high temp today is -5 (Fahrenheit) and falling toward -15. Fearing my face will crack, I'm staying in.
I could set the thermostat at 72 degrees, but it's at 64. I don't need to be cheap, but I want to. Plus I don't want to be a fuel hog. I am home alone, so there is no one to argue with me about this.
I'd be embarrassed for some friends to see me, but I'm sitting at my desk with a down vest over a long-sleeved tee, a fluffy rabbit-tail scarf around my neck and a wool hat perched on my head. It's comfortable and not bulky.
Believe me - I can spend money; this is about allocating resources. I'll take a nice hot shower or bath tonight. If I had guests at my house today, I would crank the furnace way up long before they arrived, but I'm comfortable in my little hat, which preserves body heat so well. I keep popping it off because it's overwarming my globe. Now I must attend to the other end.. I've got to put on another pair of socks.
Broke Girl from Chicago IL
http://bebrokebuthappy.blogspot.com
Do you have a frugal story to share with the ThriftyFun community? Submit your essay here: http://www.thriftyfun.com/post_myfrugallife.ldml
Add your voice! Click below to comment. ThriftyFun is powered by your wisdom!
January 28, 2009
0

found this helpful
I love it. I bookmarked your blog. Will make the time to read it.
January 28, 2009
0

found this helpful
I know so many peope keep their heat down in the 60's and I really DO try but I'm soooo cold ALL THE TIME!! We try to keep ours "down" to 72 because I'm so miserable when it's lower. I wear stuff like you (except the hat) and I'm still cold. My face gets cold! I can't do dishes with sleeves to my wrists and can't push up sleeves cause I'll freeze. My husband and I go round and round about this all the time. I console myself by saying I'm really very, very conservative in all other ways.
By guest (Guest Post)
January 29, 2009
0

found this helpful
Thanks for writing to tell us about what you do! I, too, keep my thermostat in the 60's. I used to set it for 55 at night while I was asleep, but as I age I can no longer tolerate that. lol... I now set my thermostat on 66 or 64 during the day and 60 or 62 for at night. On the weekends, when my son is home from work, I crank it up to 68 degrees during the day. I could spend my money on heat, but I prefer to spend it on other things. I find that once you become used to the lower temperatures, you cant stand the heat. Actually cool air is easier to breathe and is better for anyone with allergies or breathing problems. My allergist suggests lower than 68 degrees for good health. This may be why I started doing this in the first place. (grin) Its good to know I am not alone in how I think.
Keep up the good work. I haven't visited your blog as yet, but will do that now.
January 29, 2009
0

found this helpful
Invest in a couple pairs of good wool socks--your feet will thank you. It seems like a person can stay warm as long as his/her feet are warm. Wool socks will keep them toasty and you may be able to turn the thermostat down a couple more degrees. After two winters of fighting with my husband, I bought him some as well (he didn't think he needed them). He wears them constantly, and likes them so much. They are well worth the money.
Add your voice! Click below to comment. ThriftyFun is powered by your wisdom!